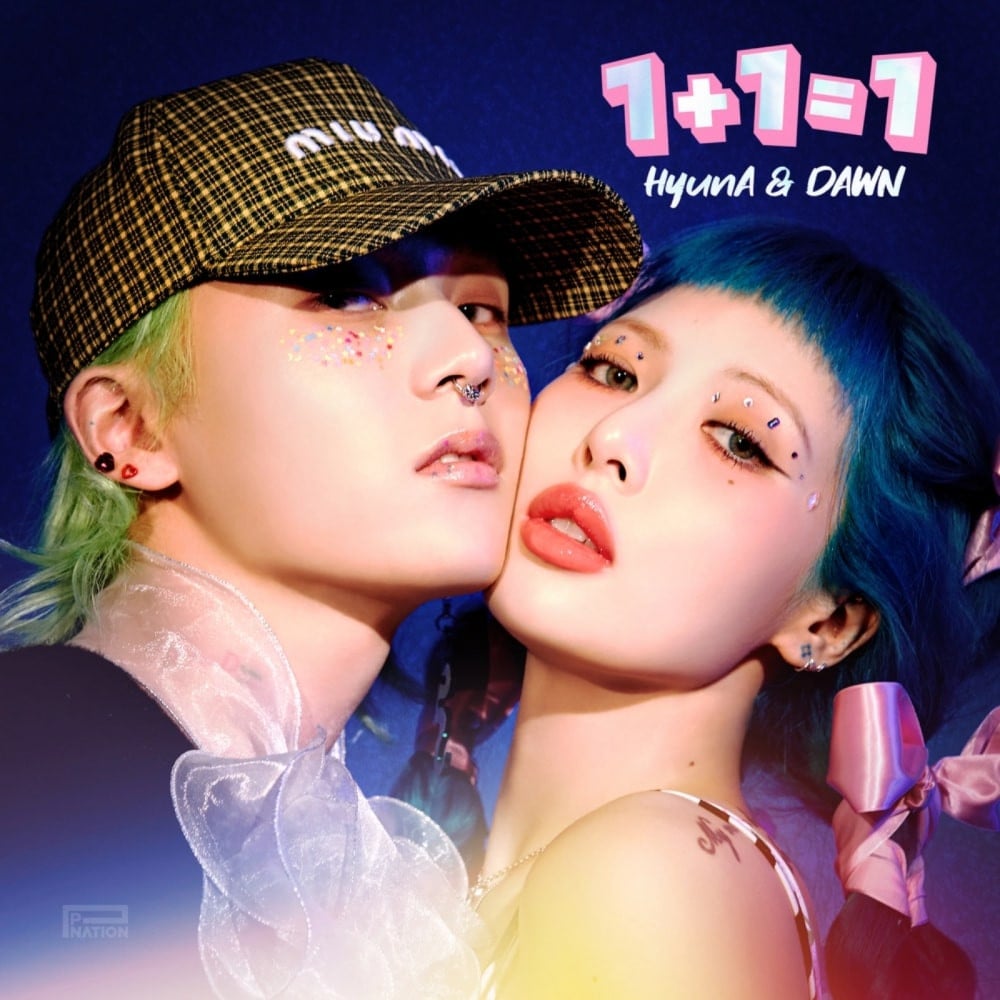 [This review reflects the opinions of the author and not necessarily those of allkpop.]
Track List:
1. Deep Dive
2. PING PONG
3. XOXO
4. I Know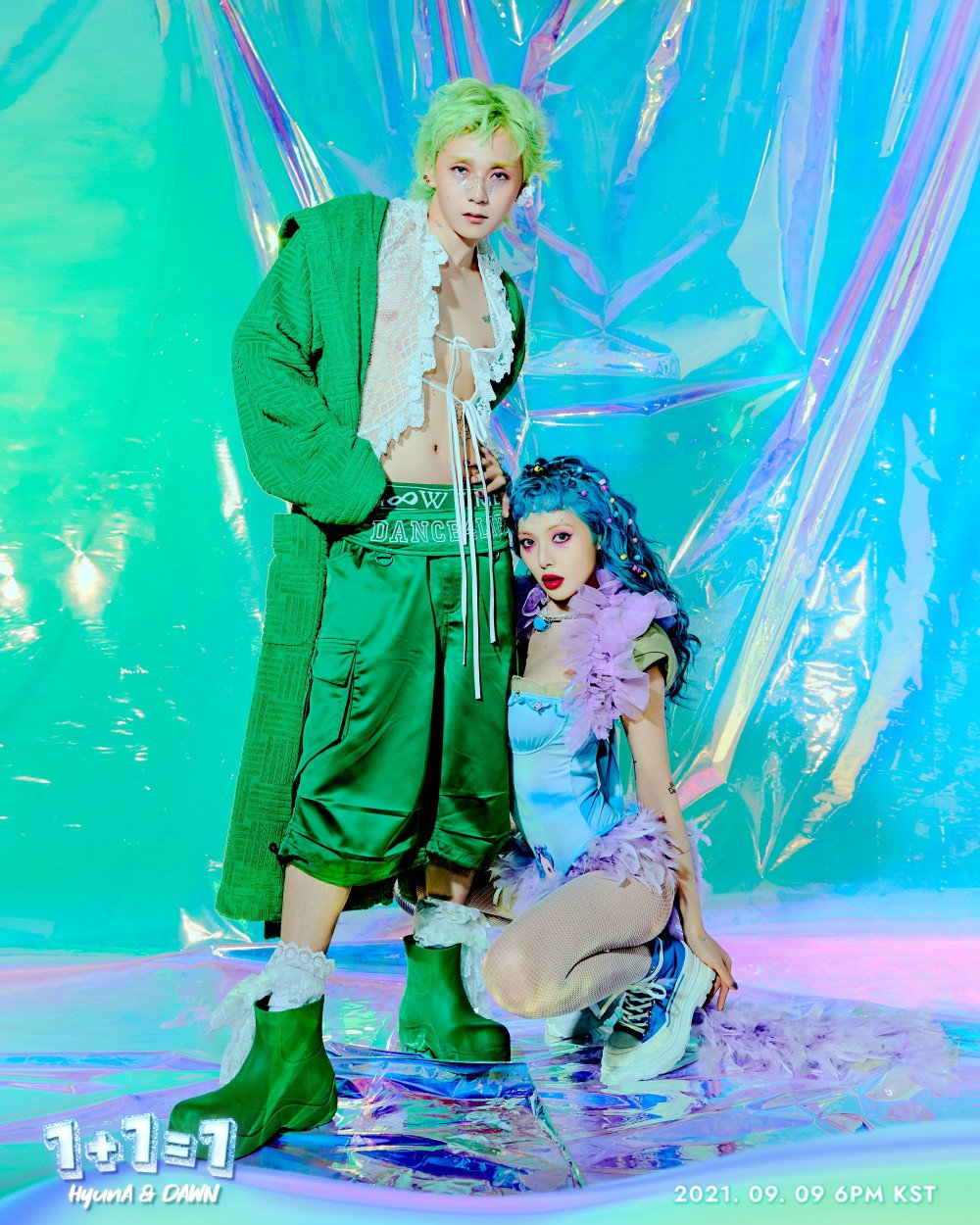 HyunA and DAWN are K-Pop's 'it couple' nowadays. To commemorate their love through the culmination of artistic abilities, the two have created a unit entitled "HyunA&DAWN" to release their first-ever collaboration EP, 1+1=1. Packed to the brim with interesting artistic direction, these two have found a home in each other and are now sharing it with us on this release.
"Deep Dive" is very much the release's introductory song. Functioning more as an appetizer for what's to come, the music is synth-driven and straightforward. "Deep Dive" operates as a way to get your feet wet for what's next on the tracklist. "Ping Pong" is the duo's chosen title track- a hugely larger-than-life song that encourages others to love and take chances on love. "Ping Pong" is abrasive and in-your-face in an unapologetic way that garnered a bit of criticism from netizens. However, the song is the perfect example of a song that grows over time as it tends to stick after a few listens. Though the music is different from what we'd expect from the industry- these two exist to defy industry standards, and "Ping Pong" does precisely that with its showiness.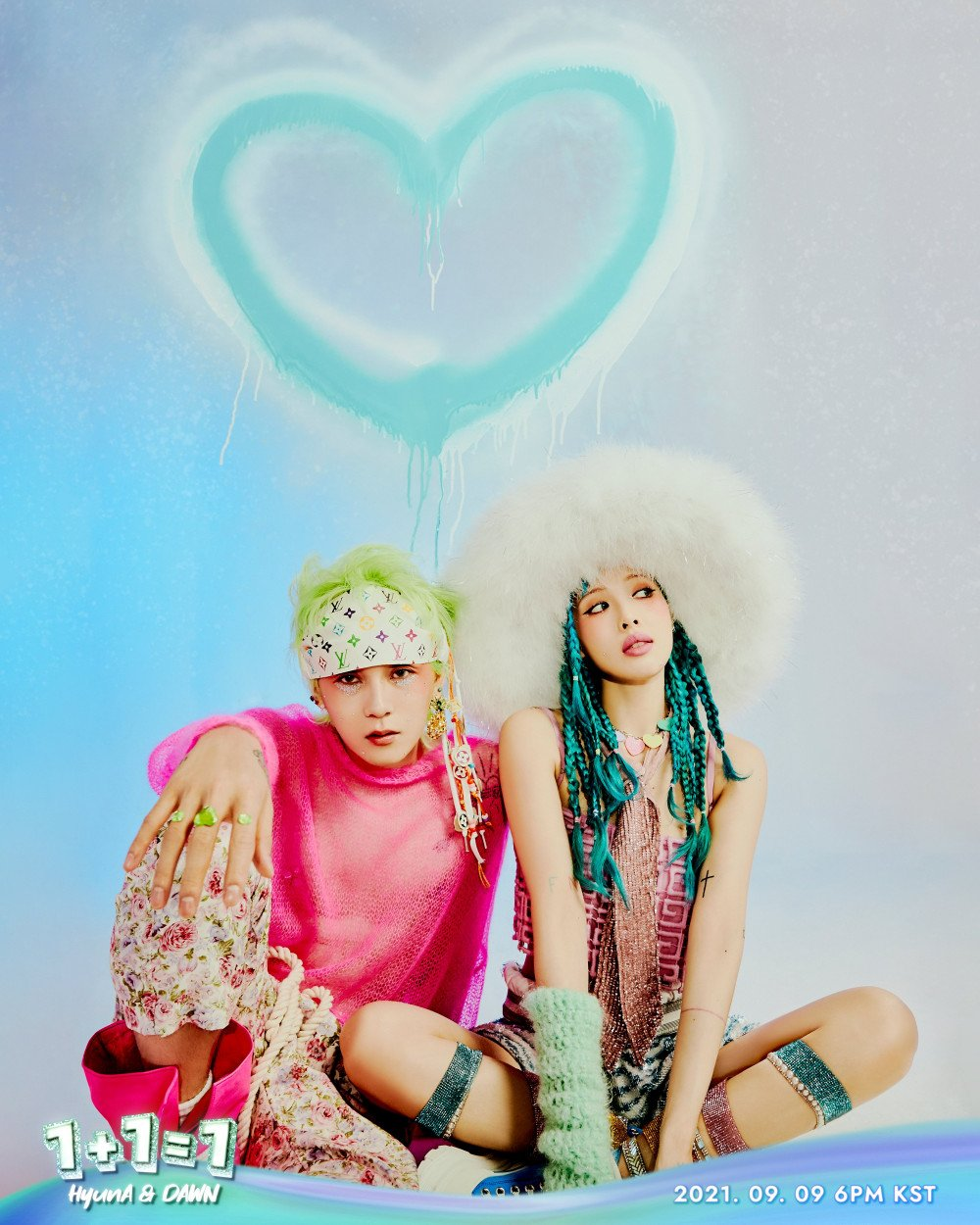 "XOXO" opts for a more rock-inspired feel comparatively to the primarily computer-generated beat of "PING PONG." Using a natural instrumental, the two offer a groovy and funky approach to a pop track. Feel-good and simple, "XOXO" is an easy listen. Frankly, the duo isn't giving their best vocal performance. However, the accompaniments and mixing are really doing them favors here. Overall, "XOXO" is fun and exciting and somewhat reminiscent of their Triple H era.
"I Know" rounds the album out with a tonal woodwind melody. Funky and fluid, "I Know" is the album's best release. It feels the most experimental for the duo and is the biggest risk in concept. Somewhat hypnotic and entirely too addicting, "I Know" is downtempo but rhythmic. This masterful layering concept gives way to a textured sound that feels unique to the genre mix this song offers.
MV REVIEW
Talk about a color bomb! HyunA and DAWN showcase their love through an ultra-vibrant MV! "PING PONG" is stimulation to the maximum. Out of this world ensembles, dance numbers, and SFX editing make this MV exciting all the way through. "PING PONG" takes the concept of camp to the next level, and their display of showmanship and confidence is something to take in. Admittedly "PING PONG" didn't capture me the first few times, but it is a grower! Likewise, the MV also seems to offer more and more over time. The two have unmatched chemistry that translates to their music and visuals.
MV SCORE:
MV Relevance…..8
MV Production…..8
MV Concept……..8
MV Score: 8.0
ALBUM SCORE:
Album Production…...8
Album Concept……...8
Tracklisting…………...8
Album Score: 8.0
Overall: 8.0