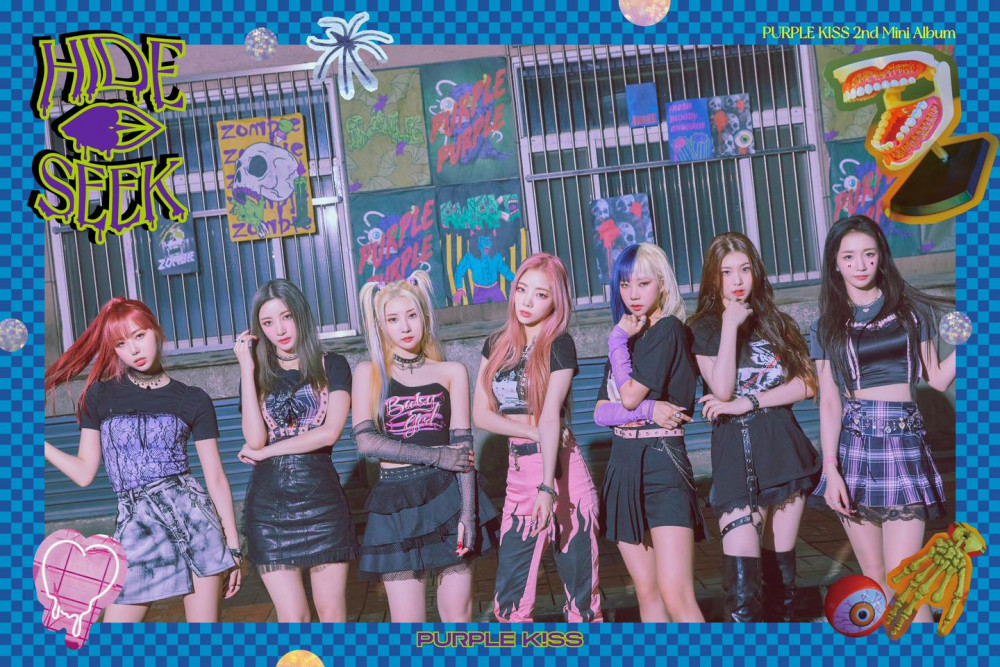 Last March, PURPLE K!SS's debut EP 'Into Violet' painted 2021 with a splash of color. This September 8, RBW Entertainment girl group PURPLE K!SS is set to leave us yet again spellbound by their highly-anticipated comeback EP 'Hide & Seek.'
Their official pages have started dropping concept photos this week, and these seven all-rounders are expected to bring nothing but their A-game. We know you're as psyched as we are, so we rounded up performances that will bless your ears with supreme vocals while we look forward to their next release.
Ponzona
What could be a more fitting way to open this list than with Into Violet's title track? RBW is known for producing artists who "eat CDs" or sound exactly the same as the studio version when singing live, and their rookie idols are no exception. How they owned this radio guesting like a pro proves why the girl group has the potential to be one of the top groups.
Skip Skip
The amount of confidence oozing from these girls whenever they are behind the mic is just undeniable. Skip Skip does not have as many stages as the main track of the EP, which is why every performance of this song is a rare gem. We love that subtle sass and unapologetic vocals - they definitely did not come to play!
Maria (Hwasa), 7 Rings (Ariana Grande), Hello (Adele), Tetap Dalam Jiwa (Isyana Sarasvati), Dance Monkey (Tones and I), No Me Acuerdo (Thalia & Natti Natasha), Downtown (Anitta & J Balvin), Tala (Sarah Geronimo), Try Everything (Shakira), Oye (TINI & Sebastian Yatra), Marigold (Aimyon) cover medley
This bunch hadn't even debuted yet when this medley was released, but the degree of finesse executed is mind-blowing. Working on a diverse set of music is already challenging in itself, but delivering it in languages unfamiliar to them steps up the game to another level - and they are winning it.
Goodbye (Wheein) cover
There is no running out of pre-debut power from Purple Kiss. More than a year before officially entering the industry, Na Go-Eun, and Swan are already slaying techniques like seasoned idols - and through a Jung Wheein song on top of that. What a way to introduce your main vocalists!
Make A Wish (NCT U) cover
Steering away from her usual genre, the group's maknae gets out of her comfort zone and flaunts her flexibility as an artist with this hip-hop hit. She takes NCT U's Make A Wish and renders it with the trademark Swan flair, proving once again that she's a force to be reckoned with in K-pop.
Dear Name (IU) cover
It has only been two months since their first stage when this was released, but Go-Eun's control and dynamics are already way beyond rookie level. If this is what she's like on her freshie year in the music scene, it leaves us hopeful of what awaits her in the following years.
HIP (Mamamoo), Latata (G)-Idle), Snapping by (Chung Ha), BBIBBI (IU) cover medley
In 1theK's SWITCH ON, Purple Kiss gives us a taste of what it would be like if Korea's hitmakers are revamped with the quintessential SM/YG/JYP/Big Hit sound. Spoiler alert: the girls pulled off everything on the list.
Dance Monkey (Tones and I) cover
Nothing says superb vocal line more than clean harmonies. What makes this trio work is, despite the difference in the color of their voices, they manage to sound utterly balanced as a group. All three project such a strong charisma in the spotlight, yet none of them outshines the other.