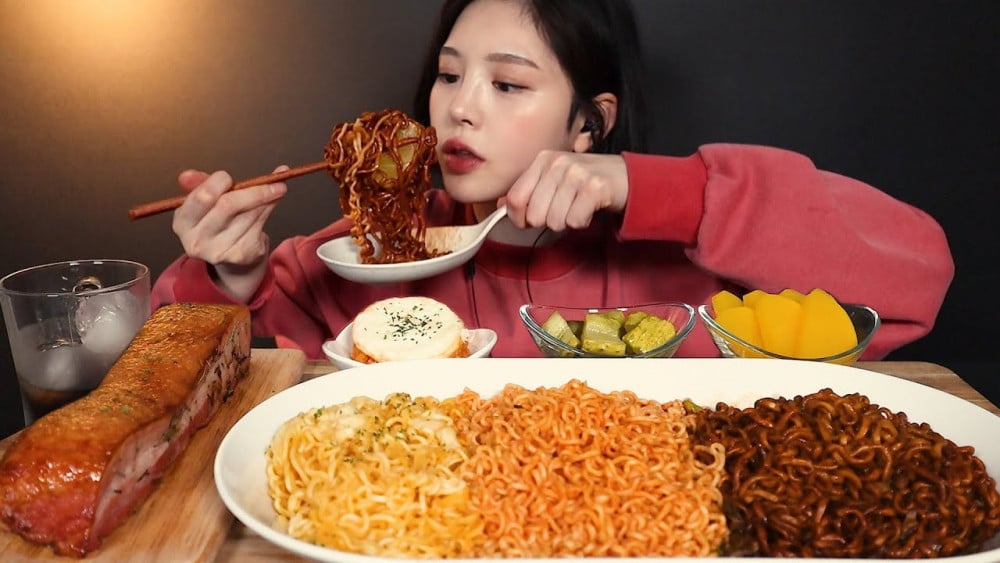 Mukbangs have become globally popular throughout the past several years. It was a simple concept started in South Korea, where celebrities, or now -- even just regular people would film themselves eating delicious food. The food is often either very delicious, trending, or there is simply a HUGE portion of the food.
The mukbang craze has become international, and American celebrities and even many foreigners utilize YouTube or Twitch to broadcast their own mukbangs. While there are plenty of non-Korean mukbangs to binge on, it is essential to give credit to the country that started it all. Check out some crazy mukbangs you should check out -- whether you're a fan of the delightful eating or that ASMR sound, there's a mukbang for everyone.
1) Eat with Boki
Boki is well known to have a lovely face, and an abnormally huge mouth because her videos boast BIG portions of food, and more importantly, BIG bites. She even has compilations of her BIG bites, and it's honestly pretty impressive. She did have a controversy due to unethical advertising and potentially spitting/throwing up her food, but it looks like the past is behind her because she is constantly posting, which is good news for fans and viewers!

2) Tzuyang
Tzuyang is well known for her abnormally huge stomach size, and the amount of food she is able to eat. Considering her small and petite body, it is safe to say the amount of food she eats is CRAZY. She thanks her digestive system, which she considers to be very blessed and unusually big.
3) GONGSAM TABLE
Gongsam Lee is well known for his "real-sound" ASMR mukbangs, and these videos are not only visually appealing but it's a joy to the ears as well. For those who enjoy ASMR, many listeners opt for his videos and audio. He films his entire videos in his little one-room, and he has been grabbing the attention of many.
4) Hamzy
Hamzy was reported to be the mukbang YouTuber that makes the most money in South Korea. She has received attention mainly because she often eats food that is commonly eaten in Korea, and she hosts the show as almost a reality mukbang show. She also recently received positive attention from the Korean public when she made statements about the falsely advertised origin of kimchi on Google.
5) Heungsam's Family
Heungsam is big not only on YouTube but also on AfreecaTV -- the original platform for mukbangs. He initially hosted the show by himself on his rooftop, but now he hosts the show with his father & mother, making the show even more interesting.
These were some of the most popular mukbang channels in South Korea. Of course, there are so many mukbang stars on YouTube now, and it has become easy to start one's own YouTube channel. One thing for sure is, the mukbang trend does not seem like it's going to cease any time soon, and it is exhilarating to see the mukbang culture grow all over the world.
What was your favorite mukbang? Is there one that's not listed that you enjoy? Let us know in the comments below!