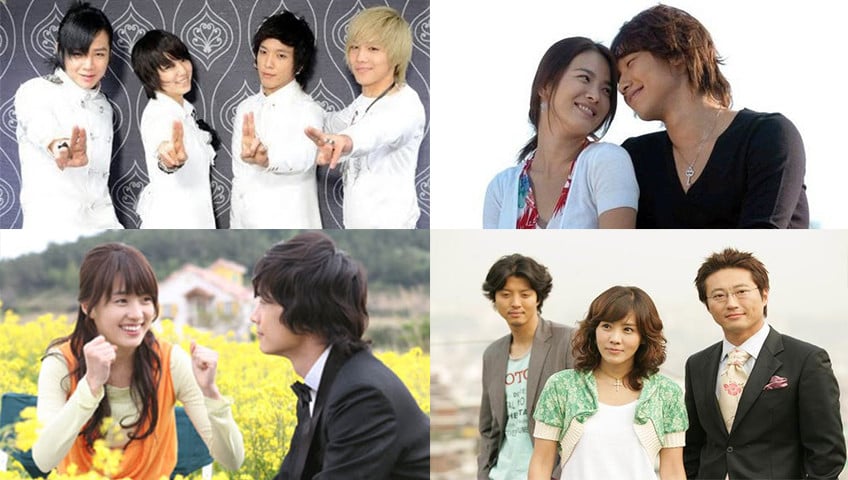 Any movie or TV show can not be considered a complete treat without a fitting soundtrack to go with it. A genius OST takes the Hallyu experience up a notch as it can evoke a memory from a K-drama you watched years ago.
If you're craving a nudge of nostalgia, this #ThrowbackPlaylist will surely make you want to rewatch your favorite childhood drama series!
Reason by Jung Il Young - Autumn in My Heart (2000)
Will we ever recover from this heart-wrenching soundtrack? It's been two decades since Autumn in My Heart first aired, but even just the piano in the intro can send us bawling our eyes out again.
The First Time in the First Place by Lee Bo-ram - Full House (2004)
Aside from the legendary pairing of Rain and Song Hye Kyo, Full House will always be known for its brilliant tracklist that could easily compete with recent ones. Remember when Young-Jae buys Ji-eun ice cream then rides a bike with her because she doesn't know how to? This was the song playing in the background. Still awww-worthy as ever.
By Your Side by Jo Sung Mo - Lovers in Paris (2004)
By Your Side became such a hit that it won Best OST in the 2004 Mnet Km Music Video Festival (now Mnet Asian Music Awards). Despite its bizarre ending, the fact remains that Lovers in Paris is still deservingly one of the highest-rated and award-winning drama series in Korea.
She Is by Clazziquai - My Name is Kim Sam Soon (2005)
Another Best OST awardee, this time from the 2005 Mnet Km Music Festival, is the anthem of the quirky rom-com My Name is Kim Sam Soon. Doesn't this just take you back to the first time we ever fangirled over Hyun Bin?
Perhaps Love by Howl & J - Princess Hours (2006)
Everything about Princess Hours is iconic - from propelling the stardom of its lead cast to having a soundtrack that would later become an immensely popular jam. Even today, K-pop artists still perform covers of Perhaps Love. It never gets old!
One Love by Loveholic - Spring Waltz (2006)
Have you ever heard music that is as comforting as a warm blanket? This one brings that exact same feeling. It's so light and dreamy, and the vibe from beginning to end paints a breathtaking picture of spring.
Lalala, It's Love! By The Melody - Coffee Prince (2007)
We can always count on a catchy opening song to seal the attention of the viewers. It plays a huge part in the memorability of a show, and Lalala, It's Love, perfectly hits the spot! Hearing this makes us want to have another serving of our adorable Coffee Prince.
Paradise by TMax - Boys Over Flowers (2009)
It's impossible to recall our OG flower boys and fighter female lead without this famed OST attached to our memory. Play Paradise on speakers anytime, anywhere, and the crowd can easily sing along with it. It's as popular as the K-drama's stellar ensemble!
Still by A.N.Jell - You're Beautiful (2009)
Crowd-favorite Still is one of A.N.Jell's best works. You're Beautiful's fictional "boy" band gained such a wide fanbase that thousands actually flocked to their mini-concerts and the series' soundtrack album sold more than 15,000 copies within the first week of release.
Losing My Mind by Lee Seung Gi - My Girlfriend is A Gumiho (2010)
Who did not lose their minds over the cuteness of Cha Dae-Woong (Lee Seung Gi) and Gu Mi-ho (Shin Min Ah)? The lead star did not just gain recognition as an actor in this series, but also as a singer, as the soundtrack won Best OST in the 2010 Melon Music Awards.