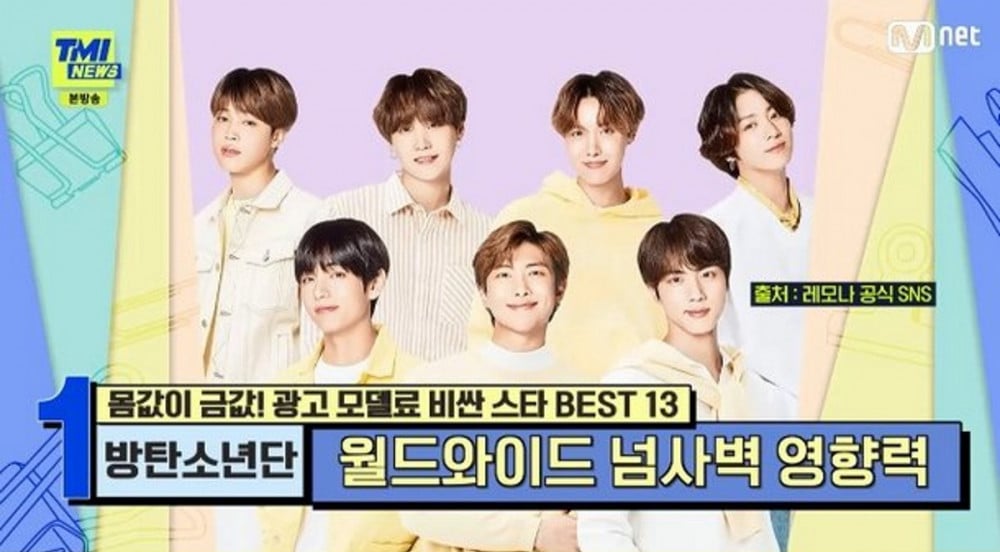 BTS have topped the list of high-priced ad stars on 'TMI News'.

The August 4th episode of Mnet's 'TMI News' featured the stars who are the most expensive advertisement models, and unsurprisingly, BTS came in at #1. The HYBE group were found to have brought in about 44.8 billion Won ($39,167,345.28 USD) for a vitamin company after serving as their models as well as 65.6 billion Won ($57,352,184.16 USD) for a massage chair company.

BTS' advertisement model fees are said to be about 5 billion Won ($4,372,120.00 USD) on a one-year contract basis, but the group reportedly voluntarily reduced their modeling fees by 20% recently due to the COVID-19 pandemic.

Also on the list, Kim Soo Hyun came in at 2nd place, Jun Ji Hyun came in 3rd, Gong Yoo came in 4th, and Son Heung Min came in 5th.