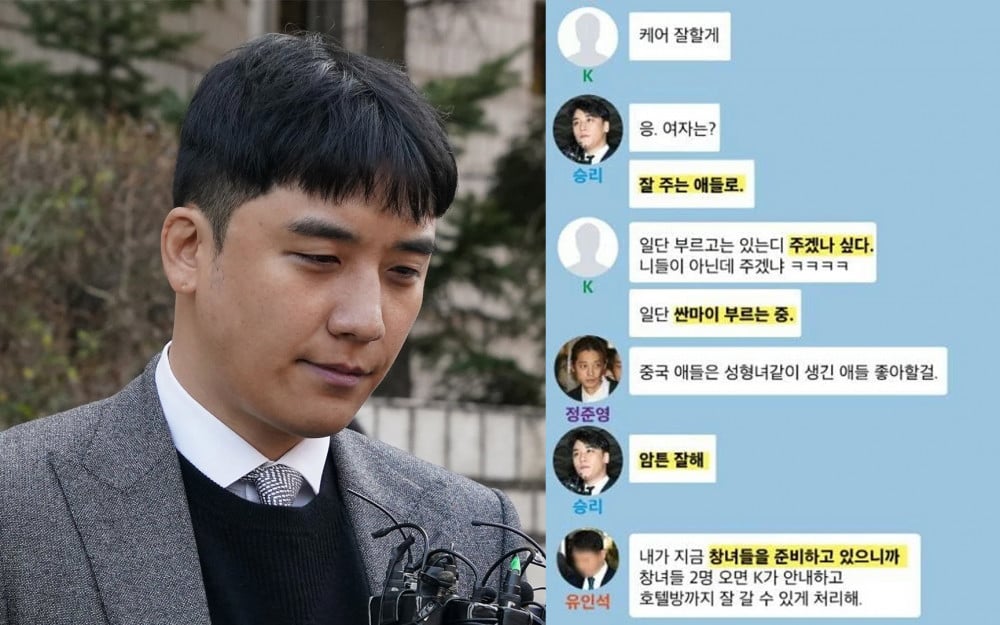 Just a few hours ago, Dispatchreleased the contents of the group chat room conversations between Seungri, Yoo In Suk, Jung Joon Young, and additional individuals.
The conversation content alluding to illegal prostitution services were revealed shocking netizens all across the globe.

Previously, during his latest military court hearing, Seungri continued to deny charges of soliciting illegal prostitution for his foreign clients. When the prosecution questioned him regarding his group chat room conversations, such as a sentence exchanged with his former business partner Yoo In Suk and another business partner 'K' which read, "Girls? Go with the ones that give it good", Seungri claimed that the sentence was a mistake caused by 'autocorrect.'

The individuals, including Seungri, Yoo In Suk, and Jung Joon Young, talked about servicing their clients by calling up girls "that give it well."
Seungri: Make sure to give them everything they want.
Call the girls. It looks like there are guests from Taiwan.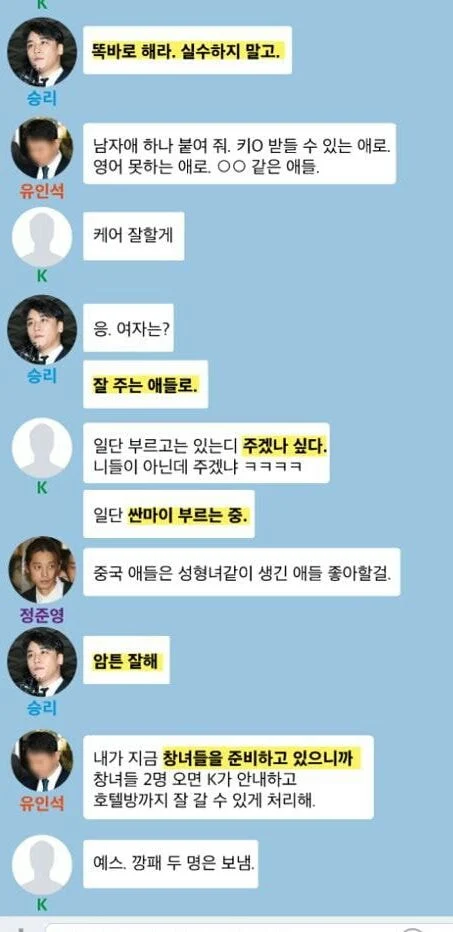 K: Who are some girls we can call right now. Why does it have to be Chinese [guests] OMG.
Yoo In Suk: K, take care so that they don't get mixed up with other people.
K: Yessir, I'll stay right next to them.
Seungri: Do it right. Don't screw up.
Yoo In Suk: Put a man with them too. One who can handle 'Q'. Not one who can speak English. Guys like 'xx'.
K: I'll take care of it.
Seungri: Okay. What about the girls? Go with the ones that give it good.
K: I'm contacting them but I don't know if they'll want to give it to them. Will the girls want to do it with when it's not you guys kekekeke. For now I'm getting the low-grade girls.
Jung Joon Young: Chinese guys probably prefer plastic girls.
Seungri: Well make sure to do it right.
Yoo In Suk: I'm arranging some prostitutes so when the 2 prostitutes get there, K you lead them to the hotel.
K: Yes. The 2 gang guys I sent them away.
In another conversation that was released in the online community TheQoo, the conversation from the 'Jung Joon Young' chat room was released. In the chatroom, singers Choi Jong Hoon, Jung Joon Young, and Seungri are seen talking about having sex with women while being under the influence.
Seungri: X was crazy at the party yesterday.
Choi Jong Hoon: It was successful.
Seungri: I admit. That girl. I'm so into X. Her sister was f*** okay too.

Jung Joon Young: Her sister was unexpected too. There were a lot of hidden gems yesterday.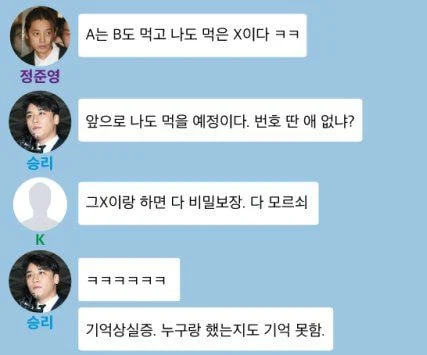 Jung Joon Young: A is the girl that me and B ate lol.
Seungri: I'm going to eat too. Is there anyone who got her number?

K: If you do it with X, it will be kept secret. No one knows.
Seungri: LOL. It's like memory loss. You don't remember who you did it with.


Jung Joon Young: She's just an imbecile lol.
Seungri: She might not just do it.
K: That's bulls*** X.
Jung Joon Young: When I first met her she said she didn't watch tv so she said she didn't know me but then when she got drunk she begged me to sing "Becoming Dust."
Seungri: Should I tell you guys something funnier? When I opened my eyes I was sleeping with C. Lol. Where did D and E go? Lol.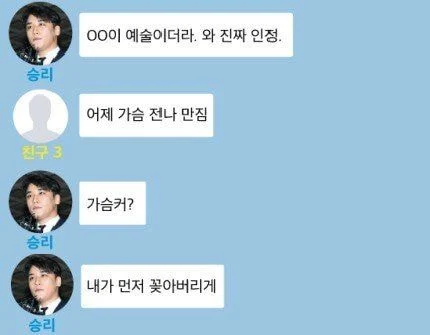 Seungri: OO was awesome. I totally admit.
Friend 3: I touched her breasts like crazy yesterday.
Seungri: Is her breasts big? I'm going to get at her first.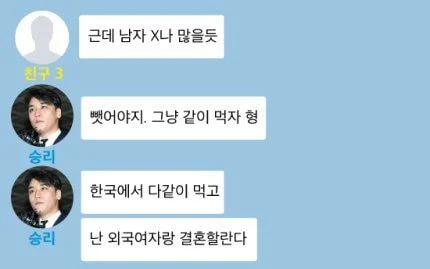 Friend 3: Yeah but she might have a lot of guys.
Seungri: I'll snatch her. Let's just eat her together. Let's all eat together in Korea and I'm going to marry a foreign girl.

After these conversations were released, Korean netizens have become disgusted and shocked as they expressed their opinions on the matter in an online community. Netizens commented, "These guys are disgusting," "They need to be born again," "I'm going to throw up," "Wow, I'm speechless. I can't believe they actually talked about these things in the chat," "Hey, let's be reborn!" "They're crazy," "I hope I never see these sex predators again," "This is so dirty," "I'm so embarrassed that I used to like Big Bang," "My Eyes," "What did I just read?" "Omg this is so crazy disgusting," and "Is this for real?"