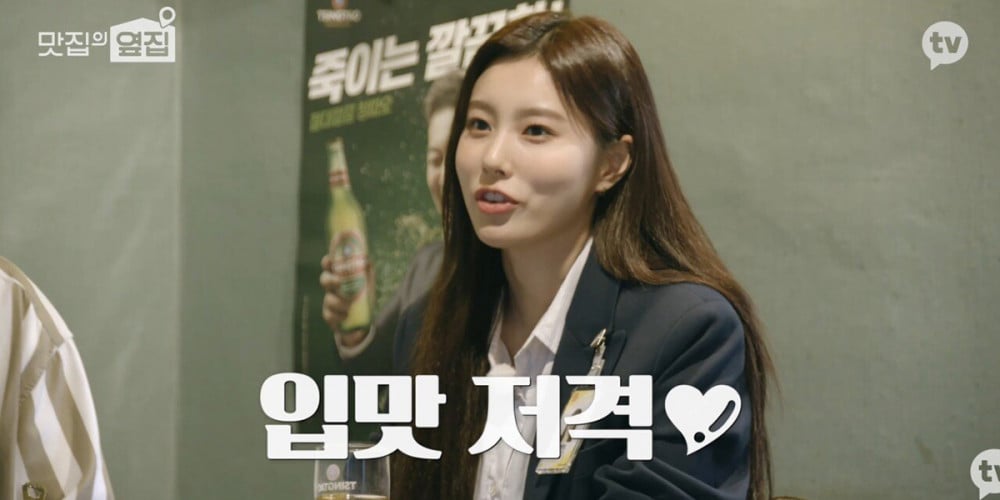 On this week's episode of Kakao TV's original variety series 'The Shop Next Door', former IZ*ONE member Kang Hye Won appeared as the special guest of the day!
Kang Hye Won joined the cast members of 'The Shop Next Door' including Kim Gu Ra, Lee Jin Ho, and Golden Child's Jangjun on a foodie tour of unique restaurants that are located right next door to some of the most popular, famous restaurants in town.
During the foodie tour, the cast members visited a restaurant that specializes in extremely spicy seafood dishes! The chef revealed that in order to perfect a naturally spicy dish without using any artificial flavor, their signature jjambbong (spicy seafood noodles) recipe uses three different types of chili peppers - Korean Cheongyang chili peppers, Vietnamese chili peppers, and Thai chili peppers.
When the jjambbong was served in front of the cast members, Kim Gu Ra immediately noted, "Wow, it already smells super spicy. The thing is, none of us cast members can eat really spicy food." After his first taste of the spicy noodles, comedian Lee Jin Ho commented, "As soon as the noodles enter my mouth, it felt like my tongue was getting a beating."
However, while Kim Gu Ra, Lee Jin Ho, and Jangjun immediately began frowning and coughing at the spiciness of the jjambbong, Kang Hye Won smiled brighter than she had during the entire recording and said, "This is totally my style."
All of the male cast members eventually broke out sweating as they continued eating the extremely spicy jjambbong. Only Kang Hye Won maintained her smile, not even sweating as she enjoyed the dish, being labeled as the only "survivor" of the day.
Check out some clips from this week's broadcast of 'The Shop Next Door', below! Meanwhile, the Kakao TV original variety series airs every Saturdays at 10 AM KST