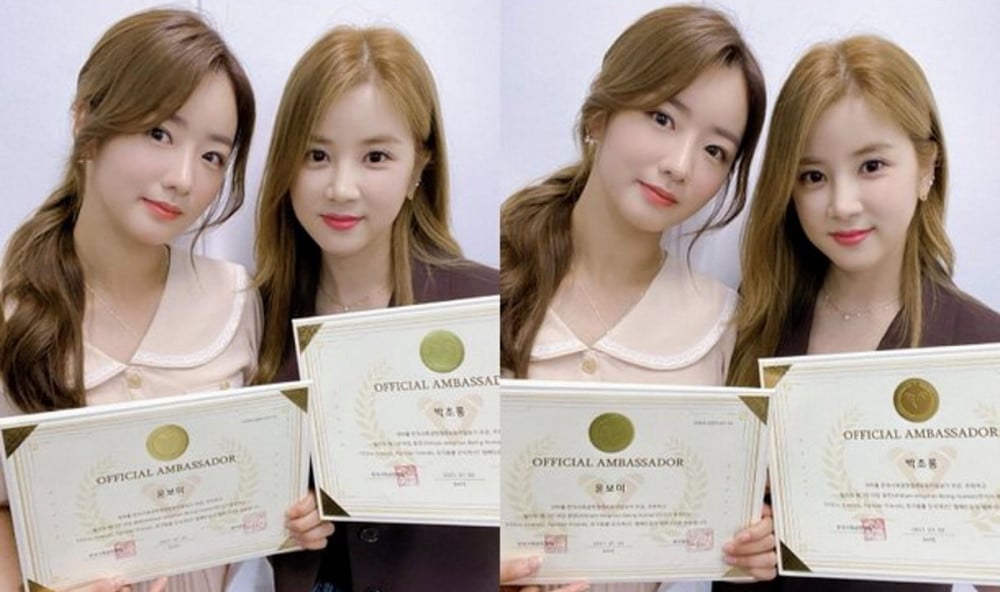 A Pink's Bomi and Chorong are raising awareness of abandoned animals for the 'FF Campaign'.

On July 20, A Pink shared the photos below on Instagram along with the message, "Ambassador Chorong and Bomi, from the 'FF Campaign' for improving awareness of abandoned animals, attended the 'William Wegman Exhibition.' The 'William Wegman Exhibition' says that at the end of the exhibition 2% of its profits will be donated as feed through the Animal Freedom Alliance! Please show your love and support to Chorong and Bomi, who participated in the meaningful exhibition."

The photos above reveal Bomi and Chorong posing with official letters of appointment for the campaign to improve the awareness of abandoned animals, while the below photos show the two A Pink members at the exhibition. Fans were also glad to see an update on Chorong following her bullying rumors earlier this year, which Play M Entertainment denied.

In other news, all the members of A Pink with the exception of Na-Eun, who signed with YG Entertainment, renewed their contracts with Play M Entertainment this past April.