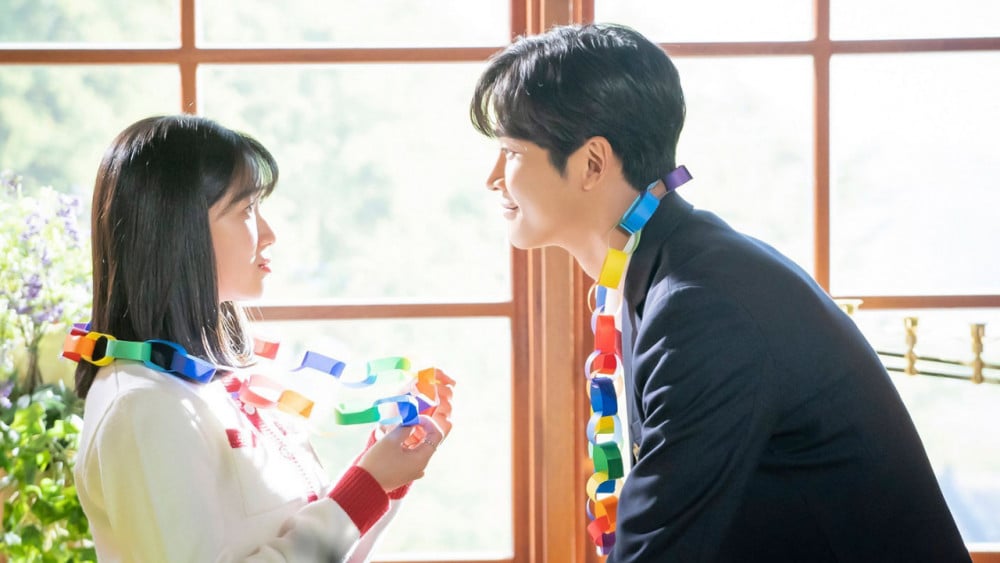 There are many different types of male leads in Korean dramas. There are the classic tough and indifferent ones, the one who thinks he'll never fall in love, the one who doesn't know how to express himself, and finally, the one who's way too good at expressing himself. However, one type of male lead almost always melts viewers' hearts: the soft one.
Here are 5 K-Drama soft male leads who we just can't stop swooning over.
Haru in 'Extraordinary You'
Haru is the poster child of the soft, beta male lead. His protective instincts are strong, but when he's around Dan Oh, he turns into a ball of fluff. He lets her take care of him and lead him with pride. There's nothing he won't do for her, even if that means turning the world upside down. Rowoon's real personality also added to the lovely puppy-eyed charm of Haru.
Eun Seob in 'When The Weather Is Fine'
Eun Seob, played by Seo Kang Joon, is quiet and unassuming. He doesn't take up much space or time in anyone's life. However, his heart is filled with the love he has for Hae Won (Park Min Young), but he never imposes it on her. He's been left multiple times, but that doesn't change his heart. If that isn't the definition of a man so soft for his love that he doesn't even care about his own well-being, we don't know what is.
Yong Shik in 'When The Camellia Blooms'
Yong Shik, played by Kang Haneul, is a macho policeman with anger issues. However, when he falls in love with a single mother who's too beautiful to be true, he melts into a puddle of sunshine and rainbows. The relationship between Yong Shik and Dong Baek (Gong Hyo Jin) is so wholesome that it has to be one of the healthiest portrayals of romantic love in all of K-Drama land.
Ho Goo in 'Fool's Love'
'Fool's Love' is easily one of the most underrated romantic comedies and certainly deserves much more attention from the K-Drama community. Choi Woo Shik plays Ho Goo, a simple man with a simple life who falls in love with a storm, Do Do Hee, played by Uee. His life is turned upside down, but he can't stop making heart-eyes at her. Ho Goo is the best husband anyone can ask for.
Kang Bae in 'Mystic Pop Up Bar'
'Mystic Pop Up Bar' does not have a clearly demarcated male lead. However, Kang Bae, played by Yook Sungjae, is certainly one of them, and his love line with Kang Yeo Rin (Jung Da Eun) is the most adorably soft and pure relationship ever. Traditional gender roles are reversed, and both of them are comfortable with the same, reveling in their differences but, more importantly, their similarities. We wish we could get a season 2 of this drama just so that we can watch their relationship flourish even more.