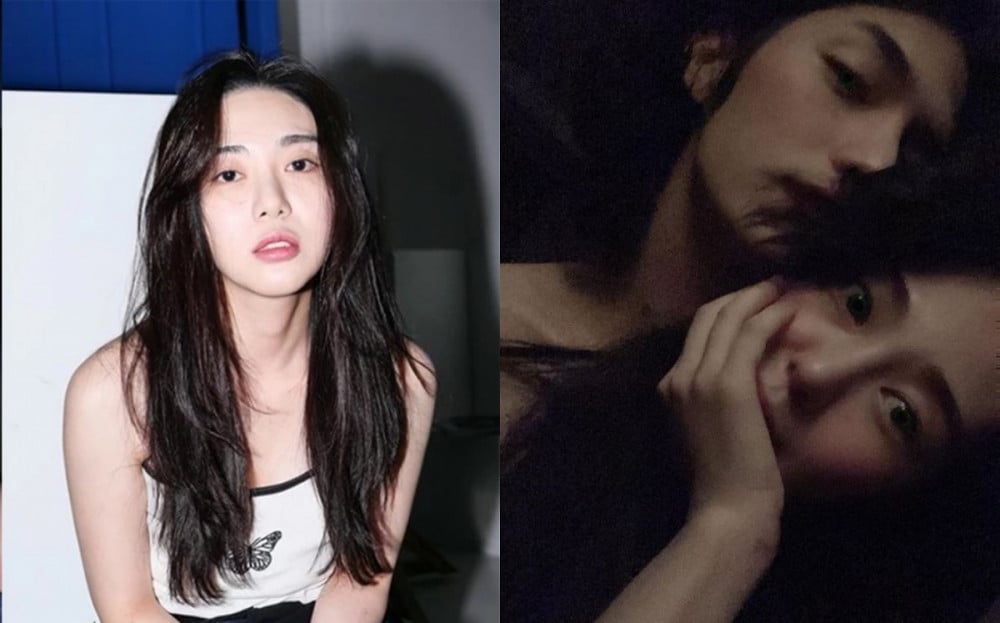 A netizen is claiming former AOA member Mina stole her friend's boyfriend.

Mina surprised fans by suddenly revealing a man who's assumed to be her boyfriend on Instagram yesterday, and on June 26, a netizen's post about the star's alleged boyfriend is trending at #1 on Nate's community site Pann.

Netizen 'A' claimed, "Kwon Mina's boyfriend... That's my friend's boyfriend cheating." 'A' explained that people are assuming the man in the picture is Japanese, but he's actually Korean. According to the netizen, the man pictured and her friend were about to celebrate their 1000th day anniversary when it began getting difficult to contact him, and after a while, they spotted him on Mina's Instagram.

'A' alleged, "1) Mina contacted him first through DMs. 2) She knew he had a girlfriend. 3)The guy just sent a message saying 'I'm sorry' and stopped seeing my friend. 4) My friend and this guy both have a lot of followers. 5) They both had a public relationship." 'A' further asserted her friend had returned from studying abroad in England to be with her boyfriend, and the couple was living together before he appeared in Mina's Instagram photo.

The netizen also shared an alleged DM exchange between Mina and her friend's boyfriend. In the DM, Mina requests a drawing from the boyfriend when he has time and compliments the couple's relationship, which means she was aware he had a girlfriend. The couple are said to have posted photos of each other on their Instagram accounts as well.

Mina herself has now responded to the allegations. She wrote:


"I don't know if the post was written by the friend of my boyfriend's ex-girlfriend, but I'm writing this because I don't want to be criticized for this. I also don't want my non-celebrity boyfriend to be harmed. At first, I received a message of support from my boyfriend. I then asked him for a drawing, and at the time, I knew he had a girlfriend. However, he already had concerns about his girlfriend, and we started talking to each other about our worries when we began realizing the things we have in common and having good feelings for each other. We still do. That's why I told him I am interested in dating if he breaks up for sure with his girlfriend. His relationship with his ex-girlfriend wasn't good, and his heart was already closed to her. Anyway, he said he settled it all after that, and we began dating. I don't know the details of what my boyfriend and his ex-girlfriend discussed, but I trust my boyfriend and am dating him with good feelings. That was also explained to his ex-girlfriend as well through DM. I wrote this post because what's being said is different, and I don't want to be misunderstood. I really don't like that this kind of noisy incident is happening again. I'm sorry about that.

The points 1 and 3 are completely different from the actual situation. I didn't contact him first. My boyfriend did not suddenly stop contacting his ex-girlfriend. He hasn't even been contacted until now. [His ex-girlfriend] is still not answering any calls. I want to contact her because this kind of post came up. Anyway, it's a frustrating situation for the person who wrote the post and for me. I'm scared I'm going to go through a witch hunt because of that post. I'd like for you to post after knowing the actual facts. Please take it down."


What are your thoughts on the situation?