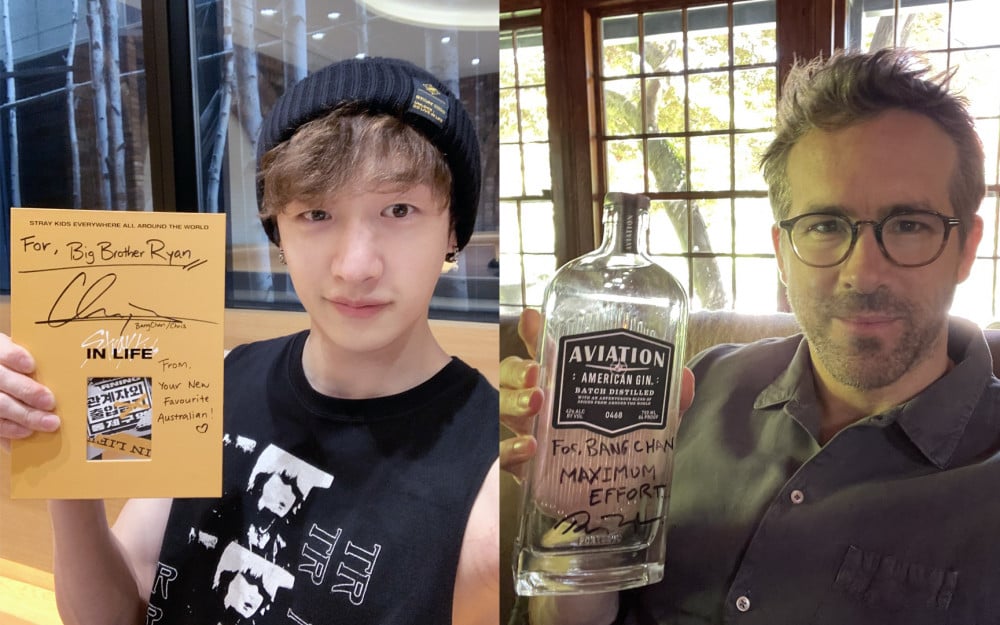 A few days back, Stray Kids paid homage to Deadpool as they put on a Deadpool-themed performance on the Mnet idol competition show 'Kingdom.'
Soon after, Ryan Reynolds, the Hollywood actor who plays Deadpool, responded to a tweet about the idol group's performance and even liked the post about their performance.
Things didn't end there. On May 23rd, Ryan Reynolds tweeted out a message to Stray Kids saying, "Two things. First, I have your autograph right here, Bang Chan. Will send it to you this week. Second, as a new @Stray_Kids fan, can I get an autograph? #NewFavouriteAustralian"
Ryan Reynolds included a photo of a bottle of Aviation American Gin (which Ryan is a part-owner) with his autograph made out to member Bang Chan. In the post, Ryan Reynold revealed he had newly become a fan of Stray Kids and wanted to send Bang Chan a small gift. He concluded a post by asking for an autograph in return. This seems to be a response, as Bang Chan had once stated during a live stream that Ryan Reynolds is his idol. Bang Chan has expressed how much of a Ryan Reynolds fan he was by explaining he had watched all of the actor's films.
A few hours later, Bang Chan replied to Ryan Reynold's tweet by saying, "I also have two things. First, an autograph for you? Already on its way. Along with some other goodies that might suit the Red Suit. Second, sorry @RealHughJackman #TheNewFavouriteAustralian."

In the photo attached to the tweet, Bang Chan is seen holding an album signed with his autograph and made out to 'Big Brother Ryan.'

Since the two have shown this cute interaction on the online portal, many of their fans have expressed how much they love the two.
In addition, another Hollywood actor responded to Bang Chan's tweet, which made more fans laugh and drew their attention. Bang Chan made the witty tweet also referring to the long 'feud' that Ryan Reynolds has with actor Hugh Jackman. Ryan Reynolds and Hugh Jackman have been having a friendly quarrel for a while with a constant back and forth with each other.
Hugh Jackman responded, saying, "No worries, Bang Chan! I just worry for Stray Kids now that Vancity Reynolds is a fan. He can be a lot. Gotta watch out for my fellows Aussies! Hi Felix!" and showed he was already familiar with Stray Kids as he even sent his regards to member Felix.


Fans are loving the celebrity interactions and have taken to Twitter to express how much they were entertained by their cute relationship.