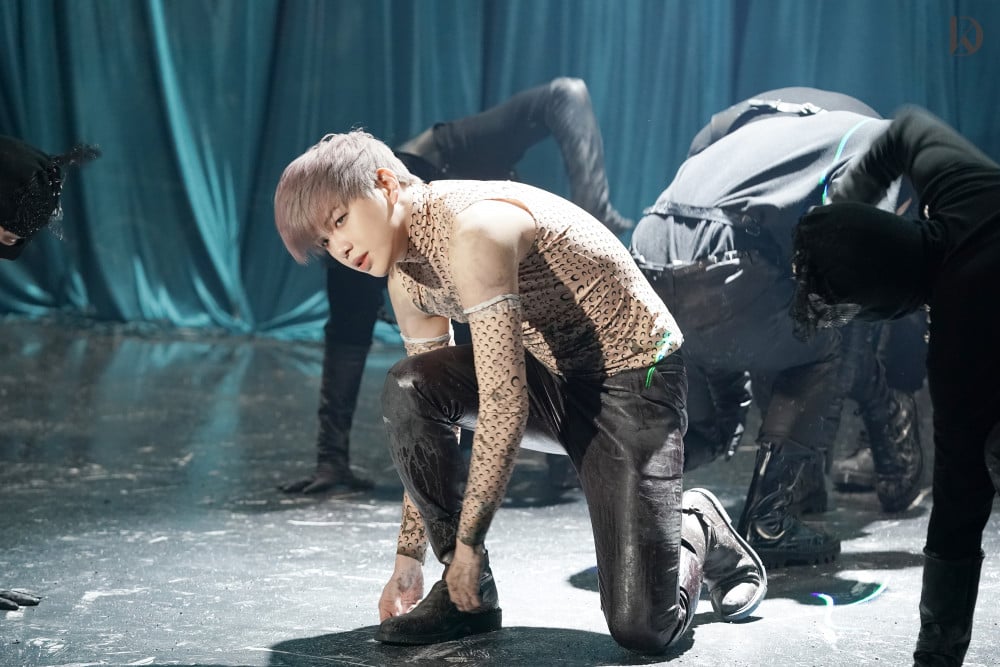 On May 11, 'Idol Chart' released an exclusive interview with the music video directors behind Kang Daniel's "PARANOIA"and "Antidote", his songs from 'YELLOW'— a mini album about Kang Daniel's mental health journey. "PARANOIA"was the pre-release single to the album and it portrays his dark thoughts back when he had to take a hiatus due to depression and panic disorder.

The Rigend Film music video production crew and Kang Daniel's team were previously featured on 'Omniscient Interfering View' Episode 140 showing the last day of filming the "PARANOIA" music video.
In the Idol Chart interview, directors Jang Dong Joo and Yoon Seung Rim delved more into what went into creating "PARANOIA" and what working with Kang Daniel and his team was like.
The project came to be when KONNECT Entertainment reached out to Rigend Film. At their initial planning meeting, the directors' first impression of Kang Daniel was that he was like an excited puppy who continuously praised Rigend Film with two thumbs up. Yoon said there was one thing Kang Daniel especially wanted: 'Not decadent beauty, just decadence. I'd like an artistic video, please.' Yoon said Kang Daniel and his leading staff were very enthusiastic and helped them a lot.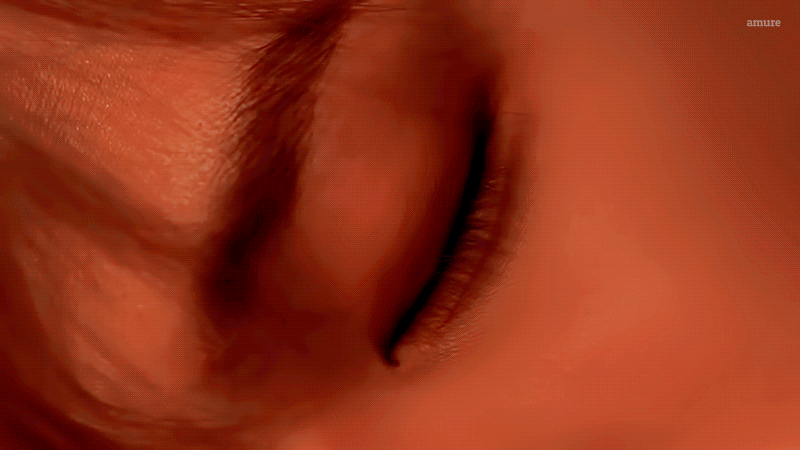 Upon receiving the proposal, Yoon said she collected data and images related to paranoia. Jang wanted to emphasize Kang Daniel's pressures from public interest. An assistant director found the keywords "the eyes are a sword", which appeared in Greek (το μάτια ια είναι σπαθί) in the music video.
The director also gave creative input to the costume team. Yoon, a self-proclaimed Kang Daniel fan, wanted to accentuate his good physique and asked for his waist to be cinched with a corset. And since the atmosphere was dark, she suggested going with white outfits so viewers' eyes are not too burdened.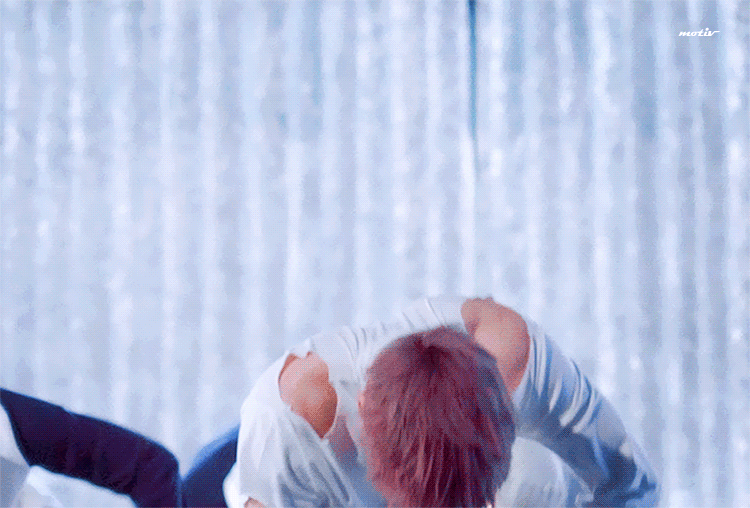 She also requested for a hoodie outfit because she wanted to capture his lonesome image walking into a crowd with his hood up.
Idol Chart asked the directors about what was memorable during filming. Yoon replied, "There was a sequence of Kang Daniel hiding from people's eyes. He was so realistic when he went under the table. I was surprised at the moment. And he was very comfortable [...] he just enjoyed it. He was also good at acting with his pupils shaking or crying."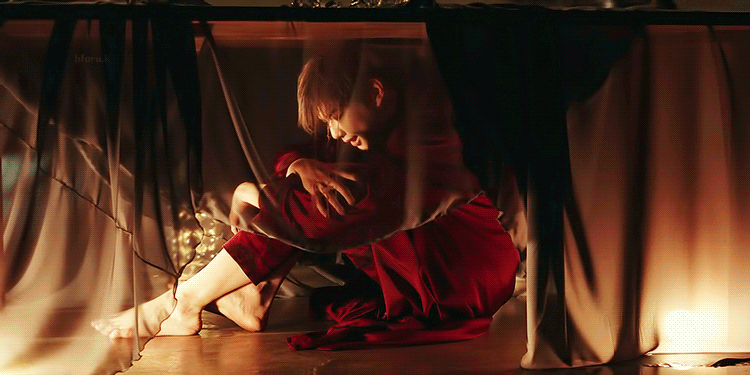 The team talked about filming a deep underwater scene for the first time. Jang said the depth was about seven to eight meters and said he was "concerned because Kang Daniel experienced discomfort due to decompression sickness" symptoms, but he pushed through the final shoot despite feeling unwell. Yoon added reflective fabric that wound around Kang Daniel to represent the encroaching of one's self.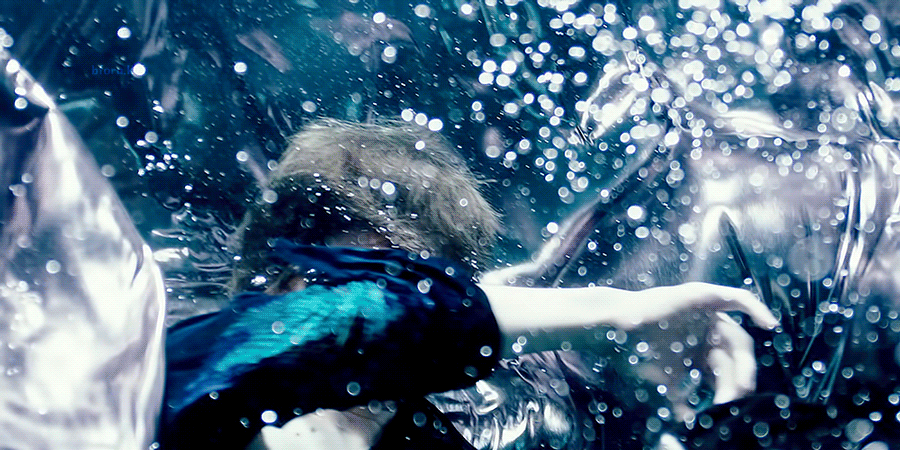 Yoon said a scene that was fun to film was at the end where Kang Daniel's eye turns red and he tosses flour. She thought of the scene the day before the shoot. During post-production, Yoon edited in a red dot light as if it was from a CCTV into his eye.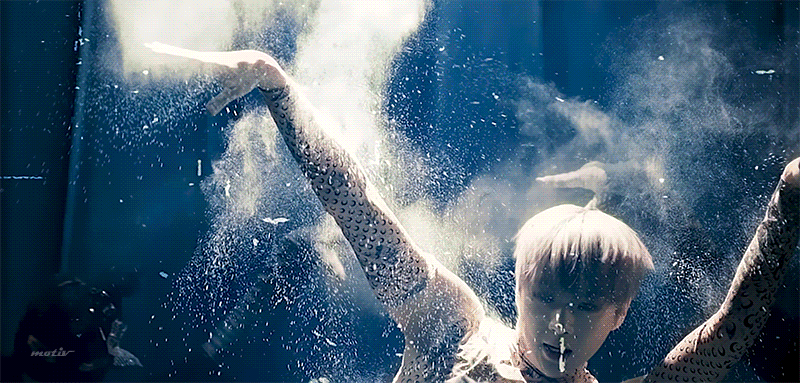 The directors revealed hidden meanings. In the bedroom set, Yoon wanted to express the ego encroaching into a private space through the water strewn on the floor. Yoon explained the ending scene where it appears as if the demon attempts to stab Kang Daniel, but it turns out the demon puts the knife in Kang Daniel's hand and says, "Kill me." She said the main point was at the end where the scene changes to show who was injured. Kang Daniel told the directors he wanted to finish "PARANOIA" with the demon's encroachment, as "Antidote" would continue from it.
Check out Rigend Film's work with Kang Daniel below:
In other news, Kang Daniel and Loco will be releasing a collaboration single titled "Outerspace" via 'UNIVERSE MUSIC' and 'Warner Music Korea' on May 13.