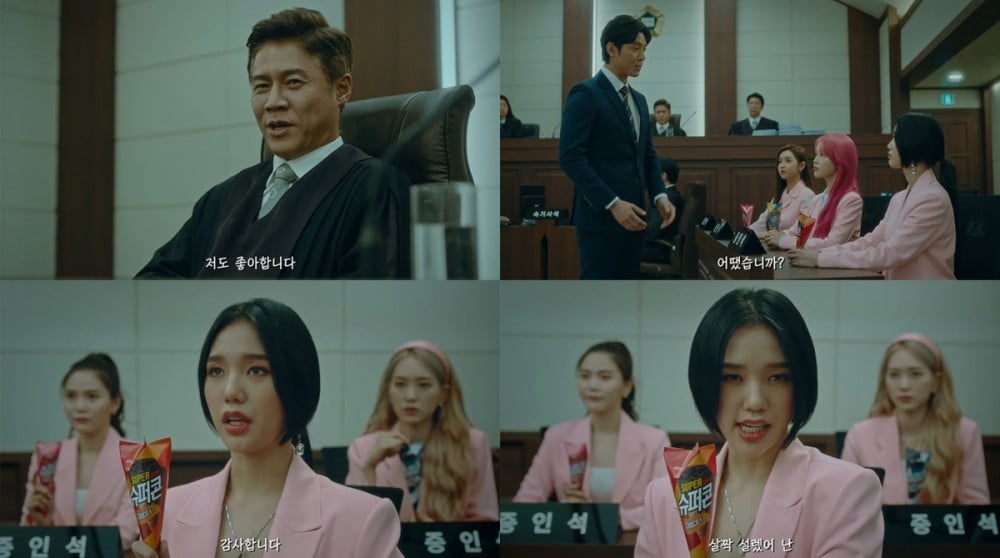 'Binggrae' ice cream has released a ridiculous(?) new CF starring Oh My Girl, and netizens are totally loving it!
In fact, the new full-length CF not only stars the ladies of Oh My Girl, but also actors Park Ho San, Choi Moo Sung, Kim Joo Heon, and more, and tells the story of a man on trial for allegedly stealing a priceless artwork. One piece of evidence found at the scene of the crime was a 'Binggrae Super Cone', with the defendant's fingerprints detected on the wrapping!
However, the story then spirals out of control as the defendant's lawyer is more interested in asking the defendant, "Was the super cone crunchy?"

The story then takes on an even more dramatic twist(?) as the opposing lawyer decides to summon another witness to the trial - the popular 'HAITAI' brand ice cream, 'Hodu Maru' (Pecan-flavored ice cream)!
In fact, the full-length drama CF is meant to announce the unexpected collaboration between the two ice cream brands, 'Binggrae' and 'HAITAI'! Check out the full short-film for youself, below!