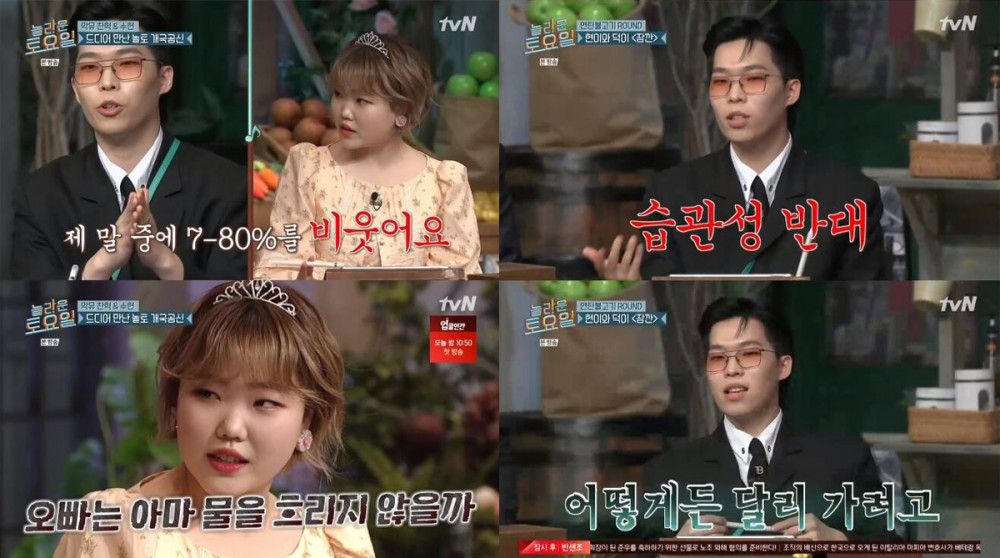 On April 3, the AKMU siblings Chanhyuk and Suhyun appeared as guests on tvN's 'Amazing Saturday - Doremi Market'!
After greeting the 'Amazing Saturday' crew, it was revealed that Chanhyuk had asked to be seated as far away from his sister as possible! He explained, "The reason that I asked to be seated away from Suhyun is because she mocks and ridicules about 70~80% of everything I say. At least on this program, I wanted to portray a more intelligent image. That's why I asked if it was possible to sit next to people who would agree with what I say."
Suhyun, on the other hand, said before starting the first round, "I'm sure that you can tell just how different we are even from the way we guess the lyrics today. I get really excited when I play games. [Chanhyuk] will probably say something that doesn't make any sense."
Chanhyuk responded to this with, "I'm very content to be seated so far away from Suhyun today."

Finally, when asked how the two siblings typically divide up the parts in their songs, Suhyun coolly said, "First, he makes the song and then I listen to the demo version. And then, I sing another demo version by myself, and decide which parts I like. Afterward, I decide what parts suit me best. I claim most of the parts. He gets the leftovers," causing laughter!