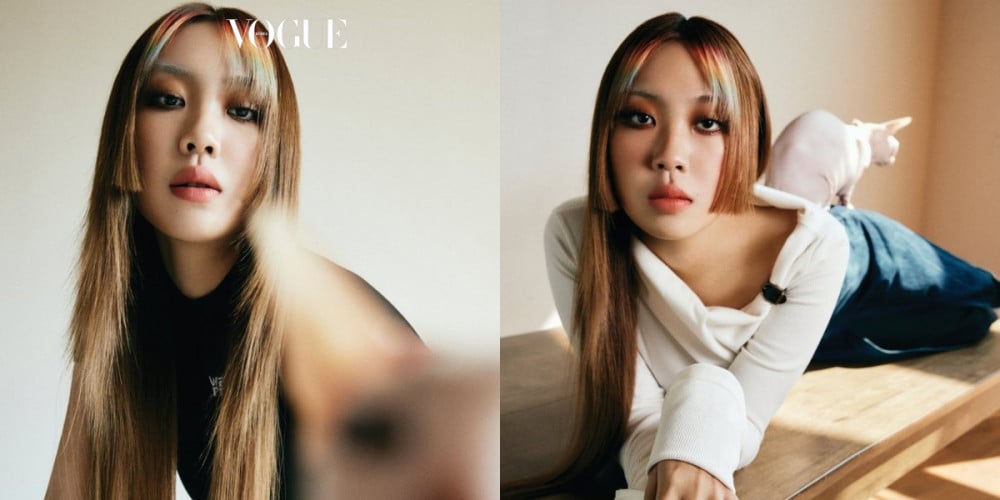 Soloist Lee Young Ji tried out a unique and eclectic photoshoot for 'Vogue's April issue!
For this pictorial, Lee Young Ji opted for more feminine styles while still rocking her signature rainbow bangs and edgy makeup look. In her interview which followed, the rapper talked about her surprise announcement that she would be going on a diet.
She said, "After I gained weight, I noticed that I did not have enough stamina for work. I would run out of breath or get tired right away, and so it occurred to me that this should not go on."
Is Lee Young Ji satisfied after having lost 10 kg? "Not yet. I'm 'lighter' than I used to be in numbers, but there's also what you see as well. I want to gain more muscle. Otherwise, I am satisfied. I feel that my throat is clearer, and I got over my reflux esophagitis after quitting late night meals. Before, my voice used to always give out and I got frequent infections."
Finally, Lee Young Ji opened up about her concerns balancing her variety image with her identity as a musician and rapper. "I am a little afraid that my variety image might become too prominent, and people might not listen to my music as much. I am still looking for a solution, but in the very least, I think I need to release some new albums soon."
When is Lee Young Ji planning on releasing new music? "As soon as it's finished! It is a single about inferiority," she answered.