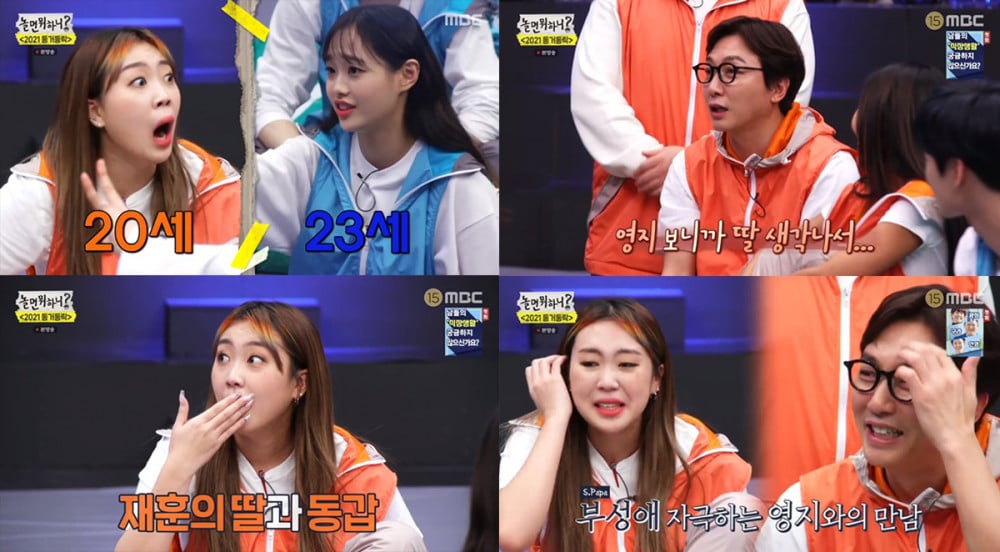 On the February 20 broadcast of MBC's 'Hangout With Yoo', team Jessi and team Kim Jong Min continued to face off in a variety of games and missions for the newest 'Hanout With Yoo' project, '2021 同苦同樂'!
The '2021 同苦同樂' project is a revival of a popular variety program hosted by Yoo Jae Suk in the early 2000's. The variety program features various celebrity guests competing against one another in fun games and quizzes.
On this episode, Gen Z rapper Lee Young Ji and LOONA member Chuu went up against each other in a 'Seat Cushion Quiz' battle. Their fellow teammates cheered the girls on fervently, and Jo Se Ho said, "Chuu, show Young Ji unnie what you got!"
However, everyone quickly pointed out that Chuu was the older one, by 3 years! Chuu said that she was born in 1999, and Lee Young Ji reminded the cast members that she was the maknae of the entire program, born in 2002.
Hearing this, Tak Jae Hoon commented, "I think that means that Young Ji is the same age as my daughter So Yool..." Yoo Jae Suk then asked Tak Jae Hoon, "Why are you suddenly bringing up your daughter, Mr. Tak? Do you feel the age gap between youself and Young Ji?"
Tak Jae Hoon garnered sympathy from his cast members as he muttered, "I'm just saying, seeing Young Ji here, she reminds me of my daughter...".

Later on, the cast members had a blast with a drawing quiz game, tug-of-war, and a pajama party to wrap up the day. Check out some clips from this week's 'Hangout With Yoo' below!