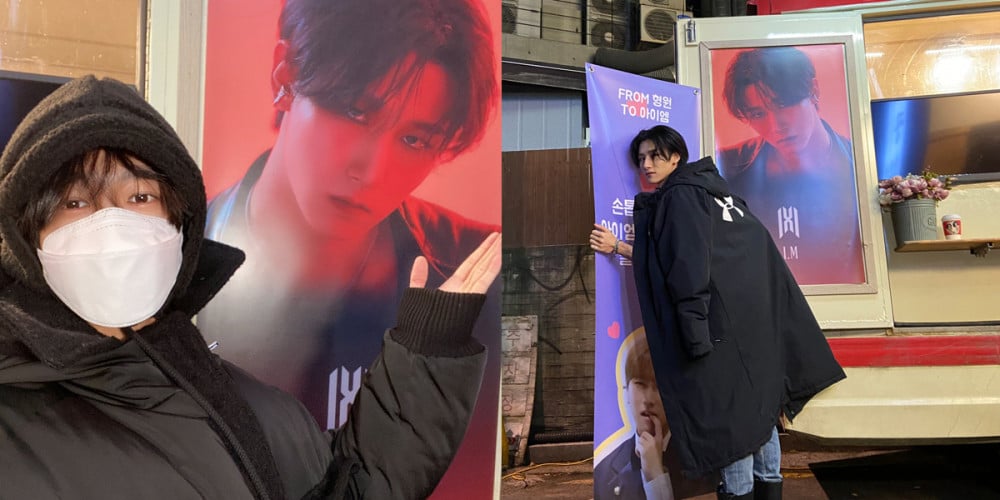 The hyungs of MONSTA X can't seem to hide how proud they are of I.M's solo debut!
Soon after the release of his 1st solo mini album 'Duality' and the MV for his title track "God Damn", I.M took to Twitter to thank his fellow member Hyungwon for sending a coffee cart to his MV filming set.
But the sweetness didn't end there, as Hyungwon also showed up to I.M's MV filming set in person! While stopping by to cheer I.M on, Hyungwon also got to enjoy some coffee himself. Hyungwon then also said to fans on SNS, "Changkyun's song is so good. Please love it a lot~~".
MONSTA X's Jooheon, who also stopped by I.M's MV filming set, enjoyed some Hyungwon-coffee as well. Jooheon said, "My cool donsaeng Changkyun, finally it's your first solo album hehe. Congratulations, I am always cheering you on, but if you keep getting sexier it will cause a problem... Monbebe... will have shivers... Everyone, let's all love I.M's album (heart). You worked so hard Jjangkyun."
Congratulations once again to MONSTA X's I.M on his solo debut!