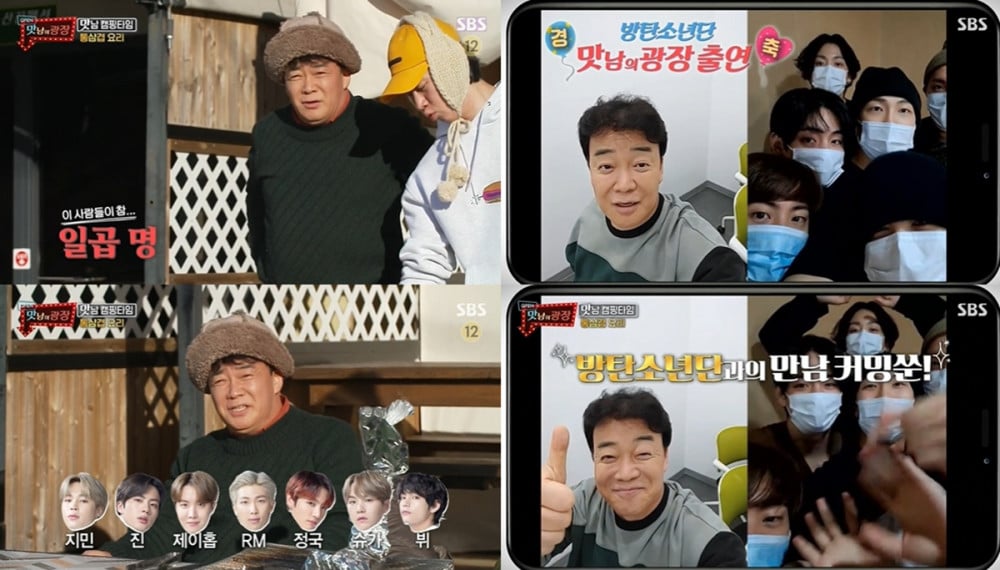 On the January 14 broadcast of SBS's 'Delicious Rendezvous', food entrepreneur Baek Jong Won held a surprise video call with the boys of BTS!
First, while grilling meat outdoors with his kitchen assistants including Yang Se Hyung, Super Junior's Heechul, and Dongjun as well as this week's guest Lee Ji Ah, Baek Jong Won named some famous songs even he knew. He attempted to hum a line to BTS's "Dynamite", but Heechul was unimpressed, confused about whether or not Baek Jong Won was singing the same song Heechul was thinking of.
The crew members of 'Delicious Rendezvous' also questioned Baek Jong Won's knowledge of BTS, by asking him if he knew how many members the group had. Baek Jong Won laughed and said, "Of course there are seven. They came out on a show I did once too."
It's true that BTS members Jin and j-Hope appeared as guests on a cooking show hosted by Baek Jong Won in the past. Then, later on during the program, 'Delicious Rendezvous' hinted that the BTS members may actually appear on the show some time soon! Airing a short teaser clip of Baek Jong Won's video call with BTS, 'Delicious Rendezvous' indicated in a caption, "Rendezvous with BTS, coming soon!"
After this January 14 broadcast, the main PD of 'Delicious Rendezvous' explained that Baek Jong Won has been invited to collaborate with BTS to promote Korean pork. "We will air an episode dealing with Korean pork. Baek Jong Won will actually visit the contents 'Run BTS!' and cook with the BTS members, and 'Delicious Rendezvous' will also capture the process," Lee PD explained.