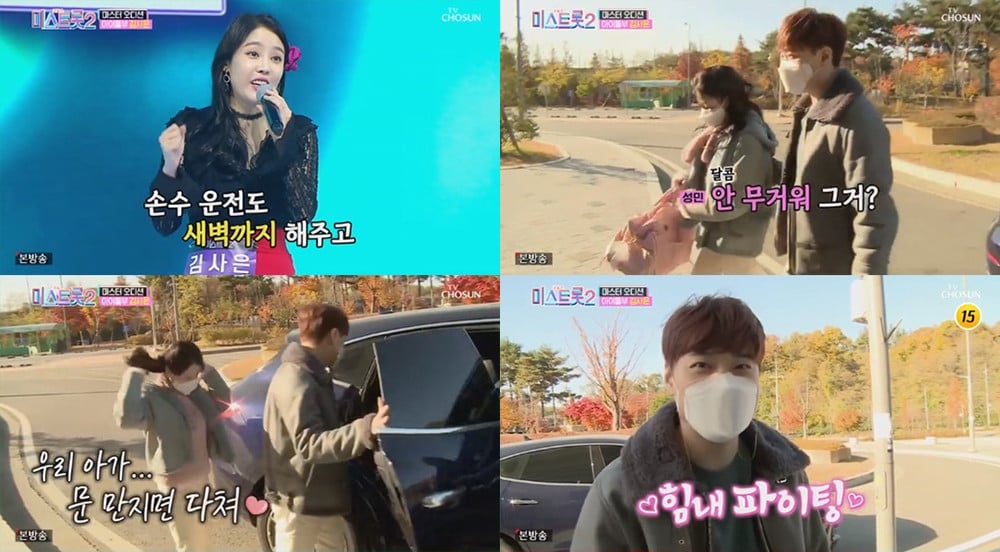 On the December 24 broadcast of TV Chosun's trot competition program 'Miss Trot 2', singer/musical actress Kim Sa Eun appeared as a contestant in the "former idol" category.
On this day, Kim Sa Eun arrived at the audition recording accompanied by an unexpected figure a.k.a her husband, Super Junior's Sungmin. It was revealed that Sungmin drove a long way since early in the morning to accompany Kim Sa Eun to her 'Miss Trot 2' audition, and as soon as they arrived, Sungmin could be seen opening the door for Kim Sa Eun or leading her along with a reassuring hand. When Kim Sa Eun finally boarded the elevator and went off to her audition, Sungmin left a message for the camera as he said, "Just do like you always do, you'll do great. You practiced so much, so as soon as you start singing all your nerves will just disappear."
After delivering her audition piece "Seoul Tango", Kim Sa Eun spent time chatting with the judges, who curiously asked her about her well-known husband. Kim Sa Eun said, "Yes. My husband helped me with the choreography, and he also helps out with housework. He drove me here early in the morning."

Meanwhile, during this episode, Kim Sa Eun passed the first round of auditions with 14 out of 15 hearts from the judges.