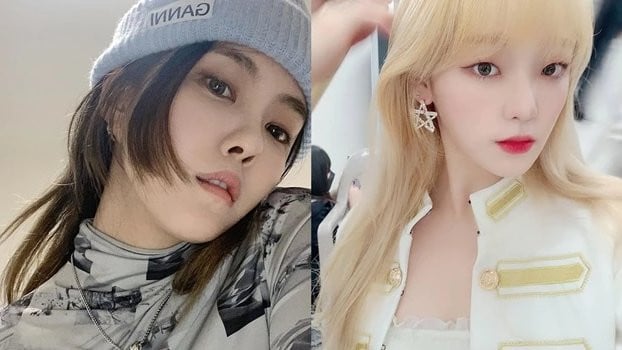 Oh My Girl's Seunghee explained why she laughed while she performed T-ara's "Sexy Love".

On December 26th, adorable interaction between Hyomin and Seunghee caught netizens' eyes. Hyomin posted snippets of Itzy and Oh My Girl's performance at '2020 SBS Gayo Daejun' with the caption, "The best Christmas gift amidst an ordinary long weekend. Indeed Santa didn't let me down. I love you Santa Claus & SBS Gayo Daejun <3 MMTG <3 <3 <3 #Itzy #OhMyGirl #SoPretty #ButWhyDidYouLaughSeunghee" on her personal Instagram on Christmas day.
Soon after Hyomin published her post, Seunghee left a comment explaining why she couldn't hold her laughter during the performance. Seunghee wrote, "Sunbaenim...really...for real I'm grateful and I love you.. We promised not to laugh. Seriously lifeless. Perform as if we were dolls. We were told you all practiced that before performing so we recited those to ourselves before coming on stage. But at the end of the performance, I got distracted thinking 'Do I look like a human? But then I'm certainly a human..?' and at that moment I couldn't stop laughing... This is all because I lack concentration...I'm sorry. I should improve my concentration."
Hyomin then replied, "You did well. Good job laughing. It was a day that made me look back at myself who didn't laugh if I were really a human..I hope I could be a humane sunbae. Hoobaenim I love you...<3"