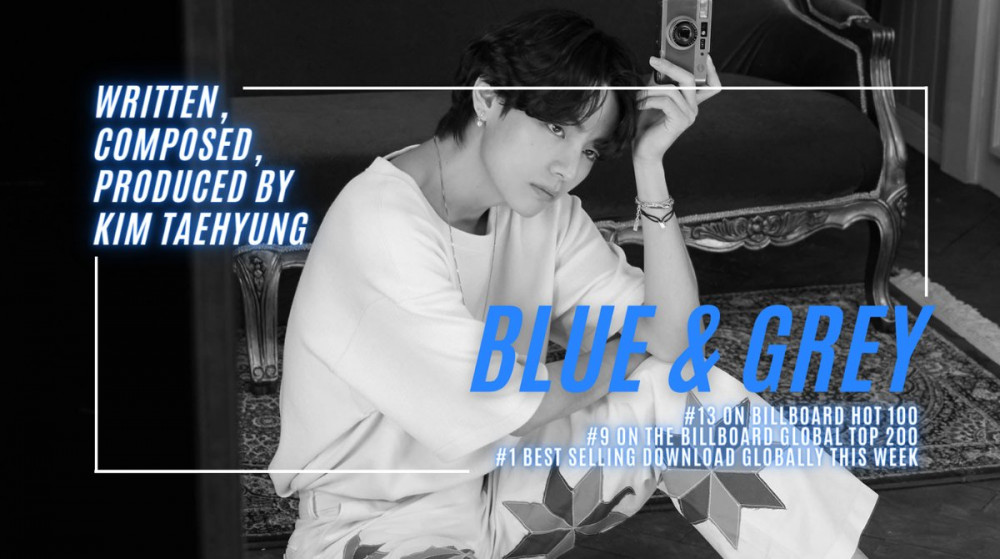 In early September this year, BTS became the first-ever Korean idol group to top the Billboard Hot 100 chart with their single: Dynamite. In less than three months, the septet has once again made history on the said chart, this time with not one but all the tracks (excluding skit) from their latest record-shattering album titled: BE.
In particular, "Blue & Grey" written, composed, and produced by member V has set astounding new records on Billboard's most prestigious charts claiming the title as BTS's most commercially successful b-sidetrack.
As per the reports, "Blue & Grey" landed at #13 on the Hot 100 chart, the highest entry for a BTS b-side on the chart to date. Forbes reported the ballad as a "fan-favorite global hit song" that narrowly missed out on the highest tier with just three rungs.
The track also reportedly sold over 69K copies in the U.S and debuted at #2 on the Digital Songs Sales Chart bagging another record as the highest-charting b-side from the album.
"Blue & Grey" also became the only b-sidetrack to join "Life Goes On" and "Dynamite" on the Billboard Global 200 chart, debuting at #9 with 26.8 million streams and 87K units sold globally.
Billboard also stated that the ballad accumulated the highest sales among all the other releases in the tracking week. Notably, it also surpassed the title track: "Life Goes On" which reportedly sold over 84K units.
In addition to the takeover on the U.S charts, "Blue & Grey" has also become a worldwide hit as it continues to cement its title as the "queen of all b-sides" in every corner of the world.
Star News Korea reported earlier this week that the song has set remarkable records on the U.K's Official Singles Top 100 Chart, and in several countries worldwide, most notably, topping 41 countries (as of now) on the Worldwide iTunes Top Songs Chart. Furthermore, "Blue & Grey" also debuted in the Top 15 of all SouthEast Asian Singles Chart adding another impressive feat to its name.
Aside, from being a chart-buster, "Blue & Grey" has also become one of the most-loved tracks by the fans, as many regards the ballad as their "comfort song." It has also been remarked by the critics as their favorite from the album and noted as a "revolutionary track" in the group's discography.
"Blue & Grey" is an acoustic pop ballad that beautifully redefines the way pop music addresses mental health. V has stated that the song monologues his feelings during "one of the lowest moments in his life" and shared his wish for the fans to find a sense of healing through the song.
As the song was originally produced for V's mixtape, fans are now excitedly waiting for KTH1 (the fan given title for his mixtape) and discussing the possible new records V is most certainly going to set with his first-ever solo album.
Source: Billboard, Forbes, Star News Korea, Music Weekly (Asian Charts). Thumbnail: @myonlyTAEger