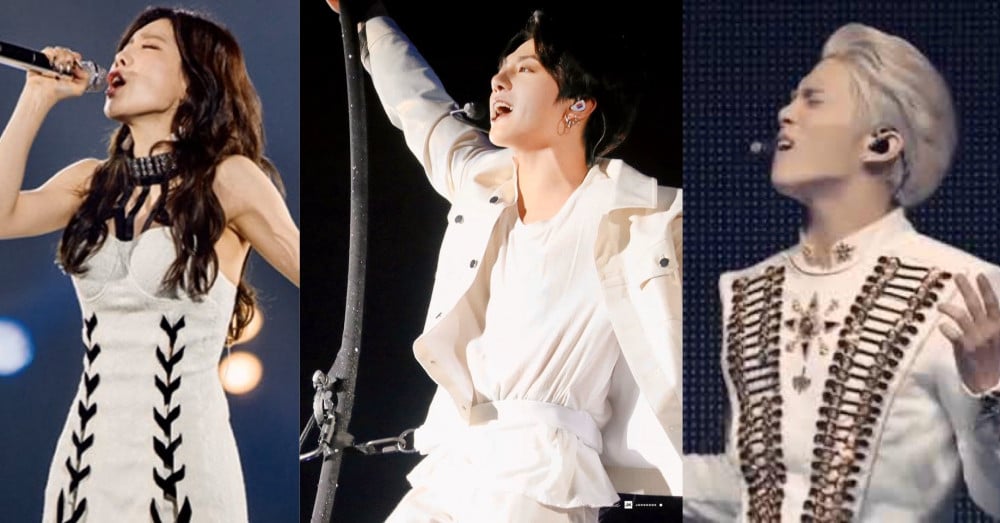 Website Kpopstarz published an article titled "K-pop Idols Who Can Hit High Notes Like It's Nothing," which listed several K-pop idols who are famous for hitting high notes effortlessly. There are many talented K-pop idols who have wide vocal ranges and versatile vocal skills, and listed below are the media's best-picked singers who have many times stunned the audience with their impressive vocals.
BTS Jungkook
Whether he's hitting high notes while flying around a sold-out stadium or sitting in 'Carpool Karaoke' and 'Tiny Desk' concert, Jungkook always manages to nail it and made it look so easy. From 'Dope' to 'Dynamite,' Jungkook has been delivering flawless high notes in many of BTS live stages throughout the years. TXT Taehyun (who is also listed here for being an amazing high note singer himself) even mentioned in a Weverse magazine interview that he studied Jungkook's vocals to improve and reach the incredibly high notes in TXT's latest hit 'Blue Hour. ' Below are some of Jungkook's impressive high notes' compilations, living up to his tag as "Billboard #1 singer".
Video credit: jeon galleon
SHINee Jonghyun
Jonghyun was the main vocalist of SHINee. He made a name for himself with his distinctly expressive tone and musical style through his work with SHINee and other Korean artists and several solo albums. Jonghyun remains one of the best vocalists in K-pop's history and will always be remembered and mentioned as his name is synonymous with powerful high notes in K-pop. His famous long high-note in 'Stranger' is a timeless favorite that will leave any audience floored and missing him even more.
Video credit: Salma RR
SNSD Taeyeon
Taeyeon started in Girls Generation (SNSD) and cemented her spot in the industry with her blooming solo career. She is best known for her wide vocal range, and everyone who follows the K-pop industry closely must have familiarised with her mind-blowing high notes and live stages. Below is a compilation of Taeyeon's high note from 2007 to 2020, showing her impressive evolution from a strong singer with a powerful high voice to a seasoned vocalist with proficiency in every aspect of her instrument.
Video credit: SinBeautiful
EXO Chen
EXO has several talented vocalists and Chen is known for his high voice and amazing range. He is one of the top vocalists in K-pop; he can sing low or very high, his rich and soothing voice is particularly good in ballads, and the emotions are perfectly portrayed through his beautiful voice. There are many remarkable high notes sang by Chen, but the most famous one has got to be the one in the Knowing Brothers show, where he sang a classic K-pop song "Tear" in the original female key. It was famous for being almost impossible for most singers to hit, but Chen made it look so easy!
Video credit: JTBC Entertainment
TXT Taehyun

Taehyun has proved himself to be an extraordinary vocalist even at such a young age. Born in 2002, Taehyun, who is also a rapper and dancer mentioned that he considers BTS Jungkook and SHINee Taemin as his role models. He may be quirky with his magic tricks off stage, but he will surely steal the scene with his powerful vocal once he holds a mic. Taehyun had often impressed MOA with his powerful high voice, including his high note in TXT's new hits 'Blue Hour' and 'We Lost The Summer,' which are much talked about and received many praises. His impressive vocal performance for '20cm' stage on 'We K-pop' also left the audience speechless.
Video credit: KBS World
Other top-tier K-pop singers who are also on the list are IU, PENTAGON Jinho, Kim Jaehwan, ASTRO MJ, N. Flying Yoo Hwe Seung, F.T. Island Lee Hong Ki, and BTOB Son Eunkwang.

Do you know other K-pop idols who can belt high notes effortlessly? Comment down below.