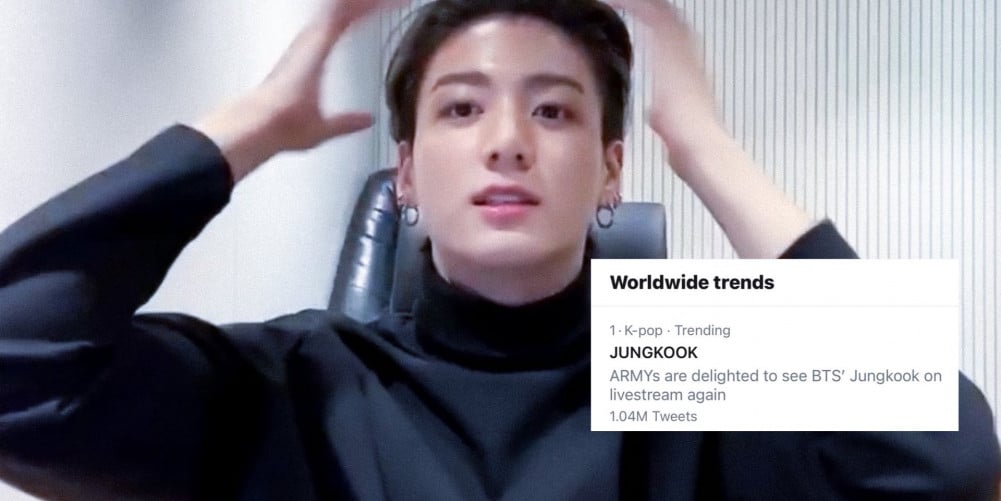 BTS' Jungkook went on a surprise Youtube live streaming today, and ARMY worldwide are rejoicing and celebrating. The live streaming is part of BTS members' series of vlogs to update the fans about their upcoming self-made album 'BE,' and in the 29-minute live, Jungkook mentioned his role for the album which is the Project Manager (PM) for the upcoming MV. Jungkook mentioned he participated in directing and filming of the MV and added that he will not reveal the parts which he directed because he believes ARMY will find it out by themselves.
Following his surprise live, Jungkook trended worldwide at #1 with over 1million tweets and 11 keywords! Among them are "JUNGKOOK", "JEON JUNGKOOK", "JUNGKOOK LIVE", " JUNGKOOK IS LIVE" and "PARTY PARTY YEAH", the phrase which he uttered while he was playing with the camera filter. It seems like everything will either trend worldwide or sold out if it came from Jungkook's mouth.
Jungkook also trended #1 in the US (of course), Canada, Australia, Malaysia, India, Algeria among many others. He also trended on Twipple and Yahoo Japan and trended for 2 hours on Tsuiran Japan after his YouTube live.
Fans worldwide couldn't stop talking about Jungkook's live (and how they missed it because of work, school or sleeping) and the fact that he participated in directing the upcoming MV. Some of their comments as below:
"since Jungkook is in charge of Directing Also Filming in the upcoming MV ya'll better get it to 103M in 24 hours he is getting credited as a director in the MV 24 hours record I don't care"
"Jungkook said he doesnt think of himself as a director just because he participated in directing the MV... he just did it and really enjoyed it"
"I missed... a Jungkook vlive....? I missed a Jungkook vlive. I missed. A. Jungkook. Vlive. He went live. After over a year. And I. Missed. It. ?????"

Not only ARMY, even MTV UK posted about how Jungkook's live had hit them hard. Well, couldn't blame them. Worldwide IT Boy drives everyone crazy.