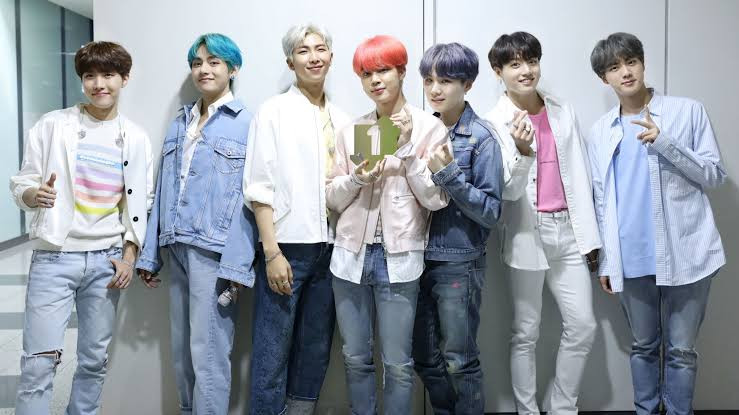 With the release of their latest album Map of the Soul: 7 ~ The Journey, this week BTS claim the No. 1 position once again. Though it took off as a runner up and not the ruler, and the full-length didn't make way up on the ladder, still the septet dominates the Billboard ranking and the World Digital Song Sales Chart.
This week the South Korean vocal band owns all the spots on the World Digital Sales Chart. That's a full 25-rung or 60% domination. The spots are taken by a delightful mix of tracks featured from their latest and some of their older cuts, some if them are performing better than their initial release date.
Their latest track "Your Eyes Tell" takes place at No. 1, taking the label of being the seven-member band outfit's twenty-first roster leader. Following the success is "Filter," from the BTS's previous 2020 release Map of Soul: 7. The Tune, which is also an album track, takes on a new high on stands on No. 2.
BTS are at ease as they claim the top four highest five spots, with only Blackpink managing to find a place in the top five. Their latest hit "How You Like That" is getting applauded world-wide. Making it into the top 10 on the seventh spot, at the same time as most of their biggest hits debut in the uppermost region.
11 out of the 15 current hits by BTS featured on the World Digital Sales Chart are brand new, which shows the boys career has taken a totally new level once again proving theur domination. With a whooping 125 track placement onto the tally over the past years, with the sum increasing every time a new track gets released is awesome.
So, here's a rundown of the top 15 BTS tracks ranking this week on the World's Digital Sales Chart. The tracks are listed as per their ranking on the chart.
No. 1 - "Your Eyes Tell"
No. 2 - "Filter"
No. 4 - "Outro: The Journey"
No. 5 - "Intro: Calling"
No. 8 - "Black Swan (Japanese Version)"
No. 9 - "On (Japanese Version)"
No. 10 - "Dionysus (Japanese Version)"
No. 11 - "Make it Right (Japanese Version)"
No. 12 - "Boy With Luv (Japanese Version)"
No. 13 - "Idol (Japanese Version)"
No. 14 - "Airplane Pt. 2 (Japanese Version)"
No. 15 - "Fake Love (Japanese Version)"
No. 16 - "My Time (Japanese Version)"
No. 15 - "Fake Love (Japanese Version)"
No. 17 - "Moon"
No. 19 - "Stay Gold"