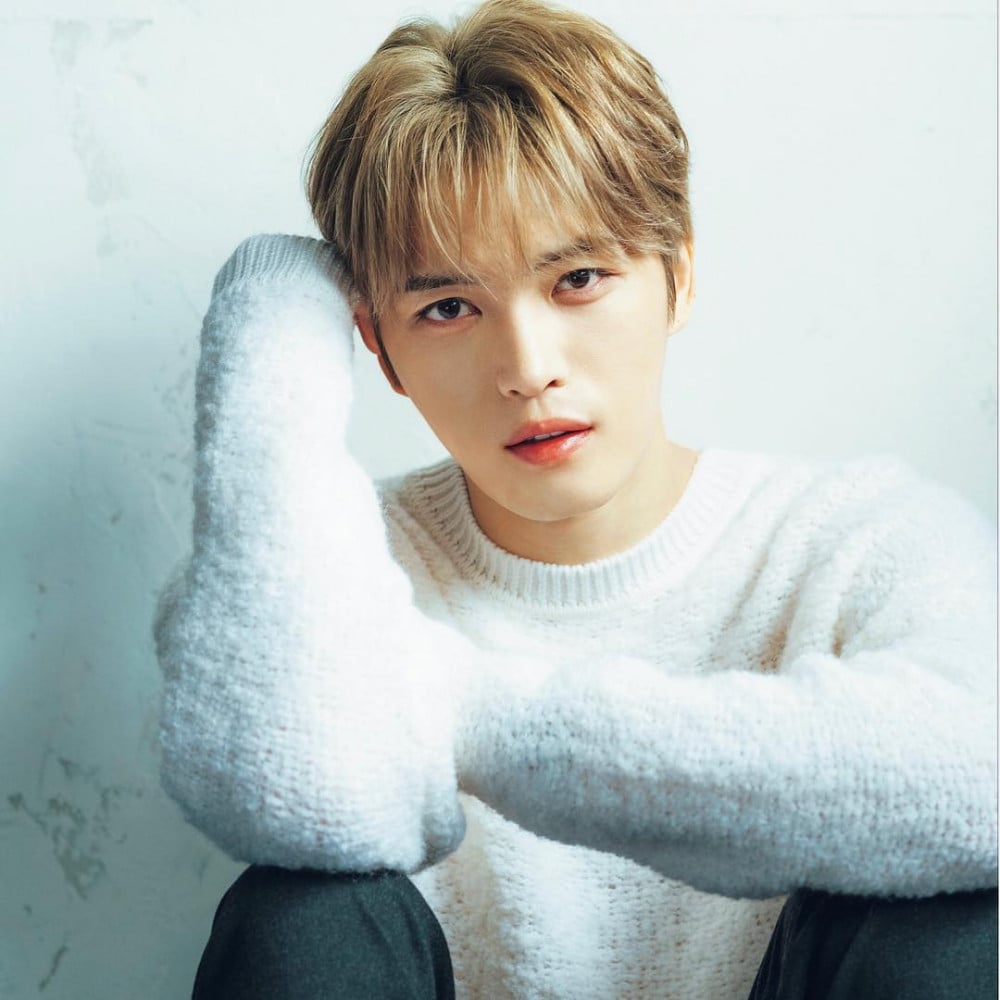 Jaejoong was one of the first celebrities to raise awareness about COVID-19 and he's been continuously donating for this purpose. He donated to help to send masks for Wuhan Coronavirus in late January.
He also donated to the Korean Hope Bridge National Disaster Relief Association to aid coronavirus prevention in late February. According to the association, Jaejoong did not want the news to be revealed to the public; however, the charity wanted those in need who receive his kind donation to know of his warm heart as someone who regularly donates to them.
On April 15, it was revealed that Jaejoong is participating, alongside other Japanese public figures, on a welfare project initiated by the Japanese nonprofit organization 'JAPAN HEART' as a team member of the project cooperation, which aims to quickly supply a large number of surgical masks to medical institutions with large-scale financial support, in order to prevent the collapse of the medical field.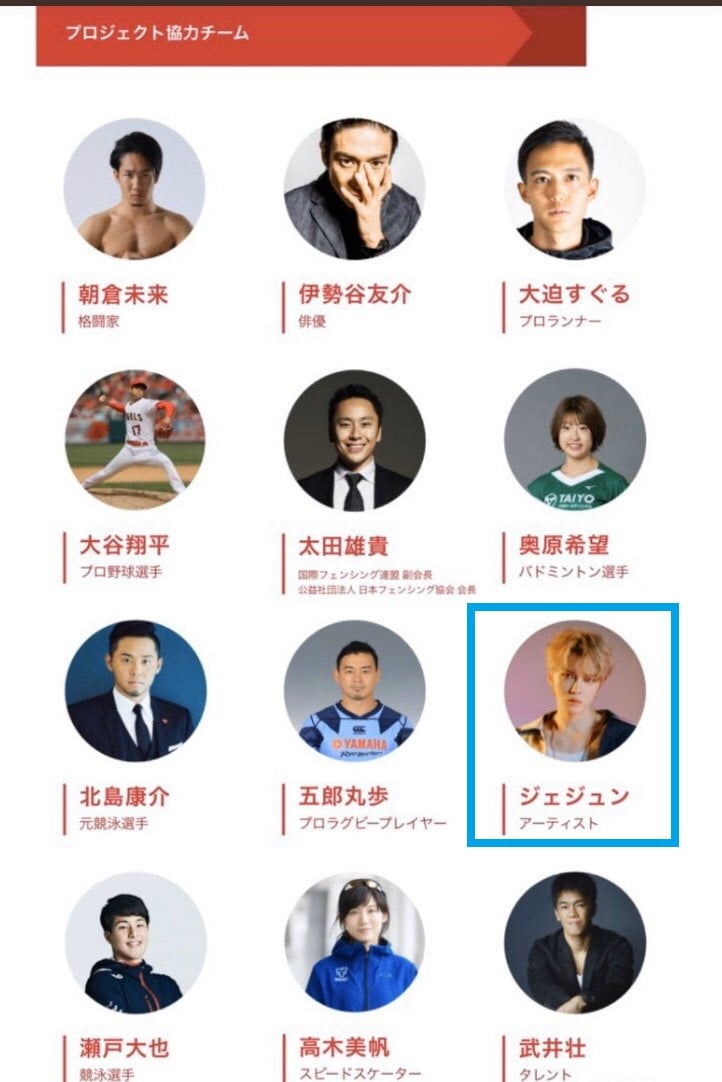 Jaejoong's comment: "Each day, my chest aches, watching healthcare professionals at stake facing the risks to save people fighting with COVID-19. Even now that our freedom is limited, there are still things we can do to prevent the healthcare system collapse. I want to support medical professionals through this project. I also pray that the World will be going back to where it used to be. Thank you for your cooperation."
Following this news, many Jaejoong fans from Japan, Korea and around the World, rushed to join this project to help prevent the collapse of the medical field and to support the Artist's good intentions. Some fans posted their contributions on SNS: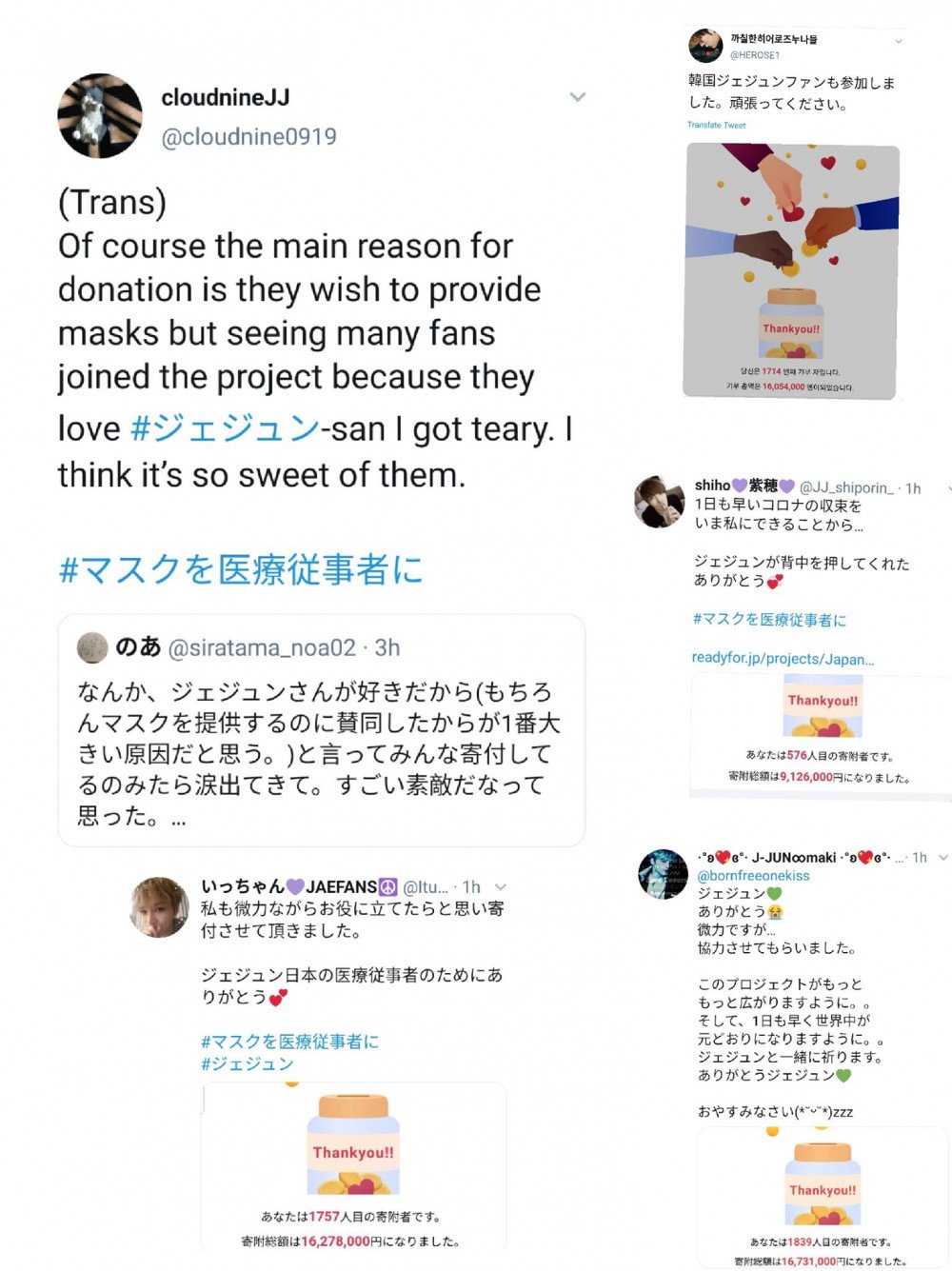 From the beginning of the spread, Jaejoong was trying to act, to make a change and he donated to associations from China, Korea and now Japan.
On April 1st, Jaejoong has shared a shocking post on SNS about him getting infected with COVID-19, highlighting that it was due to his carelessness and negligence of the government's safety instructions, he continued "I am apologetic towards those who may have also been infected with the virus because of me. I've become like this because of my stupid decision, to live thinking it will never be me. I am being hospitalized. I am wrapped up with feelings of gratitude and apology while reflecting on my past. There are so many things I want to say... I want to see so many people... "
From this initial post, it was already clear that Jaejoong had a message to make his fans at least, realize the danger of the virus and make them respect the safety instructions before it's too late. When Jaejoong made this post, he was in Japan where citizens were still being careless about the whole situation at that time.
Jaejoong later apologized for shocking his fans and admitted that his infection was not true. He insisted that he never took this situation as a joke -(all his previous actions in regard of the virus can prove it)- moreover, he had close people to him testing positive to COVID-19 and fans were well-aware before this post that his father is sick and was hospitalized in midst of the spread;
Jaejoong mentioned in his explanation about his father: "My father was in the hospital not too long ago because of lung cancer surgery. When I saw medical staff and patients at the hospital, I got angry, and I hoped the people who thought of the virus as someone else's problem would consider it their own problem as well. So unlike those who are working hard trying to get us out of the coronavirus, I think we need to be alert to the fact that there are many people who are enjoying their leisure time without wearing any protective clothing or masks. I thought there needed to be more awareness when I heard that..."
Nowadays specialists such as the Surgeon General of the United States are voicing: "We want everyone to act as if they have COVID-19! That is what can protect us."


Korean media and tabloids took this whole incident as an April's fool day joke without trying to clarify the real intentions or purposes behind Jaejoong's shocking post, which resulted in a storm of negative criticisms from netizens towards the artist while ignoring all of his previous contributions and multiple SNS posts aiming to fight against the Coronavirus.
For more clarifications, check out the video below proving his genuine intentions:
Following this incident, medias started spreading more fake news about the artist, such as him facing punishments (Officials already cleared that Jaejoong is subject of no punishments), and that his Japanese activities and Korean variety show "Travel Buddies" are getting cancelled. In fact his Korean show aired on TV and on YouTube as scheduled:
His Japanese shows were never canceled; It was JaeJoong's own decision to postpone 3 of his Japanese shows. Meanwhile, he appeared on Fuji TV's 『TUNE』on April 9 (it was a recorded show from March) and he will appear on Fuji TV's『ONE TWO NEXT』on April 17; this show will air his performances from「Tokyo Girls Music Festival 」Jaejoong has been a headliner at TGMF for two consecutive years as he's been very active in Japan. The show will deliver his live performances of 2018 and 2019 and his special interviews. He is also scheduled to appear on NHK Premium's 『Tamaki Koji Show』on May 3rd, as planned since last month. And he will feature on Japanese magazine《TVLIFE Premium》 Vol.3, to be released on April, 23rd.

Recently, Kim Jaejoong's DC Gallery and his Korean fandom started to inform media about the real intentions behind the artist's controversial SNS post, they emphasized: "The execution and timing of his writing on April 1st were not correct, but rather than trying to portray his true intentions as a joke, we would like everyone to understand what Kim Jaejoong really wanted to convey through his message and join in together to prevent the outbreak of COVID-19".
Fans compiled his previous awareness posts and donations: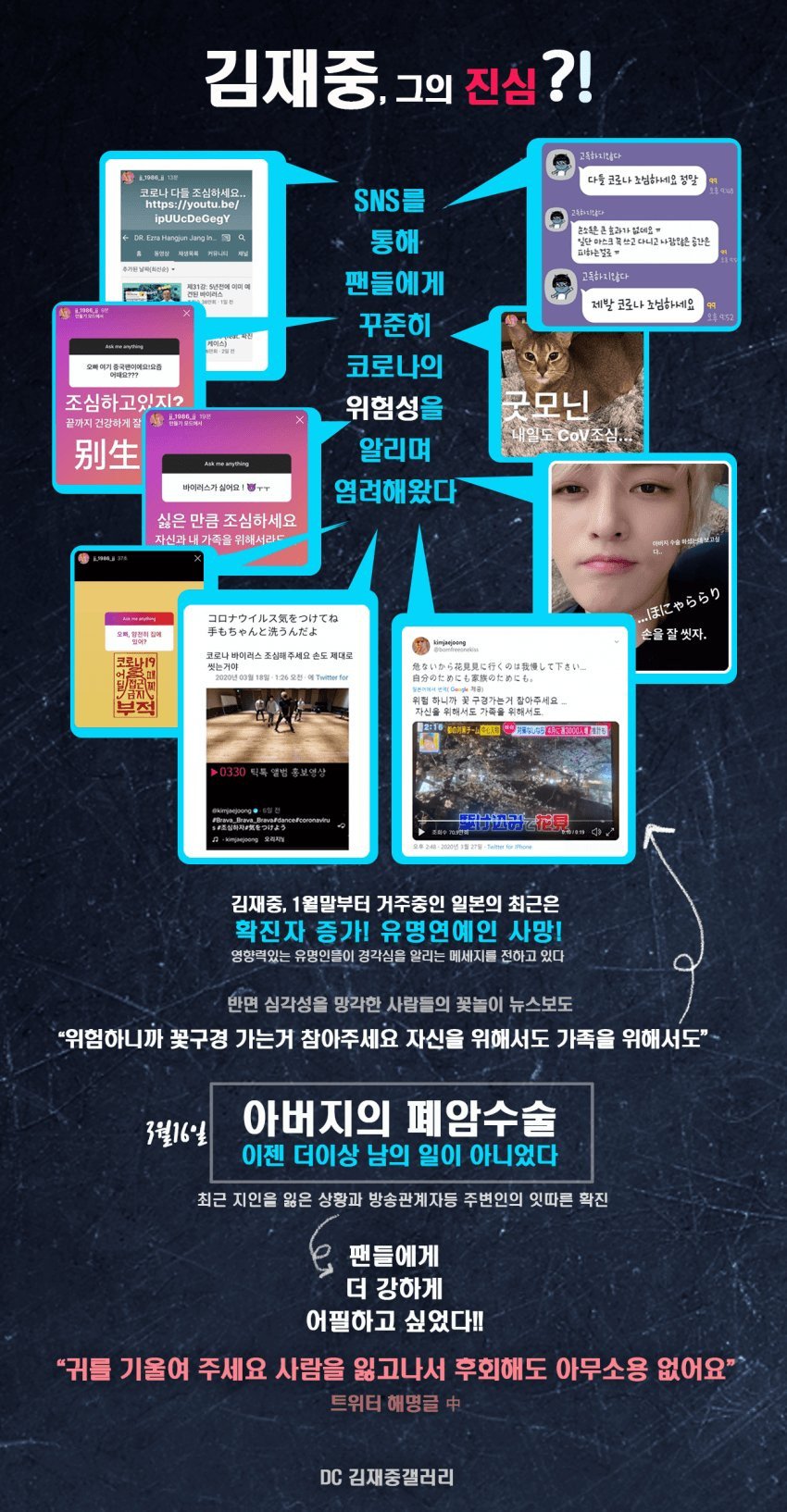 Not only fans but other staff, Japanese band members and co-workers took their SNS to voice their support and understanding of Jaejoong's genuine intentions.
Jaejoong has been taking brave and daring decisions throughout his career of 17 years, in order to make a positive change, others may not get it but fans got his pure intentions as they witnessed this time, all of his contributions and sacrifices, way before the April 1st incident and they will keep on supporting him.