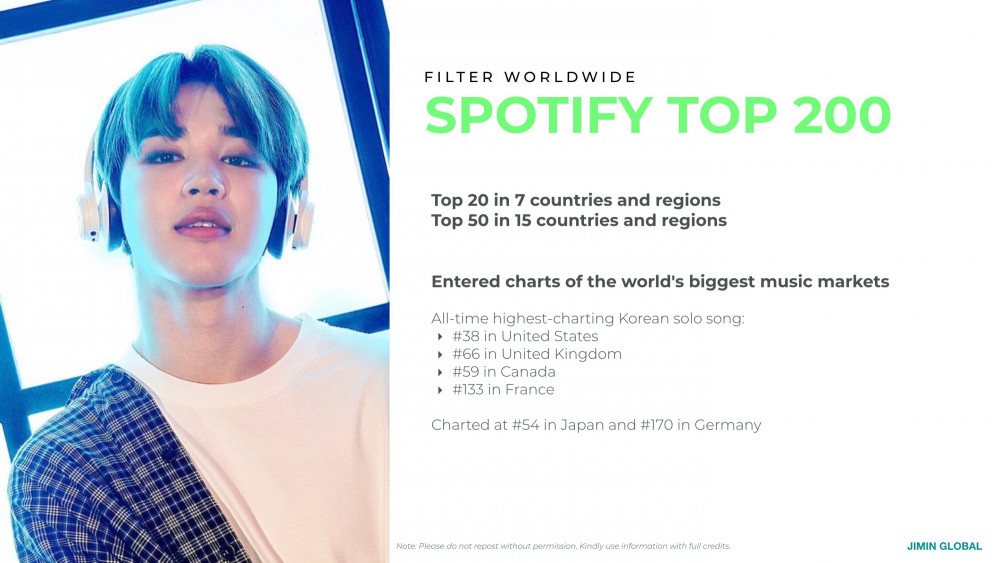 BTS Jimin's
on the world's largest music-streaming platform Spotify in 37 days.
This adds to the song's list of 'fastest to hit milestone' records:
Fastest Korean solo song to surpass 10 million streams, 6 days
Fastest Korean solo song by a male artist and the fastest non-title and non-single released solo song to surpass 20 million streams, 18 days
Fastest Korean solo song by a male artist and the fastest non-title and non-single released solo song to surpass 30 million streams, 37 days
A Jimin fanbase, Jimin Global, has done an extensive review and benchmarking of 'Filter' on Spotify, and has revealed its many unprecedented records.
Its first day, 'Filter' made a huge splash by garnering 2,217,097 streams and charting at the 33rd spot on Spotify Global Top 200. This is the
for a Korean solo song on the platform. It is also the 12th highest ever position for a BTS song.


The song proceeded to charting for 14 days, becoming the
globally.

In terms of expanse of popularity, the song had charted in 54 countries and regions. This set a new record as the
: US, UK, Canada, and France—where the song is the all-time highest-charting Korean solo song—and in Japan and Germany.


Diving into BTS' and the individual members' works,
. Remarkably, this includes those with music videos and promotions. It is also the first and only BTS solo song to ever chart in Germany, Netherlands, and Switzerland.


Benchmarking with all other Korean solo songs, it reigns as the
'Filter' also performed well on
—Bulgaria, El Salvador, Honduras, Hong Kong, Malaysia, Nicaragua, Panama, Paraguay, Romania, and Vietnam. This is the most number of countries and regions that a solo song from Map of the Soul: 7 February 21 release had charted on.


As the song continues to perform well and to draw attention across countries, it entered various officially curated playlists such as Global Top 50, Billboard Hot 100, and K-Pop Daebak. It is notable that majority of these playlists have very few listed Korean songs.

According to K-Charts and Stats, 'Filter' has become the 5th most-streamed 2020 Korean song on Spotify, behind only the highly promoted 'Black Swan', 'ON', 'Any Song', and 'ON (Feat. Sia)'. Jimin Global added that it is the only song without a related music video in the Top 5. Moreover, it is the most-streamed non-title and non-single released 2020 Korean solo on Spotify.



To date, the song now appears on the 4th spot among Popular Songs on BTS' Spotify profile.
Much is anticipated as 'Filter' continues to break and set new records in various music platforms and industry measures.

Listen to Jimin's record-breaking solo song on Spotify.
Note: This article has been posted with permission from the source @JiminGlobal.