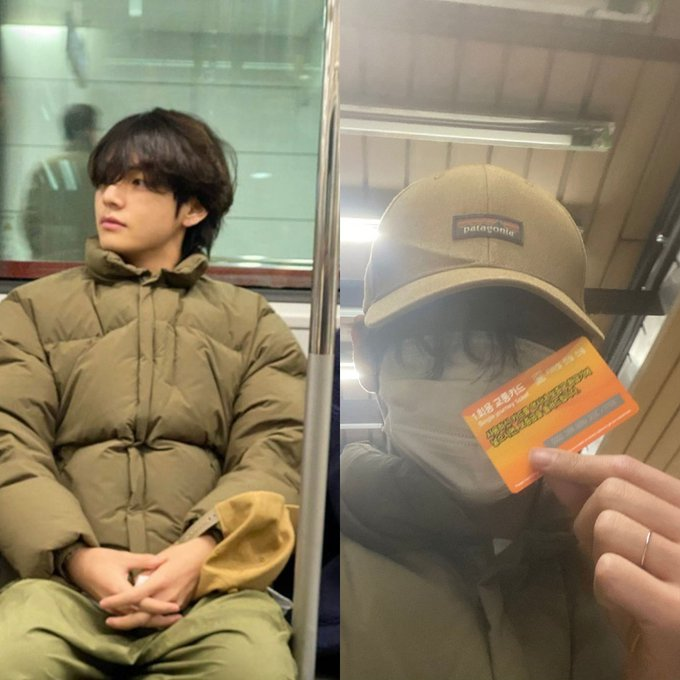 Subways are public transports don't discriminate between Celebs and regular people! So it's a rarity but not a surprise to spot a celebrity or 2 using them. And that to spot a BTS member…… yeah imagine. If you spot one of these celebs on your train, don't freak out and blow their cover.

BTSV posted on Weverse about his "Subway ride" and netizens bombarded SNS with their reactions to a sight that is something out of their imagination. With the fame that surrounds BTS and problem of mobbing, BTS member braved the public transport, he also approves of it! incidentally occupying twitter trends in more than 20 countries, #1 in Korea, Weibo with 170k+ searches and #1 on Tweeple.
V also showed his philanthropist side by using a hat made by recycled polyester & is a fair trade sewing product. Fair Trade product means that with every purchase money is sent back to the factory workers.
Seems like its not his first rodeo, as he was captured with his close friend Park Bogum before the band blew up.
Some were also speculating if he got to see his birthday advertisements.
Some couldn't believe this
Overall Fans were happy that he could travel without mask and his privacy wasn't invaded.
BTS V enjoyed a normal ride while promoting charity unknowingly.