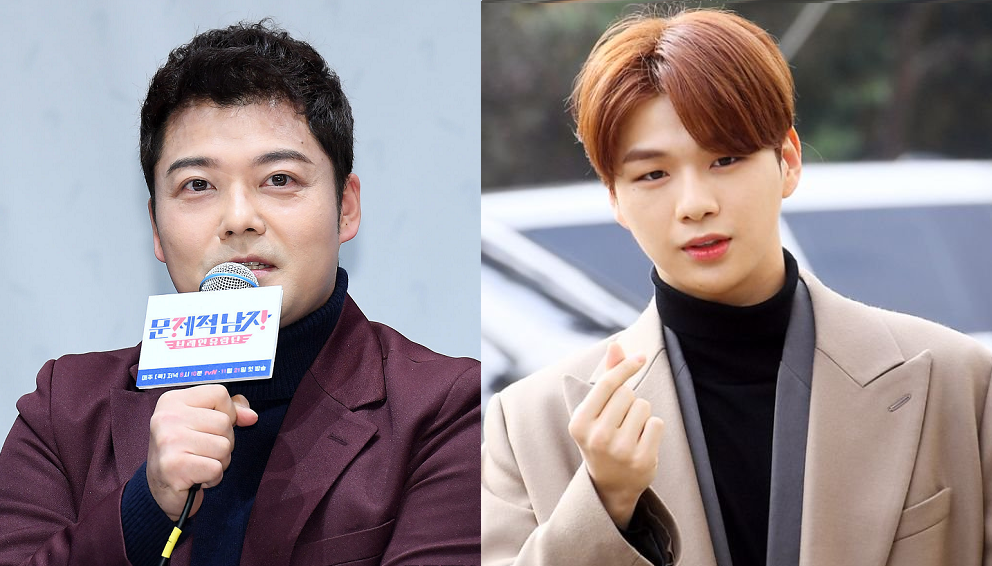 Back on December 10, 'Idol Chart' revealed a message that entertainer Jun Hyun Moo wrote about working with Kang Daniel, after the singer appeared as a special MC in a recent episode of KBS2 variety program 'Happy Together'.
The two celebrities had worked together multiple times previously, as Kang Daniel guested on 'Happy Together' with his former groupWanna One and also appeared with Jun Hyun Moo on SBS's 'Master Key'. Additionally, Jun Hyun Moo was the MC for Wanna One's debut show-con in 2017.

After Kang Daniel's hiatus earlier this year, this episode of 'Happy Together' was his first variety appearance in several months. Jun Hyun Moo gave a few words on the singer's character and potential as an entertainer:

"From my observations from the sidelines, in comparison with his popularity and position,Kang Daniel is a friend who is too modest and worried.
During the broadcast, he said that he isthe company's main man and center, and was in a position to sign all contracts. Instead of feeling good and proud about it, he seemed worried about whether he could do it or if he really deserved it. He was so modest."
Jun Hyun Moo's message continued,
"I think that the Kang Daniel I see could enjoy a lot of popularity and fame due to his overflowing talent and charm, but he always shows modesty first.
This friend doesn't just act modest, he really is modest.

Kang Daniel is loyal. He didn't forget that 'Happy Together' cared for Wanna One as their first variety show. He also appeared as a special MC despite his busy schedule. It's nice to think about that now.
I recently saw his interview for 'Entertainment Weekly'. I was the MC when Wanna One debuted at Gocheok Dome. He mentioned that in his interview. He's really loyal.
He's not only a singer, but also a great entertainer. He hits it right in the middle. His timing and talking skills are good. He has a great variety sense."
The hosts mentioned that it is hard to reach that spot in the middle of the two professions. Jun Hyun Moo's message ended with advice addressed directly to Kang Daniel:

"Although you weren't able to appear on broadcast previously, you started your broadcasting activities with 'Happy Together'. I hope you can do whatever you weren't able to do back then. Rather than worrying, I hope you will enjoy it."
The full clip with English subtitles can be found here.
Unfortunately, Kang Daniel's entertainment activities were cut short a day after 'Idol Chart's episode was recorded, when the singer's company announced that he would be going on a temporary hiatus due to panic disorder and depression. The hosts of 'Idol Chart' decided to reveal this message anyway, as a courtesy to his fans, and uploaded it on his birthday a week later. The remainder of his pre-recorded variety appearances will continue to air, including KBS2's 'Convenience Store Restaurant' on December 13.