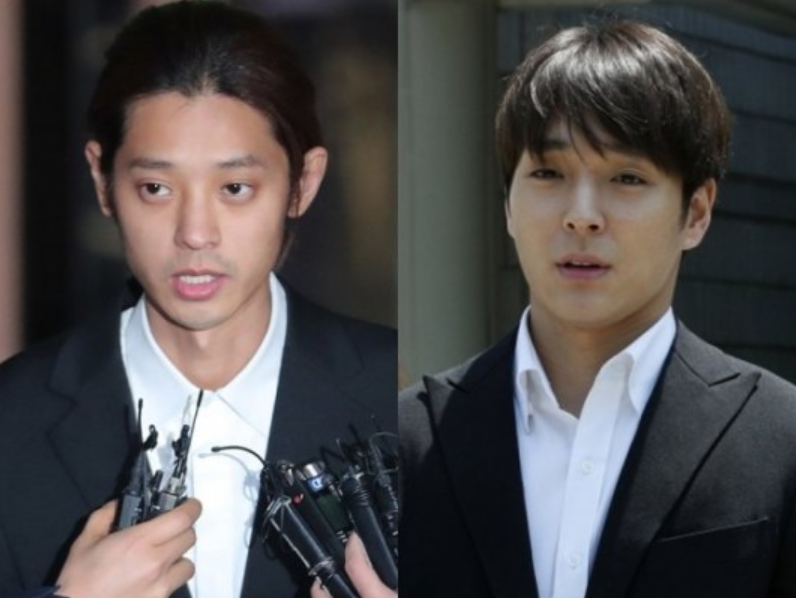 Jung Joon Young (30) and FT Island's Choi Jonghun (29) have been found guilty of sexual assault and distributing hidden camera sex videos without consent.

On the 29th, a judge from the Seoul Central District Court sentenced Joon Young and Jonghun to 6 years and 5 years in prison, respectively, on charges of violating a special law on sexual violence crimes.

In addition, the two were ordered to complete 80 hours of sexual violence programs and banned from working with facilities that involve children, teenagers, and disabled for five years. The judge also denied probation sought by prosecution.

The indicted Burning Sun MD Kim and Girls Generation Yuri's brother Kwon were also sentenced to five and four years in prison, respectively. Huh, a former entertainment agency employee was the only one sentenced to suspended two-year prison term.

Jung Joon Young and Choi Jonghun were accused of gang r*pe after drugging women in Hongcheon and Daegu in January and March 2016. Evidence of the assaults were found in voice files and photos circulated in a group katalk chat that included the two.

Joon Young was also found guilty of sharing hidden camera sex tapes and photos with his acquaintances 11 times between 2015 and 2016 through a group katalk chat where former Big Bang member Seungri (29) participated.


1. [+5,435, -221] So Seungri is walking about free but Jonghun and Joonyoung got sentenced to 5 and 6 years?? ㅋㅋ ㅋㅋㅋ ㅋㅋㅋ is this really the Republic of Korea??? The prosecutors behind Seungri need to be jailed.
2. [+3,206, -136] If these kids can get 5 and 6 years, then Seungri and Yang Hyun Suk should get at least 15-20 years. Seungri is probably at home with his feet up right now..is this really our country?
3. [+2,821, -136] And Seungri? What about him? If they're getting 5 and 6 years shouldn't he get at least 15?
4. [+1,337, -26] Crazy
5. [+1,210, -267] It looks like only r*pists and sex offenders live in Korea..
6. [+494, -14] So they gang r*ped women, filmed and shared it but on only got 6 years. This is the reality of Korea.
7. [+377, -4] Only five and six years??? Is Korea really this dirty? They gang r*ped them and shared videos of it but that's all they got? I've never been so ashamed to be a Korean.
8. [+361, -10] These celebrities are busy committing crimes and the police are busy clearing the evidence right? What about CNBlue Lee Jonghyun? There are so many people involved from Roy Kim, and the Golden Phone, Burning Sun and so on...don't turn your backs and punish them correctly.
9. [+351, -20] ㅋㅋ ㅋㅋㅋ Only 6 years for a gang r*pe...what a great world we live in.
10. [+166, -0] Kim Hak-ui is guilty of murder, kidnapping, lynching, drug rapes and dozens of things too but...
11. [+116, -0] The winners are Yang Hyun Suk and Seungri ㅋㅋ
12. [+88, -0] More important than just problematic celebrities is the fact that the laws in our country are not working..
13. [+81, -0] They should wear electronic anklets and make sure they register as sex offenders all their lives.
14. [+79, -0] I thought they'd at least get the death sentence. 6 years is too short...let's appeal to the prosecution.
15. [+51, -0] Seungri ??