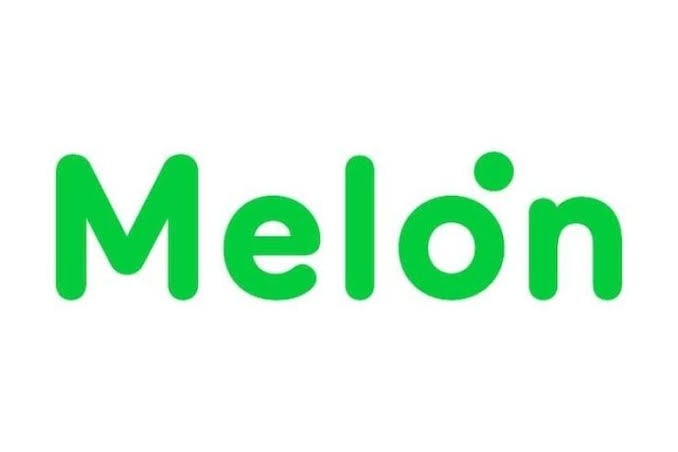 I saw this post on the forum and think it's logical. I'm going to copy paste it here and will add my thoughts.
-
Those digital music services in South Korea belong to the big companies that have a big influence on the media. They made people think digital charts are very important and reflect the gp's opinion, for their own benefit.

On the other side they made fans, including international ones, download and stream their faves on those music services, so they can make their faves win on the music shows and earn success such as achieving Perfect All-Kill.

First of all, here is the question: Would people download and stream a lot if the prices were higher in Korea?

Melon is the biggest and the most expensive digital musicservice. Total active users in Melon are more than the others' combined. It was established in November 2004 and became an important music service after 2007, with the support of Korean music shows, which are a stage of idols.
So, here is the Melon prices:
50 song download+unlimited stream package costs $8 USD, $6 USD for T members, $12 USD for 30 day users.
150 song download+unlimited stream package costs $21 USD, $13 USD for T members, $26 USD for 30 day users.
You don't have to purchase a package. You can download any song and pay for it. There is also 30 song download+stream package. Fans generally buy this when their faves release an album, so they download all the songs in the album.
The other services like Genie, Soribada etc are cheaper.

Now here's the conflict:
*Most of people who listen to idol groups are generally in their 10s and 20s. I think we all know that those 10, 20 y.o. males are into hiphop and girl groups. That's why girl groups and hiphop boy groups have more unique listeners compared to the other boy groups. Of course there are fanboys among them.

*Females? Most of them are fangirls. It's hard to find any female who is not a fangirl in her 10s, 20s and even in her 30s in Korea.

*Not only Korean people use those music service apps. Kpop fans from all over the world use it. So international fans have an impact on the charts too.

*Company stans (There is not a lot of company stans in Korea but international fans)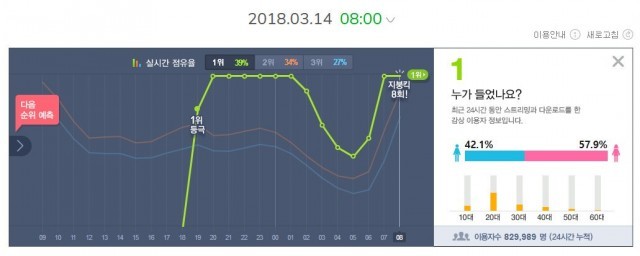 (OP used Bigbang's Flower Road data graphic since Bigbang as ahiphop group does well on digital charts and the song has the most unique listeners for an idol group)

OP posted the conversation, which was done in 2018,with his/her Korean friend (K: Korean, M: him/her) :
M: Which groups are the most popular in Korea?
K: BTS, EXO and TWICE.
M: Wanna One and Bigbang? I thought they were very popular.
K: Wanna One is not popular. Kang Daniel is... Bigbang is popular too but not more than those 3. Most of Korean people don't like Bigbang. (Doesn't mean that Wanna One is actualy not popular but popular thanks to Kang Daniel.)
M: What? Why do you dislike them?
K: They got into many scandals. They control the media and think we will forget their scandals but ...
M: Hmm... but Flower Road was very successful at the digital charts?
K: Bigbang has a big fandom and music is music. It's a good song, I listened to it, too. YG represents American hiphop culture and they have Teddy but I'd never waste money at them except for a digital song, which is cheaper than a chewing gum and free to stream unlimited

;;;;
Promotions are very effective too. For example Bigbang's Flower Road. Although the group didn't promote the song directly, Naver was flooded with articles about Flower Road during 3 days before the release date and everyday one the articles about itstayed on Naver's main page so this also took general public's attention. Note that Naver has over 20 million active users.

Amount of groups/singers' unique listeners on digital charts are actually not that big numbers to reflect the general public's interest. Max unique listeners amount included all charts is ~3 million for an idol. Note that the 3M includes domestic and international fans too. Korean fans usually buy download+stream packs on every digital music service.

Also there is a lot of top singers who are really loved by general public and considered as legends, yet fail at digital charts.


SNSD is another example. Although they and their songs have been loved by general public so much and are considered as nation's girl group, 2NE1 did much better than SNSD on digital charts.
Now you can say, "SNSD, just like the other SM groups, has bigger fandom than the others, then they should do better than the other groups on digital charts if digital charts depend on fandoms" but there is a missing point = partnership between the companies.
One of the biggest aims of fandoms is to make their fave artists achieve Perfect All-Kill on digital charts. However SM Entertainment, that is known to have bigger fandoms, didn't have partnership with Cyworld, which was one of the major charts till Instiz excluded it in 2016. Cyworld didn't distribute SM's songs, so there was 0 chance to achieve PAK for SM artists. Thus, most of their fans didn't care about digital charts. So, "streaming" hasn't become something "traditional" among SM artists' fans.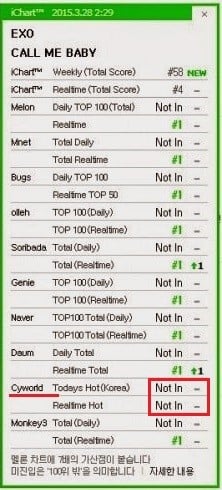 EXO's Call Me Baby on digital charts. As you can see, there is no data from Cyworld. Also remember that although EXO's Growl became a national hit, it neither achieved a PAK, nor did great on digital charts.
The other reason was Monkey3. Through years Monkey3 didn't provide the data for SM artists whenever it was needed.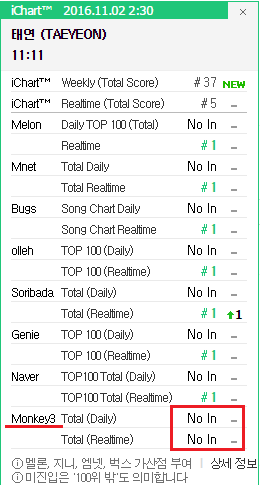 Since they past their heydays, it's not right to expect them to do great on digital charts anymore, except for the ones who have been doing well since the beginning.
Now you can also wonder why BTS can't break unique listener record on Melon or do amazing on digital charts like exploding all serverssince they have one of the biggest fandoms. BTS' most fans don't really focus only on Korean digital charts, especially international fans don't care about it. They are great at both domestic and international charts, also physical sales, also on another platforms.
This, of course, doesn't mean that digital charts only reflect fandoms. There are some artists whose power is really general public but idol groups are stronger fandom wise. Just consider that artists such as Seo Taiji and Cho Yong Pil, who are crazily loved and listened to by the general public, do so bad at digital charts.
So, do you think those charts really reflect the general public's interest?
Let's say yes. Then do you still think that general public is more important than fandom? "General public" is only a term. This term doesn't mean all people in the nation but some fans try to mean it. So I think not only benefit wise but also number wise fandom is bigger than so called "general public."