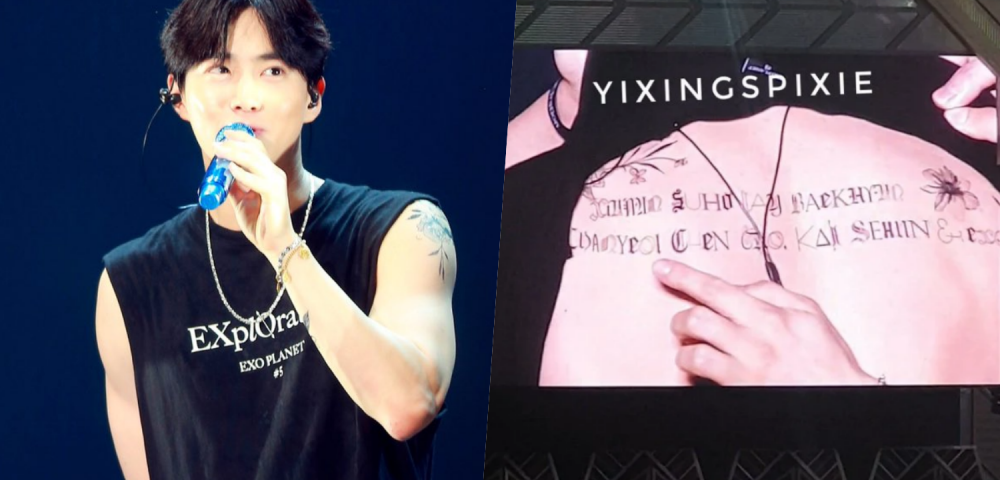 Suho (EXO) showed how much he loves his members and fans.
On the evening of July 19, the concert "EXO Planet # 5: EXplOration" of EXO officially took place in Seoul, Korea. Here, the leader Suho makes the audience excited for his solo stage "Been Through" when showing off a toned, hot body. In particular, at the end of the performance, the male singer surprisingly took off his shirt, showing off a new tattoo.
The leader tattooed the names of EXO's 9 members in order, from oldest to youngest: Xiumin, Suho, Lay, Baekhyun, Chanyeol, Chen, DO, Kai, Sehun and added the fandom's name EXO- L at the end.
​
After the concert, the EXO leader's tattoo received enthusiastic attention. Hashtag #Junmyeon (Suho's real name) quickly reached Twitter's world trend in rank # 12. Although this is a temporary tattoo, the fans still feel touched because Suho always remembers and cherishes them. Most people think the tattoo shows the fact that he is a dedicated, protective leader and wants to protect all 9 members of EXO as well as the fans.
The names of EXO's members and fans on Suho's back.
The male idol attracted the fans by a sexy performance at the concert.
After the first show on July 18, "EXO Planet # 5: EXplOration" will continue to take place 5 more nights in Seoul, Korea. By August, the concert will expand to Hong Kong and the Philippines. There are only 6 members participating in this tour because Xiumin, D.O have enlisted, Lay continues to be busy with dense personal schedules in China.
​
​credit:
Nhật Hào