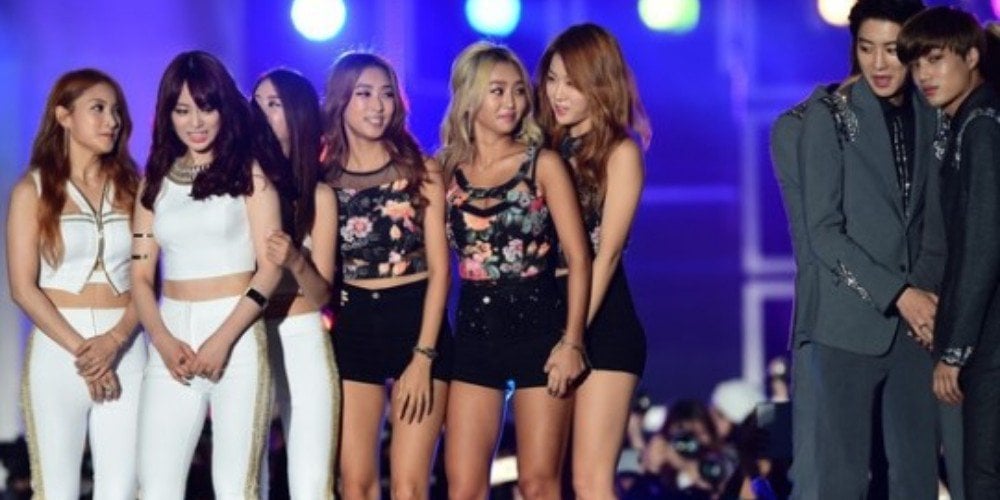 They LOOKED at each other! GASP.
You know this is not an exaggeration when it comes to the idol world. Even little things can blow up and lead to issues when you're a K-pop star, and that's why many idols are extremely careful with every little move.
With that said, here are times male idols were captured preventing any and all misunderstandings with an excessive barrier against female idols.
MONSTA X's Minhyuk trying so hard not to come in contact with Weki Meki members.

Netizen comment: "He looks terrified lolol"
EXO's Sehun trying so hard not to touch her shoulder whatsoever.
"That was really smooth though"
Who cares if she's bleeding. Shows over, says EXO's Kai.

"Business is only business."

Not only is BTS' SUGA stepping away from A Pink but he's not even giving them a glance.

"MUST. NOT. BE. NEAR. GIRLS."
iKON's B.I panicking and running away.
"Is he playing dodge ball lol"
Super awkward Seventeen's Wonwoo and PRISTIN's Nayoung during their trainee days.

"Lmfao they are like wooden dolls."
VIXX's Ken trying to get her off from his shoulder.

"To the left, to the left."
And VIXX's N taking center in the lovely group photo.
"The 'proper' way for idols."