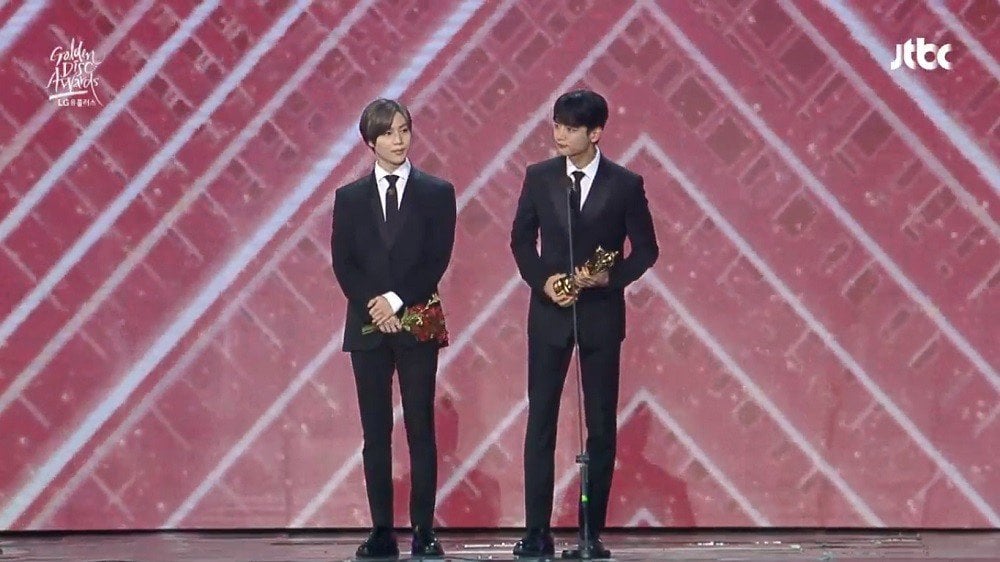 Jonghyun, the late lead vocalist of SHINee, has received 'Bonsang' at this year's 'Golden Disc Awards'.
The '33rd Golden Disc Awards' was a 2-day event celebrating last year's best digital and album sales. Jonghyun, whose posthumous album 'Poet | Artist' received a tremendous amount of love in 2018, received the honored 'Bonsang' award. To collect the award, fellow SHINee members Minho and Taemin symbolically stepped on stage.
Minho spoke: "First of all, we are really thankful for presenting this amazing award for Jonghyun-hyung. On behalf of Jonghyun, we wish to thank our fans SHINee world who continue to support us unconditionally." Taemin continued the speech: "Please remember our Jonghyun, who has always loved music and the stage more than anyone. We hope that you continue to remember and watch Jonghyun's music and performances in the future."
Netizens who witnessed the speech left moving comments; the ones that received the top votes were: "Jonghyun, congratulations on winning Bonsang. I will forever listen to your previous music. I love you.", "I still don't believe it.", "Love you, Jonghyun! Be happy there as always!"
Our deepest congratulations to Jonghyun.