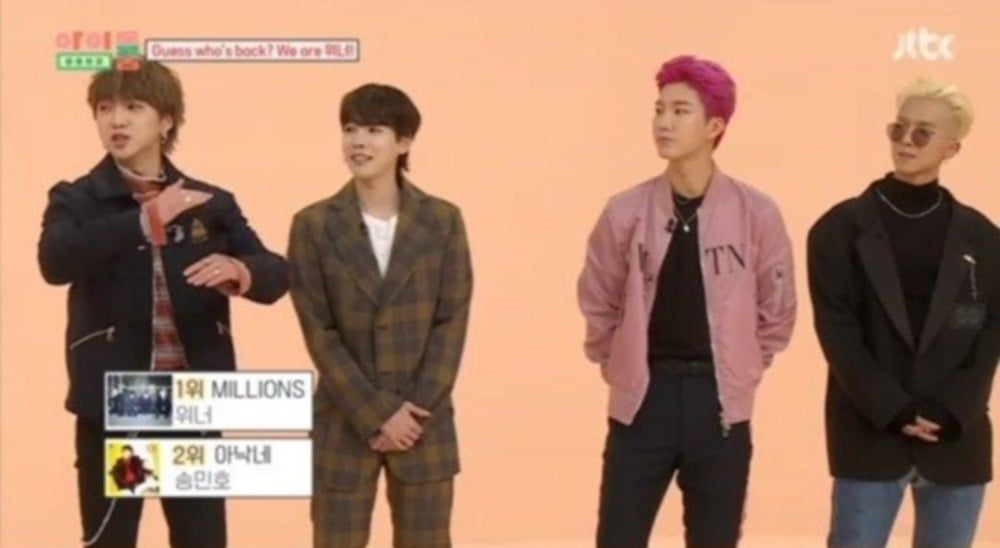 WINNER's Kim Jin Woo talked about why he ignores Song Min Ho.

On the December 18th installment of 'Idol Room', hosts Jung Hyung Don and Defconn asked, "Why are your comebacks overlapping," referring to WINNER's upcoming return with "Millions" and Song Min Ho's chart-topping song "Fiance". Song Min Ho expressed, "I'm fighting myself. It feels like I have to defeat myself."

The WINNER members also described Lee Seung Hoon as a "business man," who responded, "I just want to make people laugh even if it means selling myself." As for the differences between Kim Jin Woo and Song Min Ho, the "Fiance" artist expressed, "Kim Jin Woo hyung and I can be compared. The other members are pretty similar, but I think he and I are pretty smart. We're all similar. At times like this, Kang Seung Yoon puts on an intelligent face, but we're all similar."

Kim Jin Woo then said, "I don't have any interest in doing anything about Song MIn Ho. The answer is to ignore him."