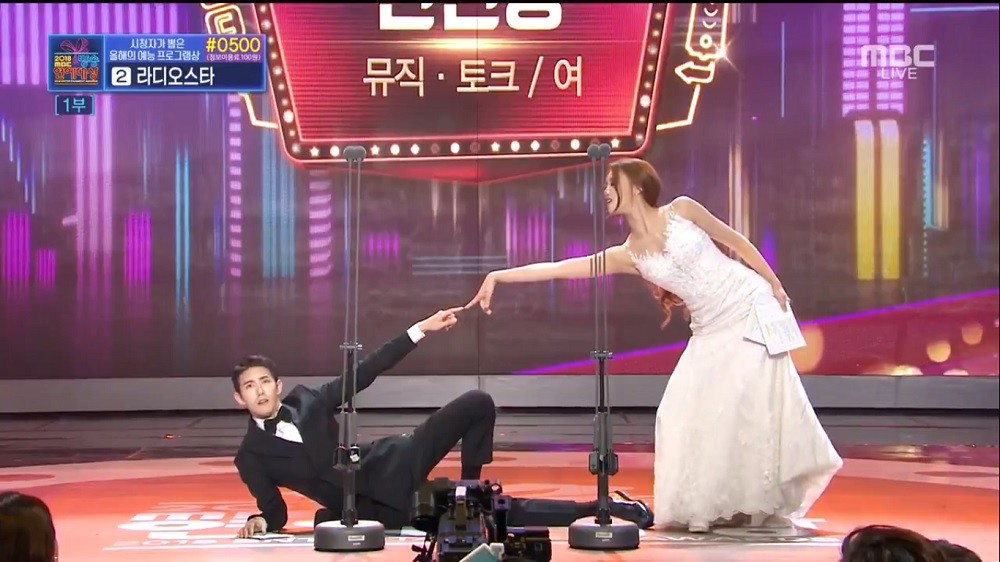 Kwanghee and Lovelyz' Mijoo literally 'connected' right away on '2018 MBC Entertainment Awards'.
On December 29th, Kwanghee and Mijoo appeared on stage to present two 'New Star Awards' for male and female rookie entertainers. This was the first award show for Kwanghee, after his military discharge and return to variety programs including MBC's 'Point of Omniscient Interference'.
It was also his and Mijoo's first encounter with one another as two hilarious idols in the same industry. But the two clicked right away, comfortably cracking jokes and presenting the award together. Although Kwanghee was Mijoo's senior, the two acted "as if they had been friends for a long time," according to netizens.
First, the two idols cat-walked out to the stage, a-la-Mijoo, then joked before the actual presentation: "It feels so weird seeing all these celebrities again all at once" (Kwanghee) - "This is my first time at a 2018 entertainment award show, too!" (Mijoo) - "On the script, it says that we are supposed to pinch each other's cheeks, expressing how nervous we both are, but unfortunately I have too many things stuffed in my face [referring to his plastic surgery]" (K) - "Then should I just give you a fist clout on the head?" (M) - "Sure!" (K) - "No...how can I do that to a senior?" (M)
On top of constantly bouncing off of each other's jokes, Kwanghee and Mijoo recreated Michelangelo's 'The Creation of Adam' on stage. Watching this scene, netizens could not believe that this was their first time seeing each other.
Some comments include: "I sincerely respect both of them" "LOLLLLL they act so seriously" "I love Mijoo so much because she's always so bubbly LOLLL" "So cute omgggg LOOOL" "I thought they had been friends for 10 years'" "It was so funny because they were talkative on stage that the audios were overlapping LMAO" "True insiders, both of them!"