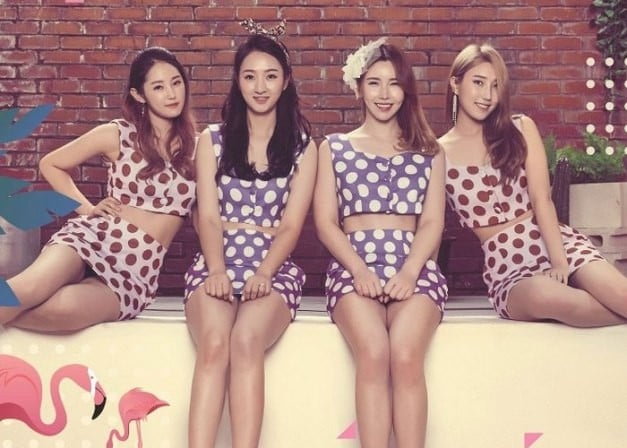 AiRiSU is a new 4 member girl group from Jang Entertainment who made their debut on the 25th of July. The company announced they would support all the members in whatever type of solo work they wanted to do and that the girls have a free choice in activities. They therefor also have the chance to leave the group through graduation if wanted and a new member will then be added. So far, 3 out of 4 members have made their solo debut.
AiRiSU is scheduled to make a comeback soon, this time with a band concept. Yina is learning to play the guitar, both classical and electric, HanU is learning to play the drums, Eunji is learning to play the bass and Eunbi will serve as the lead singer.


Members
HanU (Choi Jihyun, 1989)
HanU's carreer in the industry is a bit confusing. She first debuted in a duo caled AiRi, which is a very similar name to this group. The only explanation I have is that AiRi is/used to be under Jang Entertainment as well] (and under Gaon). She released 2 songs with AiRi, before AiRi went silent and HanU re-debuted in 10X10 in 2015, a little less then a year after AiRi's last comeback. 10X10 was a five member collaboration group between Jang Entertainment and Gaon Entertainment. 10X10 released 3 songs before disbanding in 2017. However, 3 days before 10X10's last comeback, HanU released an OST with AiRi again, who were thought to be disbanded.
In 2017 AiRi released their latest song, seeming to have switched from Gaon to Haneul Contents Media (but still under Jang). In the same year, HanU made her solo debut and she and fellow 10X10 member Yoonah appeared on 맛집남 시즌 2.
A year later she debuted in AiRiSU. Whether they are supposed to be the new AiRi or if AiRi is still a thing, I don't know.

Eunbi (Kim Juyeon, 10.10.1995)
Eunbi is a talented player of the violin. She has played with orchestras and performed solos and even won the Top Excellence prize. She also has experience as a vocalists by singing various drama OSTs ahead of their debut.

Ryu Yina: Leader.
Before making her debut on the Kpop scene, Yina won the Special Prize at Miss Koreapageant and the 1st prize in the Chungcheong region at the Miss Intercontinental in 2015. After her the pageants, she trained and worked as a reporter for 6 months before audtioing for a company. She prepared for over 2 years to audition.
Yina made her debut in 2016 as a member in Pocket Girls. She entered the group after Soyoon left the group. She left in 2017, before Pocket Girls made a comeback, which means she never released any music while she was in Pocket Girls.
In 2017, she joined Tweety under the name Yuriel/Riel and released the song Ajhussi Fighting! with them, but left the same year.
A month after her debut in AiRiSU, Jang Entertainment announced Yina was chosen as the brand model for Nature Factory, a natural comsetics brand.

Kwon Eunji (07.23.1996): Maknae.
She is very flexible and has experience as an actress.


Music Video