Big Hit Entertainment
is remaining silent despite fans' demands for a feedback.
Recently, some Koreans fans became upset following the news about Japanese producer, Akimoto Yasushi, producing the song "Bird" for BTS' new Japanese album.
Fans claimed it's wrong for BTS to work with Akimoto Yasushi, who has participated in anti-Korea productions.

[SEEALSO]https://www.allkpop.com/article/2018/09/some-korean-fans-are-angry-that-bts-is-working-with-akb48-producer-akimoto-yasushi[/SEEALSO]
Some of the Korean fans came together and even threatened to boycott BTS' Japanese album if the collaboration continues, and strongly demanded proper feedback from Big Hit Entertainment. Currently, BTS' official fan cafe is covered with numerous fans' posts about the issue.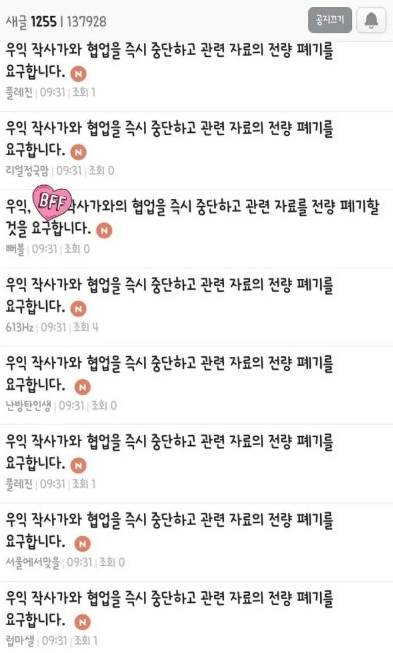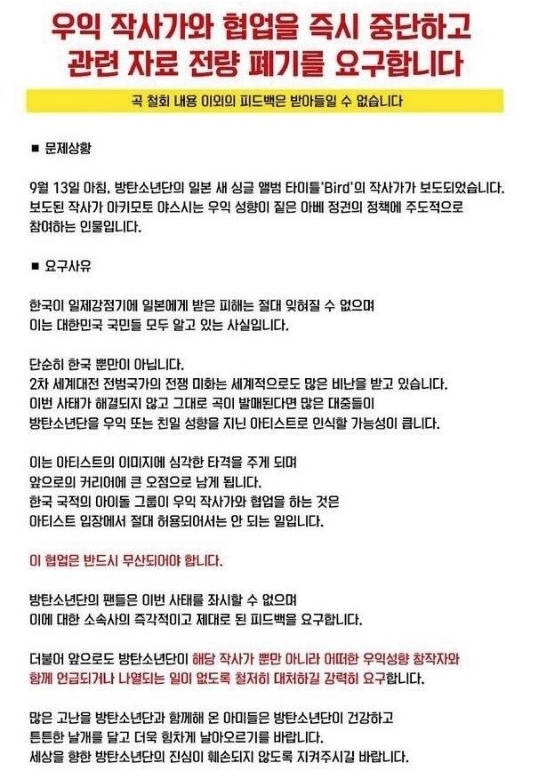 The issue blew up and even made multiple headlines on major Korean news sites. Several reporters attempted to contact Big Hit Entertainment, however, "They're currently unreachable."

The agency is remaining silent on the issue and it's making angry fans even angrier. Comments stated, "They're going to start going downhill... Bang Si Hyuk needs to wake up", "Big Hit needs to provide feedback!!", "If you love Japan so much then just make a Japanese group Bang Si Hyuk", "Don't be doing BTS dirty like this. They're doing so well right now. Don't have them involved with controversial figures", "You know fans are scarier than anti-fans if they turn their backs... They need to speak out about this."