Mnet
's '
Produce 48
' just dropped a surprise video revealing the rankings from #1-30 of the remaining 30 trainees based on votes tallied as of August 7 at 10 AM KST.
There were severe fluctuations in the rankings not only in the top 12, but also in the 10s through the 20s. Two AKB48 members even jumped up 24 spots and 26 spots respectively!
Other trainees from Korean entertainment labels experienced drops of 16 spots, 15 spots, and 13 spots down. Check out the full rankings below, and make sure to tune in to 'Produce 48' this Friday!

#30 - 22
30: Kim Si Hyun (6?)
28: Wang Yi Ren (14?)
27: Na Go Eun (2?)
26: Heo Yoon Jin (15?)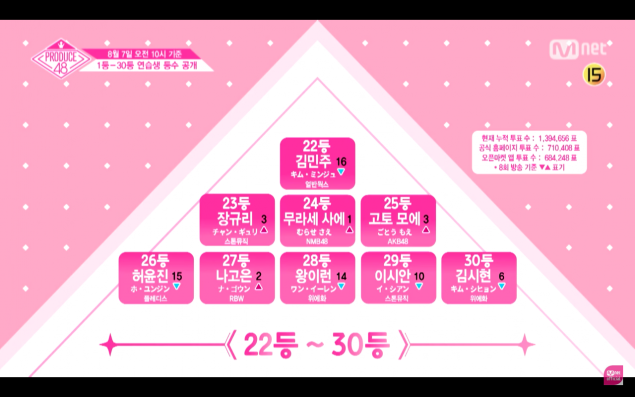 #21 - 13
21: Kim Do Ah (2?)
20: Kim Na Young (2?)
19: Park Hae Yoon (6?)
18: Choi Ye Na (2?)
17: Ahn Yoo Jin (13?)
16: Jo Yoo Ri (6?)
15: Takahashi Juri (5?)
14: Shiroma Miru (1?)
13: Han Cho Won (4?)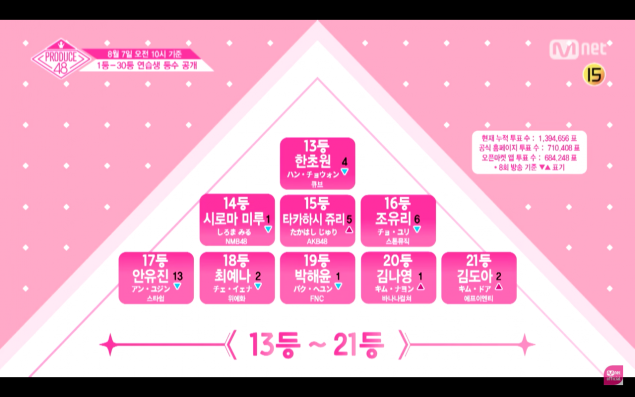 #12 - 1
12: Kim Chae Won (3?)