An adorable video of IU and the bride & groom of their wedding went viral.
On August 25, IU attended a private wedding of her back-up dancers who had serendipitously decided to marry each other! For the congratulatory song, IU sang her 2010 hit "Good Day", and a cute scene suddenly unfolded right in front of them all.
so iu's back up dancers married each other today and iu sang them good day as a congratulatory song but the bride and groom instinctively went straight into back up dancers mode and danced to the song with her maybe this is the cutest clip ever pic.twitter.com/MfLGTBDuEm

— t (@jieunlui) August 25, 2018
The two dancers, who obviously knew all the moves to IU's song, lost themselves to the mood of the song and started dancing to it as professional back-up dancers! IU herself also joined in the choreography, as she continued to sing the song.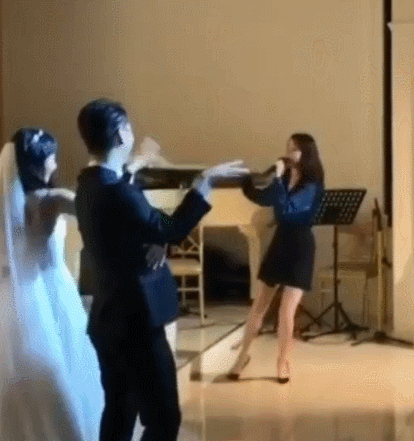 Many who saw this video gushed over the overall cuteness. IU also took to Instagram to share her own videos, in which the groom dances to "24K Magic" and the bride sheds a tear as she enters the room. In the captions, IU wrote: "Eunbi and Donghwan, be happy. Please congratulate them."
What a wedding to remember!