Sechskies
 fans are asking
YG Entertainment
 to take action to take
Ko Ji Yong
 out of the Sechskies profile.
The fans are pointing out that Ko Ji Yong has left Sechskies to pursue his own life, but that he was still using the band to promote his own business. In one situation, the fans brought up a situation where Ko Ji Yong's close friend requested his fans be present at the event at Ko Ji Yong's company, promote the event through SNS, and even pay fees to support the event. It was appealed to them as a sort of a fanmeet where 1,000 fans borrowed a bus to attend and donated 1 million KRW (~930 USD) for personnel. However, when they arrived, the fans were told to 'act like normal people', and the friend that approached them insulted them multiple times. Ko Ji Yong, who was right next to him, did neither stop nor apologize for the remarks, and the group photo that Ko Ji Yong suggested they take was used to promote their label's event with the fans 'disguised' as non-fans.
The fans pointed out that Ko Ji Yong continued to use the Sechskies name to attract investors to his company, and also to promote various items such as items for children, food, glasses, clothes, and bracelets. 

The petition, signed by the DC Inside Sechskies Gallery, Yellow On, and the Daum Cafe 'Sechskies Flower Road', pointed out that there is no case in Korea where a former member is included in the promoting group's profile, and they especially never use the group's name for personal profit.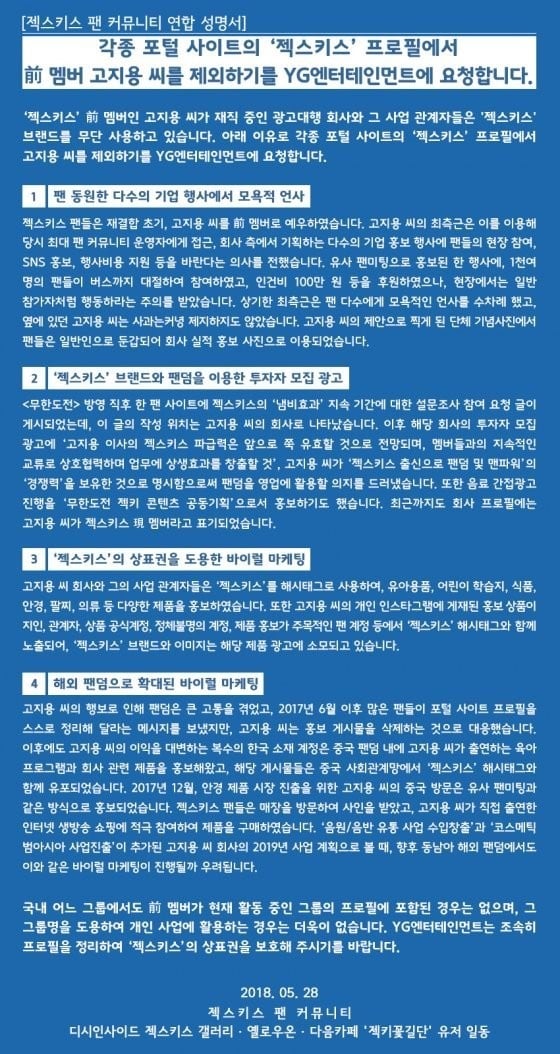 What do you think of the petition?