Kim Shin Young
is under fire for the insensitive remark she made against
Bomi
.
On April 11, the second season of MBC Every1's 'Weekly Idol' with the new MCs Kim Shin Young, Lee Sang Min, and Yoo Se Yoon had a special episode with multiple idol guests. 
BTOB's Ilhoon and Apink's Bomi, who were once long-term special MCs on the first season, also made an appearance. 
In the middle of the show, Bomi asked the new MCs if they would buy gifts for rookie idols with their own money.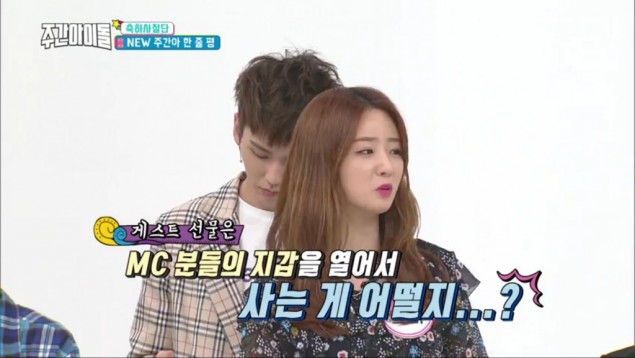 Previous MCs Jung Hyung Don and Defconn often bought gifts for the guests on their own accord. It's assumed Bomi half-jokingly made the suggestion with this mind. 
Kim Shin Young's reaction to the question was harsher than what everyone expected. The comedian's reply was beeped out on the actual broadcast but fans assume Kim Shin Young said something along the lines of, "You bitch. (? ???) Don't say that."
Ilhoon and Bomi can also be seen reacting very surprised at Kim Shin Young's response. 
Fans are aware that Kim Shin Young and Bomi have a close friendship, however, many found Kim Shin Young's reaction as inappropriate. 
Comments stated, "Not only A Pink fans but all the viewers were displeased by this. Asking the MCs to buy gifts for guests with their own money... like is that really an issue someone should be cursed at for?", "No matter how close they are, they're not just hanging out. They're on a show. She needs to treat Bomi with respect", "She went too far", "That was so inappropriate. Kim Shin Young is so unfitting for the show."
What are your thoughts on the issue?