Twitter Korea revealed their list of top trending drama characters of 2014 featuring the drama characters that drew the most attention on Twitter this year. 
The list started out with Yeon Min Jung from the MBC drama 'Jang Bo Ri is Here!' who was illustrated as one of the best and most bizarre type of antagonist in 2014. With her immoral and unspeakable acts she performed in order to become the wife of a chaebol, Yeon Min Jung garnered much attention on Twitter.
Fans on Twitter, despite Yeon Min Jung's lies, tweeted saying that they felt cathartic when hearing her screaming and raging throughout the drama.
Placing second on the list was Jang Gu Rae from 'Misaeng,' the character that many related with when it came to being a part of a company and trying to succeed in the harsh world. In addition, Han Seok Yool, Jang Baek Ki, Oh Sang Sik, and Ahn Young Ee, all placed on the top 20 list, confirming the influence that the drama had on viewers. 
Do Min Joon and Chun Song Yi from 'You Who Came From The Stars' also placed high on the list as the characters were deemed as one-of-a-kind. The two characters had garnered much love from the viewers as they unfolded the sweet love story between an alien who lived for well over 400 years and a Hallyu goddess. 
Check out the full list of Top trending drama characters of 2014 on Twitter below!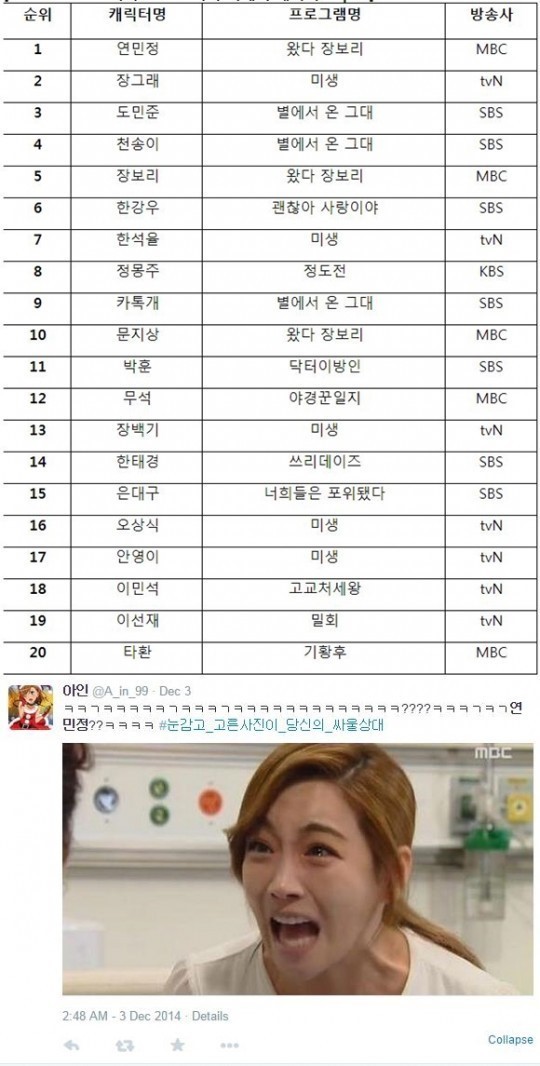 1. Yeon Min Jung ('Jang Bo Ri is Here!') 
2. Jang Gu Rae ('Misaeng')
3. Do Min Joon ('You Who Came From The Stars')
4. Chun Song Yi ('You Who Came From The Stars')
5. Jang Bo Ri ('Jang Bo Ri is Here!')
6. Han Kang Woo ('It's Okay, It's Love')
7. Han Seok Yool ('Misaeng')
8. Jung Mong Joo ('Jeong Do-jeon')
9. Kakaotalk Dog ('You Who Cam From The Stars')
10. Moon Ji Sang ('Jang Bo Ri is Here!') 
11. Park Hoon ('Doctor Stranger')
12. Moo Seok ('The Night Watchman')
13. Jang Baek Ki ('Misaeng')
14. Han Tae Kyung ('Three Days')
15. Eun Dae Koo ('You're Surrounded')
16. Oh Sang Sik ('Misaeng')
17. Ahn Young Ee ('Misaeng')
18. Lee Min Seok ('High School King')
19. Lee Sun Jae ('Love Affair')
20. Ta Hwan ('Empress Qi')