2NE1 - CRUSH
Tracklist
1. Crush
2. Come Back Home
3. Gotta Be You
4. If I Were You
5. Good To You
6. MTBD (CL solo)
7. Happy
8. Scream (Korean version)
9. Baby I Miss You
10. Come Back Home (Unplugged version)
Editor's Note: Instead of the usual one reviewer - for this review, we have reviews from both joora and eric.
eric-r-wirsing
Having debuted in 2009, 2NE1 are a quartet whose style varies from reggae to hip-hop to dance pop and even has bizarre but outstanding fusions of all three. Past tracks such as "
I Don't Care
," "
Fire
," "
I Am The Best
," and "
Pretty Boy
" have kept them at the top of the charts.
The opening track, "
Crush
," does what the title promises. It grabs you by the throat and doesn't let go. From
CL
's and
Minzy
's rapping to the girls chanting "
Nolja!"
("
Let's Play!"
), this is a track that moves through you and gets your heart pounding. The theme is reminiscent of "I Am The Best" and is sheer self-promotion. "
They love me cause I'm real/They love me cause I kill"
indeed.
"
Come Back Home
" is the track 2NE1 is promoting, and, according to
YG Life
, will be their first video. The tune is a bit similar to "
Lonely
," and it doesn't do as much for me as "Crush". Not the one I would have led off with, but then again YG didn't ask me. That's not to say it's a poor track, just a bit of a slow starter. It takes about a minute for the tempo to pick up. This one, in case the title didn't give it away, is about a woman missing her
oppa
.
The third song, "
Gotta Be You
," is about a gal who can't live without her man, even if it's an abusive relationship: "
Even if your love destroys me, hurts me/I have no one else, but you
." It is full-on what I expect from this band. Catchy lyrics, a powerful chorus, and it switches gears just when you think you know what's coming (think what they did in "Fire," only less obvious).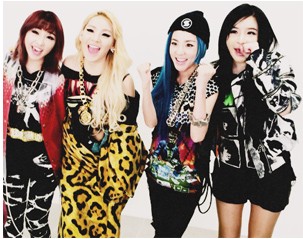 "
If I Were You
" is up next, and it's a ballad that bemoans the fact that the singer is alone. It's a style that I'm not overly fond of, a form of torch singing where the lyrics are belted more than sung. It's pleasant enough, but not really my thing.
Moving on, "
Good To You
" is another ballad, this one sung more sweetly; some spoken parts and a rap by Minzy to help move it along. Despite being good to her man, the protagonist here was still dumped. It's slow and surprisingly sensual.
Track 6 is a solo song for CL and this is the track that should have been on her solo effort, '
The Baddest Female
.' It reminds me of a
Fergie
track more than anything, without the annoying yelping. The title is "
MNTB
," or "
Mental Breakdown
," and the effects in the song certainly have a surreal mind-bending air. It's exactly what you think it's about. Hook-filled throughout, this song certainly offsets the previous two ballads.
"
Happy
" is a poppy entry with an acoustic guitar track and the tune reminds me a bit of "
Go Away
," minus the insistent synth note. The singer hopes her ex is happy, because she most assuredly is not. The odd thing about this song is that the melody is upbeat.
"
Scream
" is, as you might suspect, a retread of their Japanese hit, but in Korean this time. I think I like this version better than the Japanese one. It doesn't seem forced or badly-translated here, but if you've heard the high-energy original, be aware that this isn't that much different.
The ninth track is entitled "
Baby I Miss You
," which pretty much describes what it's about. However, we have a mid-tempo song that reminds me a bit of "
In the Club
" at certain parts. What makes this soar is a rap part from CL and a spoken part by Minzy promising "
everything,
" in English no less! Very easy on the ears and made me grin like an idiot.
The album wraps up with an acoustic version of "Come Back Home." Ordinarily these acoustic versions and instrumentals generally fall into the throwaway category for me. But in this case the stripped down instrumentation really showcases the quality vocals and was a pleasant surprise. At the very least, I won't be removing it from my playlist as I do so often with those final filler tracks I mentioned.
Whatever my reservations going in, they vanished as I gave this album a listen. I am a fan of 2NE1 and, despite a disappointing 2013, they have redeemed themselves in my eyes (
or is that ears?
) with this album. If the titles are a bit prosaic, that's because 2NE1 has always had a more visceral appeal than anything else, and when has a 2NE1 song ever been subtle?
This album sounds exactly like it's supposed to sound: it sounds like a 2NE1 album, and that is a wonderful thing
. I'll be annoying my wife with this on repeat ;).
Production: 9
Concept: 9
Tracklisting: 8

joora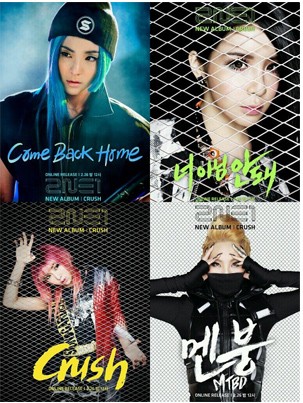 2NE1's new album 'Crush' is dominating the music charts and probably your playlist. Why? Well, for a couple of reasons. First is obviously talent. Without it, the girls never would have come this far. Second is improvement. In every new single or every new album, I hear better vocals and rapping. Third, 2NE1's music never ceases to metamorphose. Just when the audience thinks 2NE1 has run dry of fresh sounds or concepts, we are proven wrong. Every damn time. And the comeback with 'Crush' was no exception.
The fluid versatility of 2NE1 when switching from genre to genre is what makes them stand out so starkly in comparison to other girl groups. They can go from hip hop to dance, then back to hip hop or effortlessly mix the two together all in one track. In a way, the hip hop / dance fusion has become something of a '2NE1 staple.' Many of their released tracks ("I am the Best," "Can't Nobody," "Clap Your Hands," "Fire", "Pretty Boy" etc. etc…) contain some variation of hip hop and dance. You can clearly hear the two genres throughout the new album. The first three songs on the album are examples of such hybrids. And a little something else added in of course, for a nice finishing touch.
"Crush," the first track, is purposefully placed at the beginning to quickly grab your attention. And grab it did (for me anyway). It sounds a little like a toned down version of "I am the Best," especially with the eerily similar synthesized bass in the background. Unlike "I am the Best" however, "Crush" is faster-paced and incorporates more rapping.
"Comeback Home" is an amalgam of hip hop, dance, and reggae, coupled with poignant lyrics about missing that dear someone. The lines that stuck out to me most are when Park Bom and CL sing, "Don't abandon me at the end of this cold world and come back home to my side / Leave all your grief behind / I'm still awaiting your return." Moving, indeed.
"Gotta Be You" starts off nice and easy with CL's rap, then builds up with some drumming. The song abruptly shifts gear into drive at the chorus, turning into a full-blown, fist-pump-at-the-club kind of dance song. Just listening to it will make you breathless with all its ups and downs. This track is also about love with lyrics that go "Even if your love will destroy and hurt me, you are my one and only / My love starts and ends with you / At this spot I'm waiting for you."

Next up are my two personal favorites, "If I Were You" and "Good to You". As you already know, I am not a fan of slow ballads. They usually make me yawn. But when 2NE1 does ballads? No way. Somehow, the group does slow jams/ballads right and I am mesmerized when I listen closely to their slower songs. "It Hurts" was a mellower 2NE1 track that I admit, is another favorite of mine. Minzy's voice sounds particularly emotional in "If I Were You." I was reminded once again what a brilliant vocalist she is. The delicate piano complements the girls' voices perfectly in both songs. Without the chords of the piano, the songs probably wouldn't quite possess that emotive power. Furthermore, CL's monologue near the end of "Good to You" was so heartrending, I nearly shed tears sitting in the second floor atrium of my school (okay maybe that is an exaggeration but her part is pretty touching).
"MTBD" is arguably my second favorite on the album after "If I Were You" and "Good to You" (the above two tie at first place). I simply like it because I have an affinity for hip hop and "MTBD" was the closest thing to 'hip hop' on the album. CL's rapping has also greatly improved since the group's conception. She has always been a good rapper but I never thought she was great. But recently my view changed, especially after her solo work "The Baddest Female" and once again with "MTBD." Her rapping isn't 2Pac or Biggie level, but then again, I may be making an unfair comparison. Anyone smell a full solo CL album in the works? I think I do.
As for the other songs on the album, I will only mention them briefly since this review is getting a bit wordy. "Happy" was the song that stood out the least to me. It lacks a catchy hook and frankly, I got bored listening to it. I like the aggressive, bold, daring 2NE1 that is not afraid to experiment with contrasting genres. Unfortunately, "Happy" does not hold any chutzpa whatsoever. It's pretty bland.
"Baby I Miss You" is R&B inspired which I can appreciate since I am a big fan of the genre. It doesn't sound too crazy like the first couple tracks on the album.
And with the last track, which is the unplugged version of "Come Back Home," we have come to a screeching halt to what has been an emotional roller coaster ride of an album, folks. Unbuckle your seatbelt, take a deep breath to take it all in, and listen again next time.
I think it's pretty clear that I am going to recommend this album. Whether you are a fan or not, if you are yearning for brazenly innovative sounds in the K-Pop scene right now, the new 2NE1 album is the way to go. They didn't take the safe, ho hum route like other groups that returned this year. There are songs that are bound to make you jump a mile high with energy, songs that are going to make you heave with a flood of emotions, and also songs that are likely to make you scratch your head and wonder out loud, "
My ears were just graced with the sounds of the future!
" But I guess you will have to listen to find out.
Production: 9
Concept: 8
Track listing: 9
SEE ALSO: [INTERVIEW] HA:TFELT On Her Comeback, Music Videos, Germany, and More!