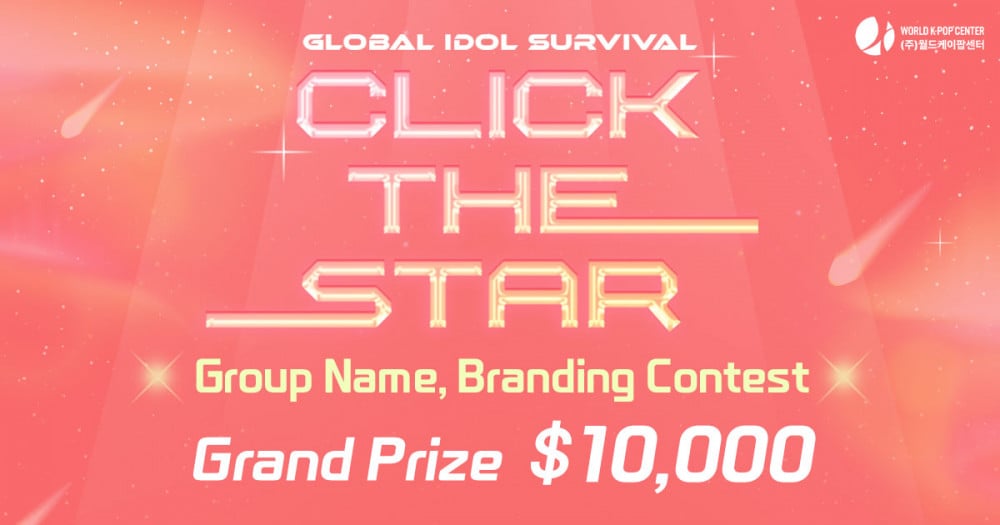 What if you had the power to name the next biggest girl group to hit K-Pop? Global K-Pop audition project, 'CLICK THE STAR' is offering fans a shot at $10,000 if they can come up with an incredible name and concept for their up-and-coming girl group! The more unique and creative your idea and entry, the higher your chances are of winning the cash prize. Put on your thinking caps! Let's get started!
WORLD K-POP CENTER and K-POP CLICK have officially launched a worldwide initiative to source talent for their newest blockbuster girl group audition. As they narrow down the members who will make the final cut, the company is now asking fans to help to name them! WORLD K-POP CENTER and K-POP CLICK have launched a contest for both a group name and logo for this global girl group project currently titled, 'CLICK THE STAR.'

'CLICK THE STAR,' is a worldwide girl group audition that discovers K-POP girl group members from 32 countries around the world, including Japan, the United States, Vietnam, Indonesia, Thailand, Singapore, Russia, Mexico, and Malaysia. Girls from all over the globe participated in fan-voted online preliminaries and were screened by top K-POP expert facilities to make it to the final cut! The chosen few who are successful in their audition will represent their home nations and make their K-Pop debut in Korea.
The debut of 'CLICK THE STAR' has been highly anticipated as it is the first-ever global audition project with a focus on foreign K-POP hopefuls. This groundbreaking initiative is expected to mark a new milestone in the K-POP industry and create a new generation of K-POP superstars. Industry insiders are paying attention to this large K-POP girl group project as a result. The series will also feature K-POP legends, RAIN and KARA's Nicole as representative producers and mentors for the group.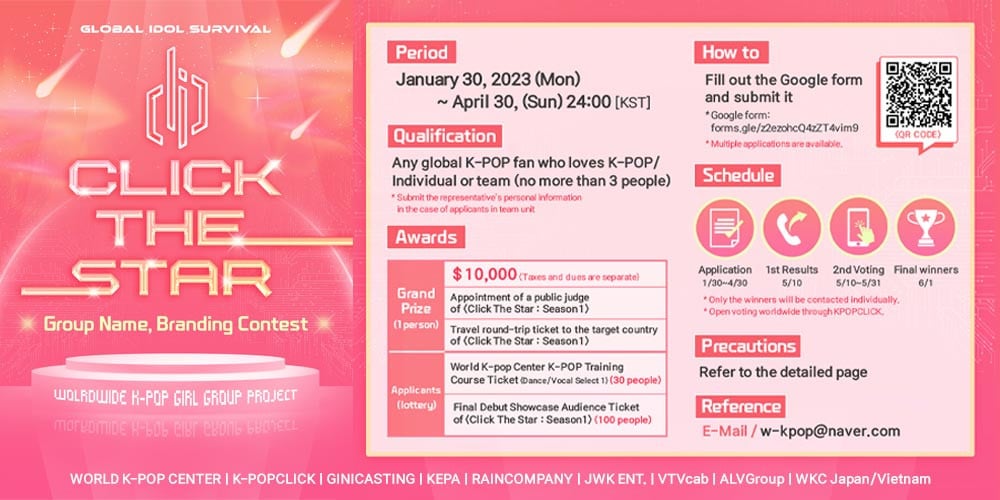 Be a part of history and submit your dream girl group concept, name, and logo to participate in the 'CLICK THE STAR' debut group name and logo contest by filling out a simple Google form. Let us know your most creative girl group name, the concept behind your idea, and a one-of-a-kind logo in the form to be considered for the $10,000 USD cash prize! Not to mention, some major bragging rights as the original creator of the group's concept!

'CLICK THE STAR' Team Name Competition will be open until April 30, 2023. The most impressive concepts and names suggested will then be shortlisted into a second round through a public poll on K-POP CLICK's platform. Help create the newest girl group in K-Pop alongside other fans, whether through submitting a concept or casting votes on who you think should win by showing your support!

----
The WORLD K-POP CENTER is a comprehensive K-POP company that provides a range of services including: K-POP training, talent development, content production, and artist management. It is responsible for the production and training of 'CLICK THE STAR' and focuses on K-POP professional education, issuance of the world's only K-POP trainer license, and educational talent DB establishment are its core businesses.
The K-POP platform K-POP CLICK is conducts online/offline performance content like "DREAM STATION IN K-POP CLICK," a series that is loved by K-POP fans around the world. All eyes are on the launch of the 'CLICK THE STAR' project, a global talent discovery initiative featuring renowned experts in styling, production, management, talent sourcing, and training of K-POP's top idols.
Imagine seeing the girl group of your dreams debut with the name and logo you created! Don't miss out on the opportunity to make your mark on the K-Pop industry with a chance to win the grand prize of $10,000. Click here to participate in the 'CLICK THE STAR' debut group name and logo contest before it's too late!
[Disclosure: This article is sponsored by 'CLICK THE STAR'].