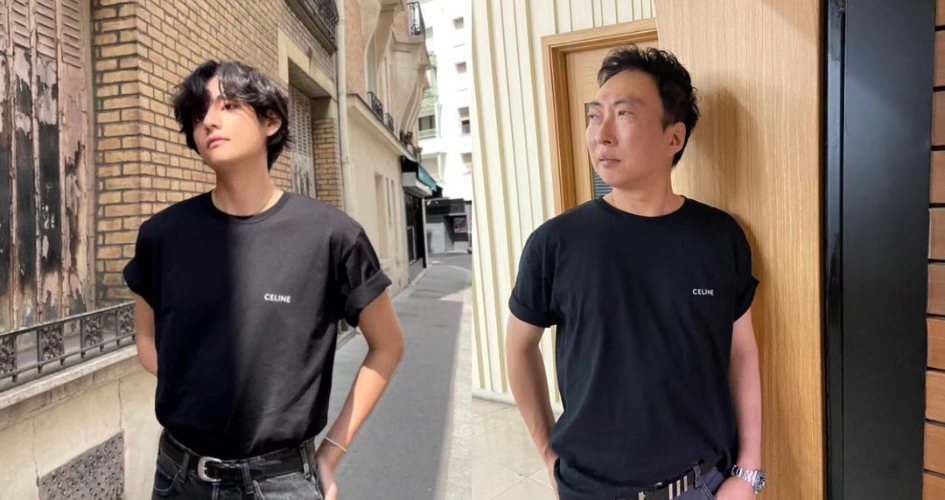 Kim Taehyung, aka V of BTS, has once again demonstrated his influence as a fashion icon.

On July 10, the radio DJ and comedian Park Myung Soo posted a picture on his Instagram that showed him recreating one of Taehyung's looks.
The photo was a side-by-side comparison of Park Myung Soo imitating Taehyung's pose while wearing the same black CELINE t-shirt.

He captioned the post as "The Model & The Customer," referring to himself as the customer.
Taehyung's photo was among a series of Instagram pictures he shared in May to promote the luxury brand CELINE, where he serves as the global ambassador.

With Taehyung's striking appearance, cool outfit, and confident demeanor, the photos garnered much interest upon their release. It comes as no surprise that a veteran entertainer was inspired to recreate his look.
It's not the first time Park Myung Soo has shown his admiration for Taehyung.

On March 26, he made headlines for his comment about Taehyung's dashing looks on his own KBS Cool FM "Park Myung-soo's Radio Show." A listener shared that his 11-year-old daughter who ran for class president said the only boy who voted for her became more handsome than Taehyung.

Park Myung Soo gave a funny answer in response.

"I think she needs glasses. I've never seen anyone more handsome than V."
— Park Myung Soo