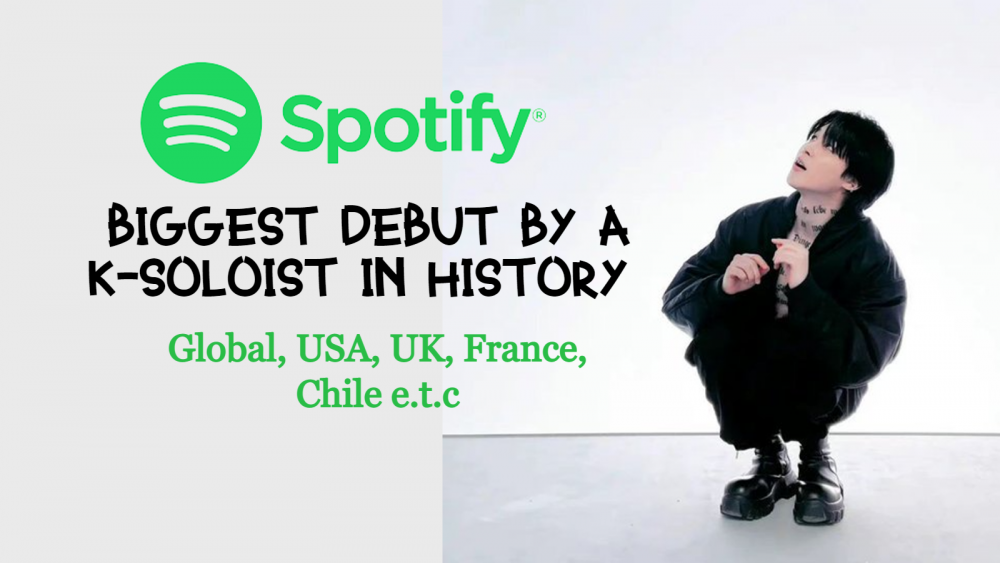 On March 17, Jimin released his pre-release track "Set Me Free Pt.2" from his highly anticipated and soon-to-be-released solo debut album "FACE." The song immediately became a hit, smashing buying and streaming records on various major music consumption platforms like iTunes, YouTube, Melon, Amazon, and many others, as reported previously [read details here]. His success did not stop there; it extended to other global music platforms, one notable one that has caused quite a stir being Spotify.
Spotify is the biggest music streaming platform globally and is among the platforms used to influence music rankings on numerous major music charts, such as the Billboard song and album charts in the USA, which is the largest music market in the world. As such, recording a good performance on Spotify is certainly something to take pride in, both by artists and fans.
On this platform, Jimin debuted at #6 with over 4.8M+ streams on the Spotify Global Daily Top Songs chart and at #39 with over 600k+ streams on Spotify USA Daily Top Songs Chart. He also debuted at #1 on Spotify South Korea's Daily Top Songs with over 38k+ streams and #103 on Spotify UK Daily Top Songs chart with 87k+streams!
Consequently, Jimin now has the biggest debut for a solo song by a Korean/K-pop act on Spotify USA and the biggest debut for a song by a K-pop act on Spotify Global in 2023! He also recorded the highest debut solo song streams by Korean/K-pop soloists on UK Spotify Daily, Spotify France, and Spotify Chile, to mention a few, and peaked at #1 on Spotify South Korea, making him the first and only solo artist to reach #1 on this chart in 2023! The song also did amazing on Spotify Vietnam, where it peaked at #1.


In terms of artist ranking on the platform, Jimin reached a new peak of #69 on Spotify Top Artists Global chart, #188 on Spotify Top Artists USA chart, and #4 on Spotify Top Artists South Korea chart.
These were the top 10 countries with the highest streams for the pre-release track 'Set Me Free Pt.2'. All in all, Jimin has his biggest streaming day ever on Spotify, with more than 11 million streams following the release of this track.
Meanwhile, the song has spent its 4th consecutive day at #1 on the Worldwide iTunes chart, and the music video has also spent a 4th consecutive day as the #1 trending music video on YouTube Worldwide and YouTube USA.
Additionally, the music video has entered the Top 10 music videos on Apple Music UK, ranking 7th.
Such high performance on different music charts and on big music markets is clear indication of Jimin's top notch artistry, and fans cannot wait to finally have his full album!