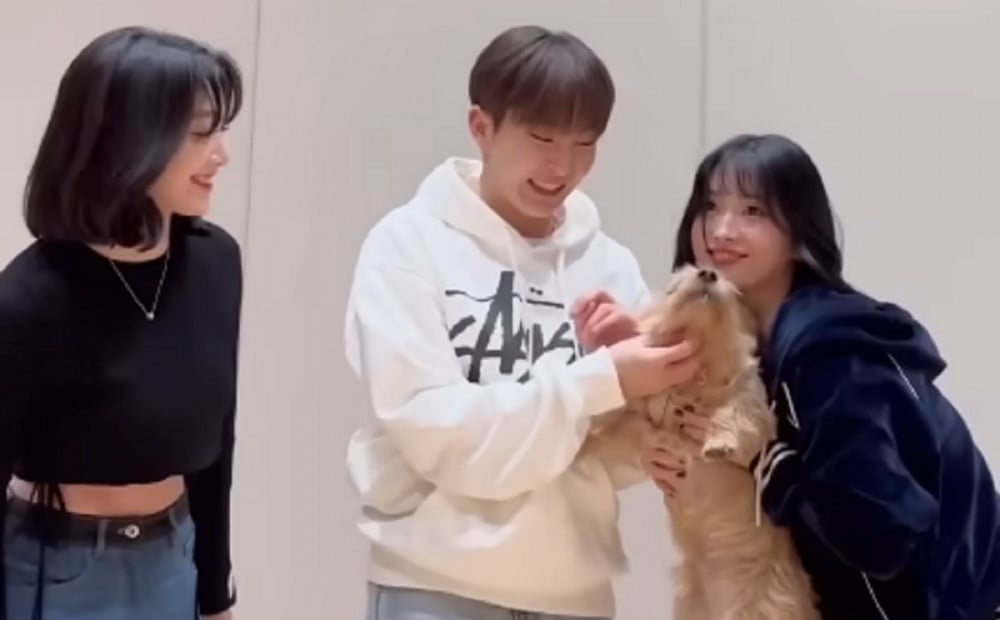 Seventeen's 'Boo' has reunited with Momo's 'Boo.'
On February 12, TWICE's Jihyo and Momo participated in BSS's "Fighting" dance challenge with Seungkwan. Apart from working in the same field, Momo and Seungkwan share a funny little history with a 'traumatizing' incident when the Seventeen member's joke once fell short of reactions in front of TWICE.
Almost two years after the famous incident, the two idols appeared on-screen together alongside Jihyo and Momo's pet dog, Boo. In the beginning of the video, the three idols parody their own funny incident when Seungkwan remarks that their 'companies should plan their schedules together' (about their frequent promotion overlaps).
At the end of the video, Seungkwan picks up and greets Momo's dog, whose name Boo aligns with his own nickname, 'Boo' (his last name).
In fact, the two 'Boos' first met when Seungkwan cleaned after Boo's waste at a restaurant in the past. Momo described this incident on 'TheKstarNextDoor' season 2 with Jonathan.

As TWICE members describe in the video below, Seungkwan once surreptitiously "cleaned after Boo, picking up his p*** at a restaurant" while the girls were eating. The members had no idea until they saw him later, because the restaurant was initially left in charge of the dog.
Full video:
The fact that they were both named 'Boo' had TWICE members burst into laughter, and they expressed their sincere gratitude to Seungkwan.
Netizens reacted:
"LOL BOO AND BOO"
"Boo and Boo lolllllll"
"Seungkwan is so good at turning an embarrassing episode into a legendary connection lol"
"This is crazy cute"
"The fact that he turned his own trauma into a hilarious dance challenge lol"
"Has Seungkwan gotten over his trauma?"
"BooNBoo"
"Oh my god this is so funny"
"I had this no idea this would be Seungkwan's 'trauma challenge' lol"
"Seungkwan's life is sitcom"