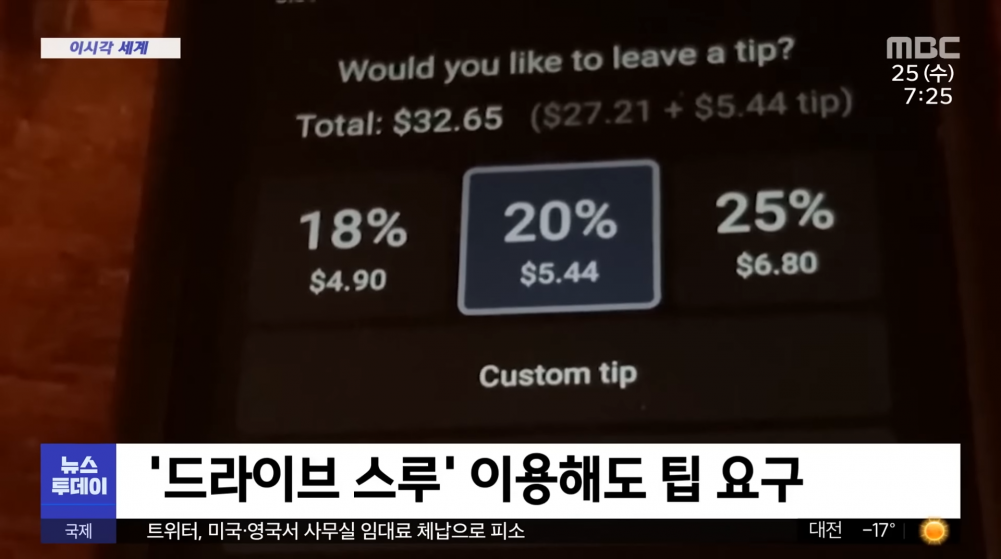 Since the spread of COVID-19, electronic payment using digital devices has increased in the United States, and customers are now being burdened with tip recommendations.
An MBC news report featured a segment about the tipping culture in the United States. The report stated that tipping culture has existed in the United States for a long time, and it was customary for people to leave a percentage of the bill at restaurants as a tip (typically around 20%). However, other businesses such as cafes and bakeries that did not use to ask for tips are now recommending customers leave a tip that is close to 30%.

Many are complaining as some shops ask for a tip even in drive-throughs where customers are able to buy food without getting out of the car. Some have even stated that there are many cases in which the shop owner sets up an arbitrary tip amount and then just asks the customer to sign on to the digital device's screen.
In South Korea, the sales tax is already included in the price displayed in restaurants and shops, so there are no hidden fees that customers need to worry about after the bill is issued. Additionally, restaurants and shops do not expect any tips from their customers, and the standard is that the service should be exceptional at all times. Restaurants, shops, and cafes in Korea do not expect any extra pay for their service.
After hearing the news of the increase in the tipping percentage, many South Korean netizens are baffled and commented, "they are really milking the money out of their customers," "They get paid so much tips," "I went to travel to the United States and the tipping culture was the most annoying thing," "This is so crazy," "Wow, 20%? That's really ridiculous," "I'm basically paying the workers," "You could buy another whole entree with that 20%," "I always pressed the 'no tip' button, lol," "This is such a stupid culture," "I really don't get the tipping culture. I work in a service industry and I don't expect tips, why are they expecting tips when they are getting paid?" "I think tipping culture is just crazy, don't their employers pay them to work?" "There are restaurants that clearly express their agitation when you click 'no tip' but it's just recommended, not mandatory," and "I was planning to go to Seattle but I changed my mind when I heard customary tip is now 20%."