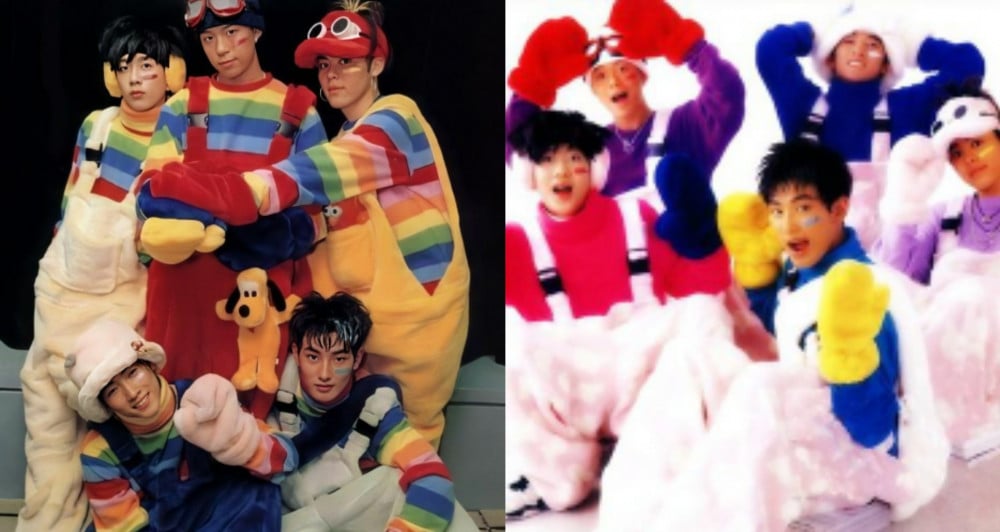 In 1996, SM Entertainment formed the South Korean boy group H.O.T. (Highfive Of Teenagers), which consisted of five members. Though there were boy groups in the 80s, such as Sobangcha, and in the early 90s, Seo Taiji and Boys, H.O.T.'s debut marked the start of the first idol generation of K-pop. They are regarded as the first K-pop idol group, and many groups that came after them used their success formula. They were the initial stars of the Korean wave in Asia. H.O.T. had a great career as a K-pop group, making numerous records and winning various awards. Even though they disbanded in May 2001, their influence is still felt today. Members of H.O.T. got together in 2018 and performed at a concert for the variety show "Infinite Challenge."
Some of their songs are timeless. One such song is "Candy." It is a bubblegum pop song and is among their most iconic and popular songs. When "Candy," a massive hit single from H.O.T., was released in 1996, it helped to solidify the band's fame, particularly with young women.
The original "Candy" in 1996:
The song's enduring appeal is demonstrated by the fact that various idol groups from each K-pop generation cover it. As NCT DREAM released a remake of "Candy" in their latest album, let's have a look at some of the covers of the original song made by various K-pop groups.
SECHSKIES
SECHSKIES is a first-generation K-pop boy band and was considered H.O.T.'s rival. There were no greater rivals than these two back in their prime days. SECHSKIES gave the fans an iconic cover of "Candy" in 1998, and in the performance, H.O.T. also joined them.
BIGBANG

BIGBANG performed some song covers in their rookie era. Among those covers, H.O.T.'s "Candy" is one of the most memorable ones. BIGBANG covered the song in 2006 as a part of the 45th Rival Show.
Super Junior
In the "1000 Song Challenge," Super Junior members Yesung, Ryeowook, and Eunhyuk covered their senior H.O.T.'s "Candy."
Eunhyuk, Shindong, and Leeteuk from Super Junior covered "Candy" in "Strong Heart," and H.O.T.'s Tony joined them.
SHINee and Boyfriend
H.O.T.'s junior from SM, SHINee, and Boyfriend from Starship Entertainment performed a cover of "Candy" to celebrate SBS's 20th anniversary.
INFINITE
Infinite is a South Korean boy group formed in 2010. In tvN Music Show Newton, they covered "Candy" in 2010.
SMASH
SMASH was a second-generation K-pop group that debuted in 2008. They covered "Candy" by H.O.T. on their "Smash Up Live Tour" back in 2012.
TEEN TOP
This video was posted on the official YouTube channel of Inkigayo on January 27, 2012, where Teen Top, a K-pop boy band, performed a cover of H.O.T.'s "Candy."
B.A.P
Here is a cover of the iconic song "Candy," performed almost ten years ago in 2013 by TS Entertainment's B.A.P.
EXO-M
SM Entertainment's EXO-M covered their senior H.O.T.'s legendary song "Candy" in the SMTOWN WEEK of 2014.
UP10TION
The K-pop boy group UP10TION made a cover of the legendary song "Candy" by H.O.T. at the MBC Music Festival of 2015.
PENTAGON
On the October 27, 2016, episode of M COUNTDOWN, the boy group PENTAGON covered H.O.T.'s "Candy" in a special stage performance.
STRAY KIDS
In the dance challenge video by M COUNTDOWN, which was posted on October 22, 2020, Stray Kids performed H.O.T.'s "Candy."
A.C.E
On the same date as Stray Kids, the K-pop boy group A.C.E also participated in the Dance Challenge by M COUNTDOWN on "Candy."
TXT and ENHYPEN
At the 2021 KBS Song Festival, also known as KBS Gayo Daechukje, TXT and ENHYPEN collaborated for the "Legend of K-pop" medley. Along with other legendary K-pop songs, they performed a cover of H.O.T.'s Candy.
There are many other formal and informal covers of the legendary timeless song Candy. Did your favorite group make a cover of this song? Let us know in the comments section below.