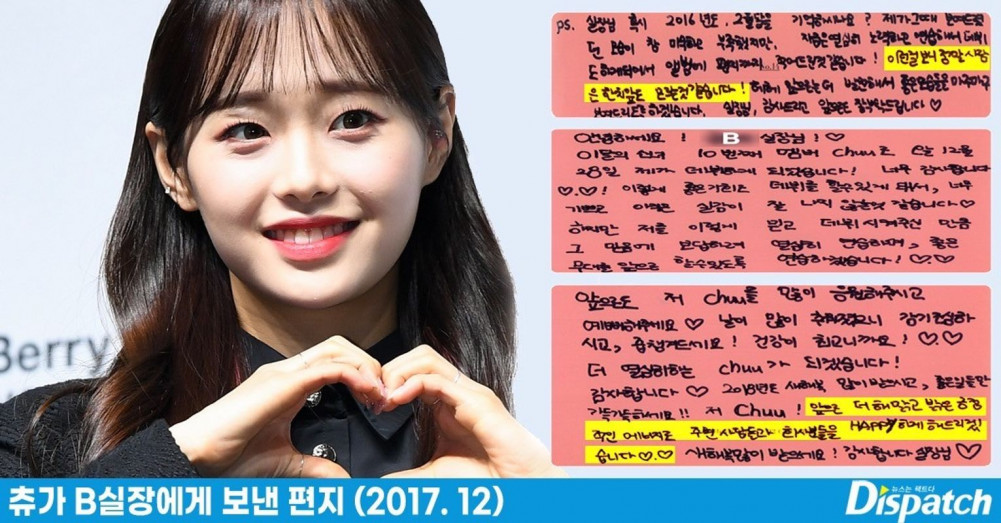 On December 19, the news media outlet Dispatch reported the lengthy text exchanges and profit distribution between Blockberry Creative and Chuu.
After reading the reports, many were taken aback to see the recent hostile messages Chuu had sent to Director B, especially considering she had written a kind letter to Director B back in 2017.
In June 2022, Chuu's text to director B clearly displayed Chuu's anger, and some pointed out that Chuu sounded rude. Part of her texts included phrases such as "Are you seriously blaming me for that one second? lol, I'm not participating in this album.", "Why are you not answering?" "Answer." "Answer." "Will you pick up the pieces after I write everything that has happened and die?"



However, many analyzed that it was due to the pent-up feeling Chuu held back for many years. This was due to the unfair distribution of payment. On December 4, 2017, Chuu signed an exclusive contract with BlockBerry Creative, which included the clause that the company and Chuu would split the cost evenly, while BlockBerry Creative would take 70% of the profits. This was highly unusual in the industry, as the cost and profit distributions were mirrored. Unfortunately, this arrangement backfired in 2022 when Chuu sued for an injunction to nullify the contract.
This feud is still being discussed in various online communities as some netizens pointed out Chuu's disrespectful tone of voice used in the text messages revealed by Dispatch. But many other netizens came to defend the idol and commented, "Try working without being paid, lol. I'm being paid a minimum wage and I still want to kill my team leader sometimes. But she worked like that for 6 years...they're lucky they weren't murdered yet," "She was ignored and wasn't paid," "What about her tone of voice? she's a 25-year-old adult. She has the right to demand her rights. This is just unfortunate," "her tone of speech is like any 20-something-year-old girl," "She wasn't paid. Of course, she would be mad," "I wasn't paid 6 months in my last company and I remember sending a message to my boss back then. But she wasn't paid for 6 years. Considering that, she sounds really nice, it's not like she was cursing at him," and "She was paid less than what you make doing part-time work. So her anger is understandable."